Few television series can transport one back to the new millennium faster than Jackass, MTV's groundbreaking and vomit-inducingly fearless stunts show.
Starring an ensemble of bizarre and often topless young men, among them Johnny Knoxville and Steve-O, Jackass was a Generation Y spin on You've Been Framed – only instead of Lisa Riley and videos of your grandmother falling down, it was a man dressed in a patriotic thong allowing his nipples to be bitten by lizards.
Low-budget, shot on home video and filled with skunks, bodily functions and traumatic head injuries, Jackass was a tribute to American fratboy stupidity, but with a sincerity that often made it oddly lovable.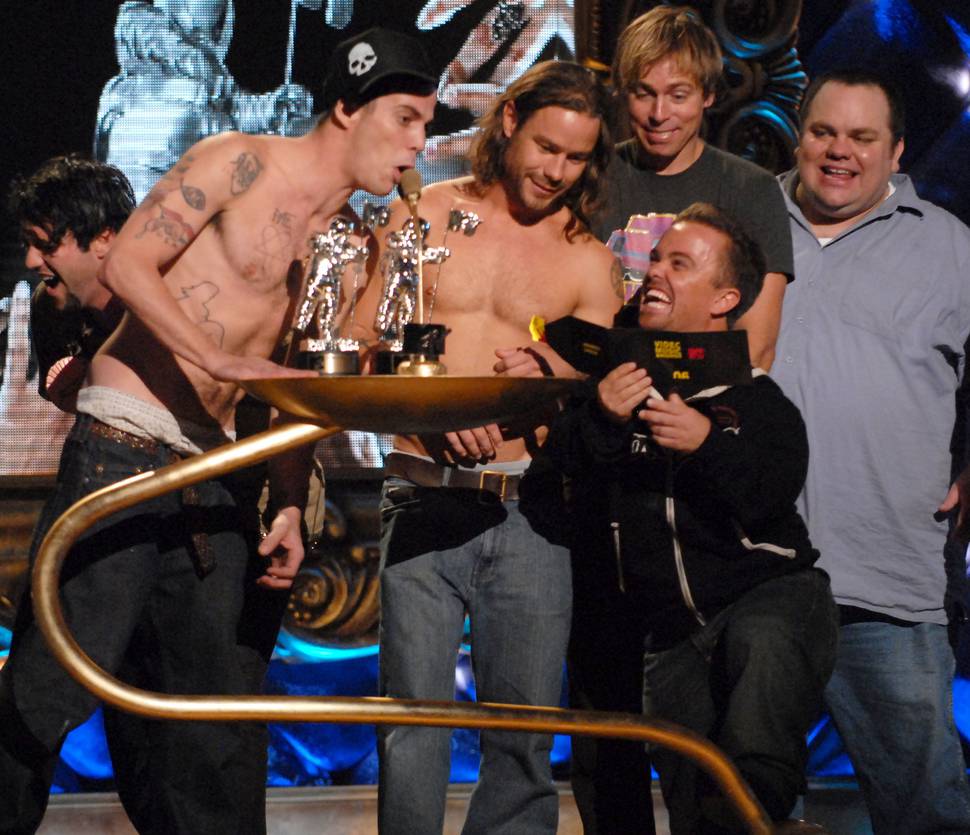 Knoxville's return to the stunts-and-shocks genre in Action Point, a high-budget comedy released in cinemas last week, was one of the summer's biggest bombs at the US box office – the final nail in the coffin for a genre that has chugged along for nearly two decades.
But it also revived an appreciation for Jackass and its surreal, one-of-a-kind brilliance. That fondness, however, was often touched with melancholy over the tragedies, addictions and troubles much of the cast experienced in its aftermath.
Watched today, and despite its many lousy imitators, Jackass remains unique. Anchored by a cast of enormously charismatic slackers and oddballs plucked from obscurity to endanger themselves in exchange for laughs, it wielded an unusual comic power – knowingly lowbrow, and hinging on the same voyeuristic thrill we experience when watching a vehicle spinning out of control on a race track, or a particularly gory horror movie.
Some of the show's stunts veer too far into Fear Factor territory, sketches that involve leeches, human faeces or ball pits full of snakes, but many are classic slapstick, as much in tribute to Nineties Farrelly Brothers comedy as they are to classic Tom and Jerry. When, in 2010's Jackass 3D, cast member Ehren McGhehey is knocked off his feet by a giant plastic hand, sending him and the many bowls of soup in his hands flying, the line separating Jackass with the work of historic pranksters like Buster Keaton gets decidedly thinner.
Knoxville always blanched at such high-minded appreciation of the show, but it's not difficult to project genuine artistic merit onto it, in the same way critics decided Lars von Trier's The Idiots was the work of avant-garde mavericks as opposed to, essentially, idiots.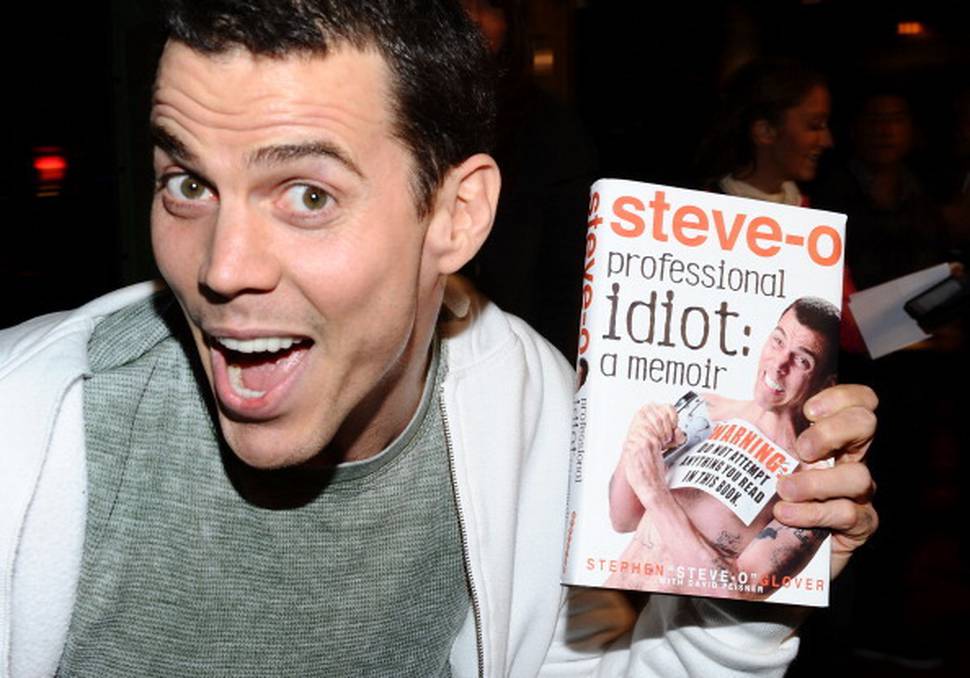 It was also genuinely thought-provoking. When watching cast member Ryan Dunn insert a toy car into his anus, in a sketch Knoxville this year dubbed "the purest crystallisation of Jackass", it is difficult not to ponder who such a clip is for, why you're watching it, and what you've become to voluntarily endure the whole thing. In television terms, The Sopranos it isn't, but The Sopranos also didn't inspire so many perplexing psychological conundrums as to why you're tuning in.
Jackass arrived at a moment in pop culture wherein entire comedy movies appeared to be built around gross-out set pieces, like Tom Green swallowing a mouse in Road Trip, or Ben Stiller's zipper injury in There's Something About Mary.
From afar, Jackass resembled a small-screen version of the same era-specific cultural urge: a tone of rampant bad taste, gleeful close-ups of broken bones and skin grazes, and as many yelps and shrieks of horror as there were flashes of full-frontal male nudity, carefully designed for millions of viewers eager for primetime repulsion.
But Jackass was always less cynical than it appeared at first sight, and a direct next step for an underground skate scene that had always revolved around videotapes, punk rock and varying degrees of illegality. In the years before the internet, skaters traded VHS tapes of gonzo stunts and bloody injuries via zines and official publications like Big Brother, a skate magazine owned by notorious pornography magnate Larry Flynt.
Johnny Knoxville, then a struggling actor in Los Angeles, had an idea to test various forms of police equipment on himself (including pepper spray and a taser) and write about his experiences for Big Brother – a pitch that editor Dave Carnie liked so much that he asked Knoxville to videotape himself while he did it. The resulting short film caught on in the skate scene, where it meshed well with a contingent of skaters who had started making their own prank videos.
Carnie and fellow Big Brother editor Jeff Tremaine recruited their friend Spike Jonze (yes, that Spike Jonze, of Her and Being John Malkovich fame, who started out producing BMX and skate videos) to edit together a larger reel of Knoxville clips, a finished tape of which was quickly passed around Hollywood. MTV were instantly attracted to its mix of DIY comedy and gross-out stunts, and commissioned a series based on the tape. Other skaters and amateur daredevils, many of whom knew each other or were friends of friends, were recruited to form the show's cast. Debuting in October 2000, Jackass became an instant phenomenon, sparking immediate controversy and ratings large enough to make it MTV's most-watched original series.
"I watch the show every time it comes on," Knoxville's mother Lemoyne told Rolling Stone in 2001, "but I can't watch the one where he sets himself on fire, and I can't watch the one where he bastes and roasts himself. I get a terrible feeling. It's very scary. I have no earthly idea why he would do these things."
In tandem with the show's popularity, few young men aged somewhere between 12 to 21 when Jackass was first broadcast will have been able to avoid the ominous call to "make our own version of Jackass" – the show inspiring a generation of bored adolescents to attempt to monetise their own physical elasticity by tearing at their flesh or throwing themselves off of things on film. Such theatrics frequently resulted in injury, or at least enough of a "trend" to inspire at least a couple of hysterical tabloid headlines, which eventually became too much for MTV to handle.
"It is irresponsible for MTV to air these kinds of stunts on a program clearly popular with young teens," Connecticut senator Joe Lieberman said in a statement in 2001. "I recognise the programme is rated for adults and comes with general disclaimers, but there are some things that are so potentially dangerous and inciting, particularly to vulnerable children, that they should not be put on TV."
It was the most high-profile attempt to have Jackass pulled off screens at the time, following an incident in which a 13-year-old Connecticut boy set himself on fire while attempting to emulate scenes he witnessed in the series. Another Connecticut youngster was involved in a similar snafu that same month, after attempting to turn himself into "a human barbecue" like a stunt on the series. Several months later, two teenagers in Kentucky were hit by a car in a Jackass-style stunt gone awry, while a Minnesota man blamed Jackass for his decision to record himself running into traffic while wielding a chainsaw.
But despite the lucrative potential of such controversy, MTV bosses were quick to give in to pressure. Jackass was pushed to an 11pm timeslot in its schedules, and meetings were held with the cast to discuss the possibility of toning down some of the show's more vomit-inducing extremes. Knoxville balked at the request, and Jackass came to an early end.
Desperate to stay in the Jackass family, MTV commissioned an array of spin-offs featuring members of the show's supporting cast, among them Viva La Bam and Wildboyz, but the entire group only resurfaced together again in movie form, where standards and practices rules were less of a problem. Jackass: The Movie debuted in late 2002, and was followed by two sequels.
Knoxville, the show's leading man and most conventionally handsome performer, was quickly determined to be a star in the making upon the show's debut, likely making his decision to end the series a tad easier. Within months of Jackass debuting to significant media attention, he had caught the eye of Hollywood agents and was filming supporting roles in Sarah Jessica Parker movies and a Men in Black sequel. The rest of the Jackass cast were less visible in a mainstream sphere, but won their own rabid fandoms.
That overnight popularity often came at a price, however, exposing the darkness often underlying the on-screen anarchy. Cast member Chris Raab, best known as Raab Himself, told the New York Post earlier this year that exposure to so many injuries left many of the cast dependent on painkillers, which he said he personally ended up mixing with cocaine and booze.
He recalled, "What happens is people are like, 'Raab, you have a drinking problem, you're doing too many drugs' and you're like, 'I'm not as bad as this person and this person' and you're surrounded by a bunch of drug addicts and alcoholics and you're just pointing the finger at each other."
Other major cast members experienced their own traumas as the show grew in popularity. Last year, Bam Margera revealed that he fought alcoholism and an eating disorder over the course of the series – illnesses only exacerbated by the death of fellow cast member Ryan Dunn, who he long described as his best friend. Dunn's demise in a car accident in 2011 followed years of depression and alcohol dependency, both ailments worsened by an injury sustained during the making of the second Jackass movie.
Steve-O, the show's most go-for-broke cast member, capitalised on his early notoriety by releasing more extreme and uncensored stunts on DVD, while touring the world with live stage shows, all the while masking his own drink and drugs problem. Years of intoxication left him with a vast rap sheet, which included an arrest in Louisiana for stapling his scrotum to his leg and an arrest in Sweden for swallowing a condom filled with marijuana, and he was placed under psychiatric hold in 2008.
In a statement, he confirmed that he suffered from mental illness, writing: "I had thought of 'bipolar' as a 'good' thing. I rationally deduced that, with our time in this life being so limited, it was productive to stick to nothing but extremely high 'highs', and extremely low 'lows'... After four days in a psychiatric ward it has dawned on me that a great deal of what I produced while on narcotics-induced 'highs' was a bunch of manic bulls--- that made little to no sense and, furthermore, was devastating to those who love me the most."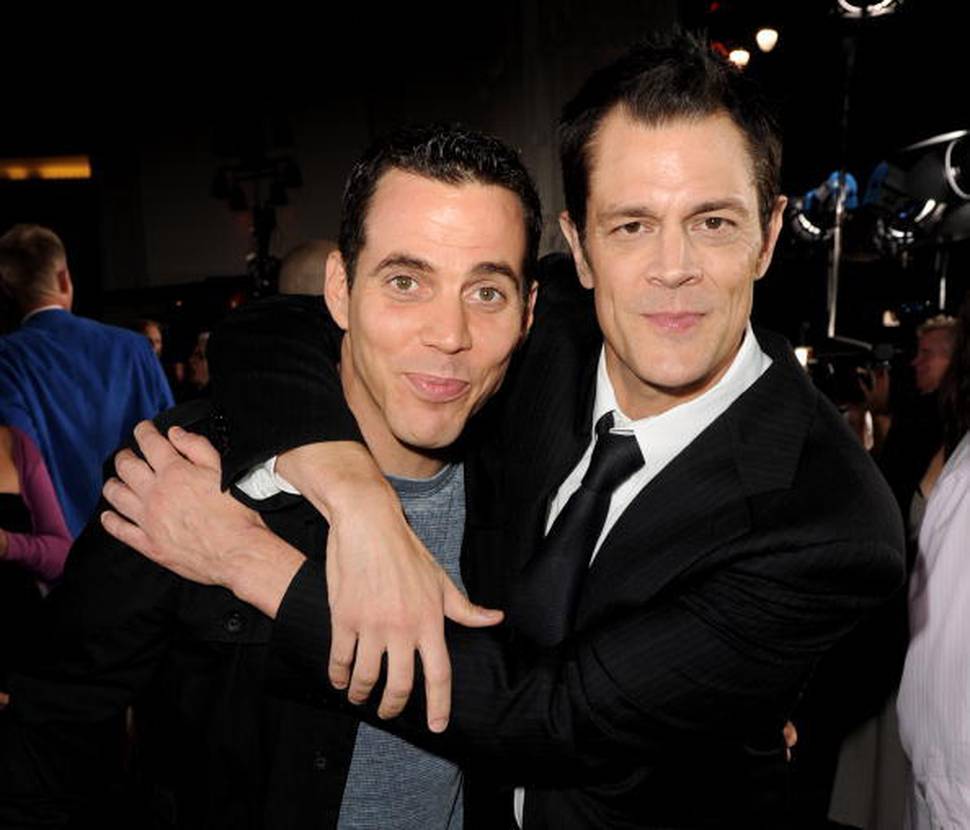 Few of the cast's off-screen battles make it into the show itself, but lend the series a difficult tone when viewed in hindsight – an air of trauma left unspoken, or addiction and mental crises occurring just on the fringes of the camera. (Steve-O, now a vegan and animal rights activist, celebrated a decade of sobriety in March; Margera was arrested in January for driving under the influence.) The show's culpability in much of it, and that of a fanbase eager for more outrageousness whatever the costs, similarly adds a tinge of sadness to it all.
It's arguable that it feeds into Jackass being one of the last shows of its kind. Late-night TV throughout the Noughties was filled with series that attempted to emulate its charm, from MTV UK's Dirty Sanchez to Channel 4's Balls of Steel, even if few were successful. Today Jackass-style humour is almost exclusive to YouTube, with mainstream audiences seeking new, less gross-out forms of comedy. But, now solely motivated by aspirations of stardom and viral infamy, it's also gotten crueler and stupider.
It's not difficult to see Jackass DNA in YouTube channels anchored by the likes of Australian gross-out pin-ups the Janoskians, or prankster and dead body auteur Logan Paul. But in a clear separation from the work of Knoxville and co, the joke is never on the stars themselves – instead it's on unsuspecting and reliably unimpressed members of the public, or the security guards on low wages having to put up with a bunch of giggling 18-year-olds shining camera phones in their faces.
Knoxville's goal was always to become famous, while McGhehey admitted to the New York Post earlier this year that he and his fellow castmates "were all kind of competing for [screen time]" by taking part in increasingly gasp-worthy stunts. But unlike the more cynical of modern YouTube pranksters, hungry for clicks and fame whatever the cost, there is a real sense of enjoyable fraternity to Jackass – of friends getting together and acting stupid for the amusement of themselves, whether anyone was there to watch them or not.
There's of course an element of performance, of cast members almost winking to the camera and asking, "You thought that was bad? Watch this!" but the intent is pure, almost innocent in its body-horror silliness. That Knoxville walked away from the show at its commercial peak, too, refusing to produce a neutered Jackass dictated by a boardroom full of PR experts and MTV company men, speaks to the underground, DIY ethos at the show's heart. And something that, despite millions of dollars in profits, three movies and at least two cinematic spin-offs (including the hilariously Oscar-nominated Bad Grandpa in 2013), it's never really lost.
In an interview with Vulture this year, Knoxville appeared pessimistic about his future stunt work, driven not only by the fact that he's 47 and nowhere near as unbreakable as he once seemed, but also by fears of no longer being there for his wife and children.
"I love stunts," he said. "But after [Action Point], which I got hurt on more than any film I've done, I started to think, Why do I love it? Am I addicted to it? Is it coming from a good place? I don't want to overthink things, but I don't want to underthink them either because in this line of work you only get so many chances… My mom passed in the fall [and] it got me to thinking about how that feels for a kid."
Whether or not the Jackass era is well and truly over, it's a remarkable run for a comedy genre many were predicting would be short-lived before the show's first season had even finished. It's also perfectly okay to view the show as a time capsule of an age we're not likely to ever return to, for both better and worse.
A time before smug YouTubers were demeaning people for laughs, where underground culture was allowed to be authentic and weird on mainstream TV, and nothing was funnier that a grown man setting fire to his farts.
WHERE TO GET HELP:
If you are worried about your or someone else's mental health, the best place to get help is your GP or local mental health provider. However, if you or someone else is in danger or endangering others, call police immediately on 111.
OR IF YOU NEED TO TALK TO SOMEONE ELSE:
• LIFELINE: 0800 543 354 (available 24/7)
• SUICIDE CRISIS HELPLINE: 0508 828 865 (0508 TAUTOKO) (available 24/7)
• YOUTHLINE: 0800 376 633
• NEED TO TALK? Free call or text 1737 (available 24/7)
• KIDSLINE: 0800 543 754 (available 24/7)
• WHATSUP: 0800 942 8787 (1pm to 11pm)
• DEPRESSION HELPLINE: 0800 111 757​