As fans wait excitedly in bars and cafes around Dunedin, Pink has arrived at Forsyth Barr Stadium ahead of tonight's big concert.
Thousands of people are eagerly lining up outside the stadium, with the doors opening at 5.30pm.
The Octagon waas teeming with people warming up for the concert, and Pink fans were not hard to spot - electric pink tops, shocking pink wigs, neon pink leis and strawberry pink wigs were out in force.
Former Dunedin woman Amelia Lett had travelled further than most to go to tonight's concert _ she and friends had come to the city from Stratford for the show.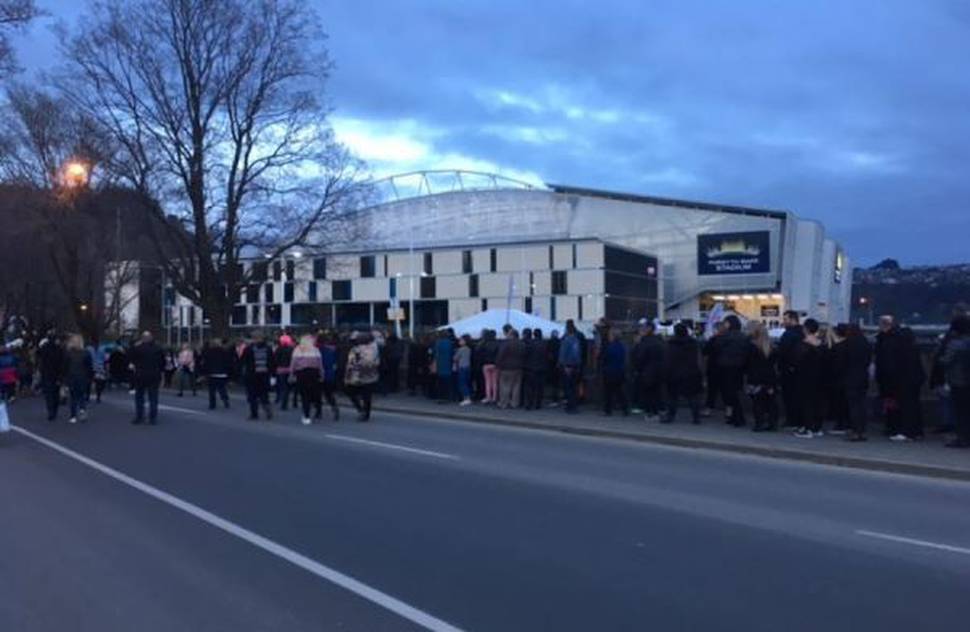 "It was an effort but we're really looking forward to seeing the show,'' she said, with Perfect being the track she really hoped Pink would perform.
Christchurch's Yolande Ollsson stood out in the crowd with her pink wig and top.
"The song I really want her to play is Beautiful Trauma,'' she said.
With this being the Beautiful Trauma world tour, that is at least one Pink fan who is likely to get her wish this evening.
Christchurch woman Julia Morris started queueing at 8am today for tonight's Pink concert - but she has been waiting a lot longer than that to see her idol.
"I have been waiting 15 years for this," she said.
"I am a massive, massive fan."
Ms Morris was a wee bit surprised that she was first in line, but she had company within five minutes, and several more people arrived soon after.
While it was long wait ahead with the doors not scheduled to open until 5.30pm, the sunny weather helped and the atmosphere was friendly - someone had just sent out for pizza Ms Morris said.
"Everyone is happy, we've been playing music and enjoying the day."
Dunedin was jam-packed this afternoon as an estimated 37,000 people crowded in to the city prior to tonight's Pink concert at Forsyth Barr Stadium.
Traffic was at a crawl on many main streets and the town's main shopping areas were full of people.
Cafes and restaurants were full, with many reporting they had been flat out all day.
After being bumper to bumper at times yesterday traffic on SH1 from Christchurch to Dunedin was relatively quiet as of 4pm today.
However, some fans were still making their way to the city, including a van full of ladies wearing pink wigs.
In Oamaru most hotels were displaying no vacancy signs, indicating the concert was proving a boon for the wider Otago economy and not just Dunedin.
Fans travelling to the gig today were greeted with pink balloons on a fence in the town of Waikouaiti.