Tom Cruise has successfully pulled off one of his most challenging movie stunts ever.
After dangling from the outside of a plane mid-flight in Mission Impossible: Rogue Nation, the 55-year-old actor has taken it one step further for the upcoming movie, Mission: Impossible — Fallout.
In a featurette for the movie, which will be released in August, Cruise is shown becoming the first actor to do a HALO jump [High Altitude High Opening] on camera.
The technique, which is used by the military to avoid radar detection, involves the parachutist jumping from a much greater height than usual and opening their parachute much closer to the ground.
"There's a lot of risks," producer Jake Myers said in the featurette. "There's dangers of hypoxia and the bends."
The studio behind the film built one of the world's largest wind tunnels so Cruise could practise the shot before getting up in the air.
The action star then started doing eight jumps a day to get his form right and ended up doing more than 100 dives in total for the shot.
"You can't just get on the plane and go," director Christopher McQuarrie explained. "You have to spend 20 minutes on the ground breathing pure oxygen so that you don't get decompression sickness."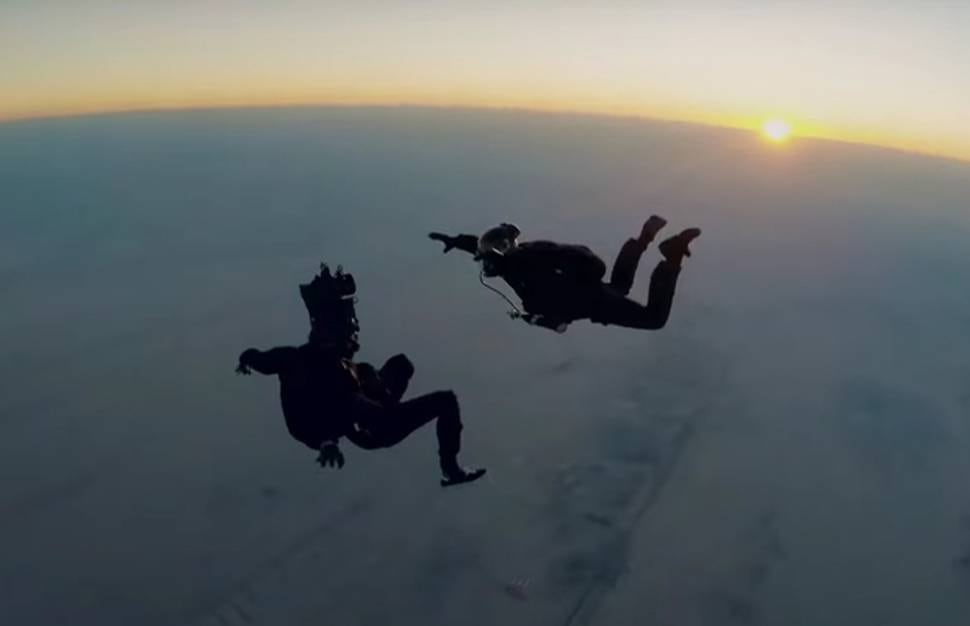 And to make things more complicated, the director wanted the scene to be filmed as close to sunset as possible meaning they only had a three-minute window each day to nail the shot.
Cruise jumped from the plane at a height of 25,000 feet [seven kilometres] as it was travelling at a speed of 265km/h. As he was falling at a speed of 320km/h he had to position himself just one metre away from a camera man who jumped a second before him.
The stunt will no doubt be one of the most spectacular scenes in the film, which opens in New Zealand on August 2.
According to the synopsis, Mission: Impossible — Fallout will find Ethan Hunt (Tom Cruise) and his IMF team (Alec Baldwin, Simon Pegg, Ving Rhames) along with some familiar allies (Rebecca Ferguson, Michelle Monaghan) in a race against time after a mission gone wrong.
Henry Cavill, Angela Bassett, and Vanessa Kirby also join the dynamic cast with filmmaker Christopher McQuarrie returning to the helm.
Mission: Impossible Fallout - Tom Cruise's Queenstown helicopter stunts. / Supplied by Paramount