There are a few things that will always be a part of actor, activist and comedian Magda Szubanski.
One is her beloved Kath & Kim character, Sharon Strzelecki — the blissfully hapless, cricket and netball-obsessed, and hilariously injury-prone comic creation with the pudding-bowl haircut whose "pash rash" captivated a nation.
Another, she reveals to journalist Andrew Denton in a frank and hilarious chat on Interview, is the "suit of armour" that is the weight she carries on her body and sees as her second skin, news.com.au reports.
In the interview, Szubanski shares where Sharon came from, how preying paparazzi finally saw her own her body shape on Bondi Beach and the loss of her Mum.
The Logie Award winner has had a swag of comedic character creations and movie credits including Babe, but it's Sharon's popularity that is most enduring.
When repeats of Kath & Kim aired on TV in Australia last year, a whole new legion of people come to worship at the altar of Sharon.
"There's this whole crop of new fans — so now I go down the street and I get like gangs of 11-year-old girls going 'Sharon, Sharon', screaming at me," Szubanski reveals with the infectious giggle she later concedes has caused many a reshoot when it's overtaken her during filming.
'Some wigs are just gold'
If Sharon's hair has a shape, it's pudding bowl.
Certainly, Szubanski reveals, the second she spotted the signature mop in the wig room at Channel Seven, Sharon solidified.
"Because [of] the introverted side [of me] it's very much easier for me in character with a wig and a costume to lose myself," Szubanski says.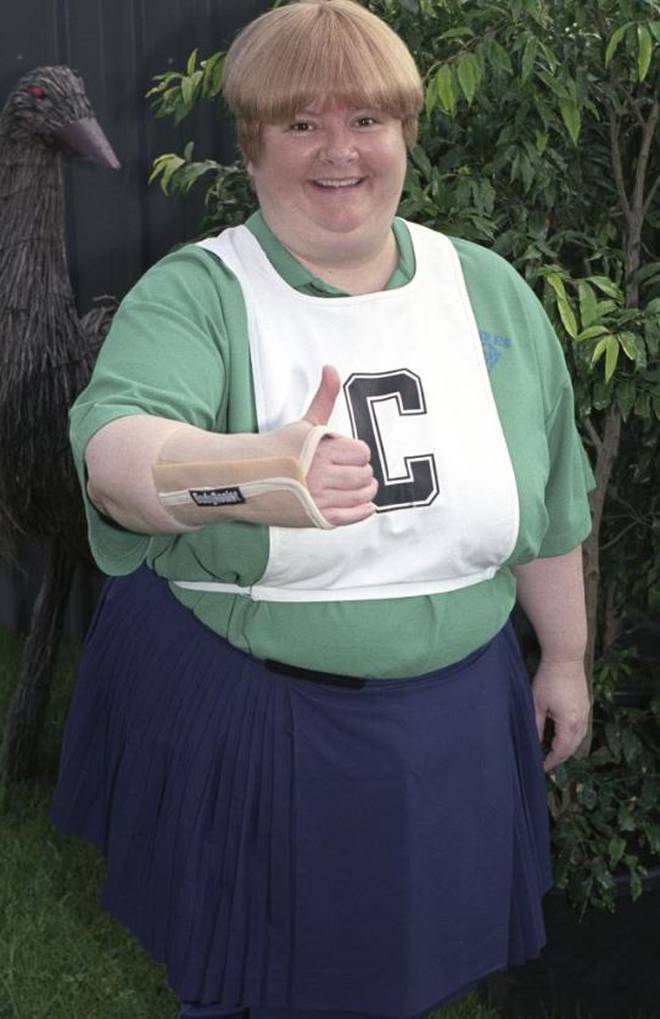 "And some wigs are just gold.
"So there was this great wig. It had great movement, and it sort of was a pudding-bowl haircut."
By the time Szubanski blended in the tireless volunteer spirit and selflessness of the "big lesbian baseball team" she played with in St Kilda, and the unsung and obsessed heroes of women's netball, the formation of Sharon was complete.
'F*** them I'm going to be fat on Bondi Beach'
Recounting her battle with her weight, Szubanski reveals the scars of having her body become the subject of public debate, especially after losing almost 40kg in 2009, and then putting it back on.
"I don't feel like a fat person," she tells Denton.
"It's like carrying a suit of armour. It does become your second skin, something that you are very used to.
"When I lost all the weight on Jenny Craig it was quite a weird feeling.
"I don't want to be a whinger but I would look at myself … I didn't recognise myself and that's a very strange feeling. To not have this body felt odd."
Szubanksi turned one of her lowest moments into a personal victory of sorts over the prying lenses of paparazzi in 2011, when shots of her on the beach at Bondi were plastered across women's magazines.
"Nobody gives you the protocol on how to deal with a bunch of paparazzi, who descend on you like flies on s***, and they're so well organised," she says.
"When those pictures were taken on the beach I wanted to cry.
"Even though I'm not an especially vain woman, I don't think many women feel comfortable being photographed at the beach in clingy wet bathers.
"Then thought f*** them, I'm just going to go down there with all the models and just be fat on Bondi Beach and they can get f***ed.
"It actually became really liberating because when you do go out there and be fat on Bondi Beach nothing terrible happens … except you have a terrific swim with your friends."
A tough year
Szubanski fights tears as she reveals she's still reeling from perhaps her hardest year in 2017, which saw highs at the forefront of the same-sex marriage debate, but desperate lows as her beloved mother was dying.
Margaret passed away shortly before the same-sex marriage vote passed, and Szubanski dearly wishes the dyed-in-the-wool Scotswoman had lived to see it.
"Seven days, mum took to die. It was brutal, and we don't talk about that a lot and it's f***ing traumatic watching someone die and I think we should reintroduce black armbands because you're not normal after someone you love has died," she says.
"I wished she'd been here to see the vote. She couldn't understand it. She often would say to me 'I don't understand how people would turn on their own'."