Kanye West has been one of the most talked about people in the world after his Twitter post sprees, endorsement of Donald Trump, and stirring up controversy regarding slavery during his TMZ Live appearance.
But could it all be a part of an intricate performance art project?
Kansas-based radio host Spencer Wolff has the internet buzzing as he shared a lengthy thread on his Twitter detailing a conspiracy theory that the 40-year-old rapper's recent antics are a part of an elaborate hoax, reports Daily Mail.
Wolff - under his twitter handle @Snowcone965 - began it by writing: "Get your tinfoil hats and red string, I've got a conspiracy theory: @kanyewest is in the middle of a performance art piece and the clues are right in front of us. A thread:"
He first establishes who Tremaine D. Emory is (@DenimTears on Twitter) as he is a collaborator, close friend of West, and has done work for fashion labels like Off-White and Marc Jacobs.
Wolff establishes the man's relationship with West in a recent Instagram post by the Famous hitmaker as a person who looks very similar to Emory could be seen in a snap posted by Kanye on May 1.
There is a group of people sitting around a circular table with the caption: 'energy meeting. Beings from all different backgrounds.'
About a week after making his return to Twitter last month, he posted four images: two involved David Hammons and the other two involved Joseph Beuys.
Hammons is an American artist whos work is described as being "sharply critical commentaries on the cliches of growing up African American in the US," according to the Museum Of Modern Art (MOMA) website.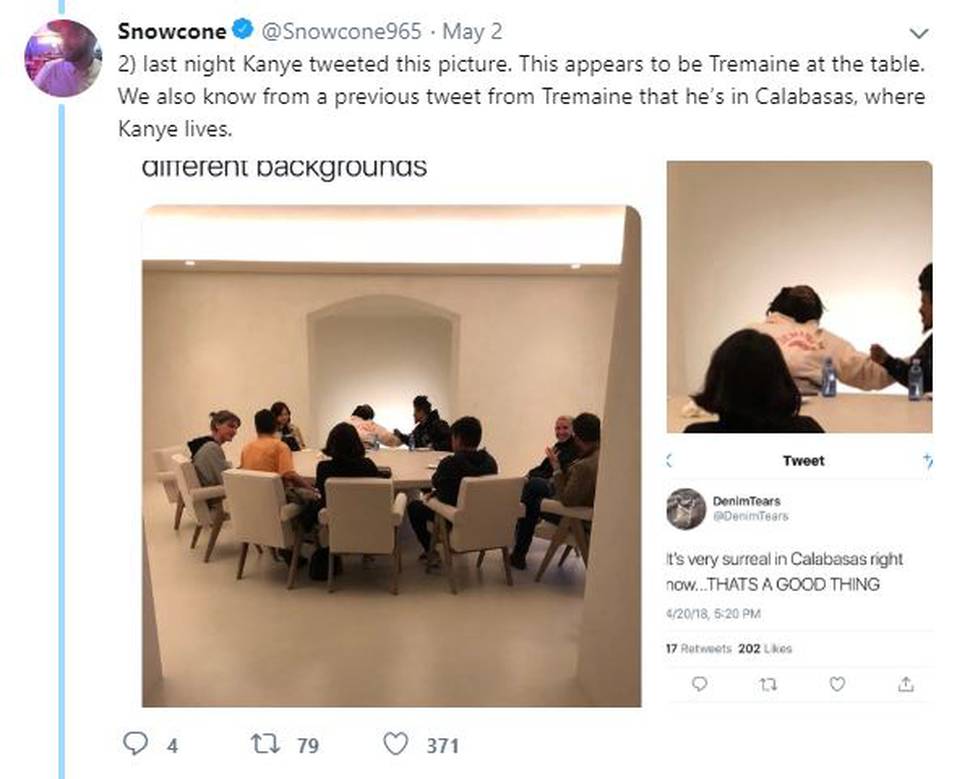 Tremaine retweeted the image of the cover a book authored by Elena Filipovic about Hammons titled Bliz-aard Ball Sale with a spade emoji which Wolff believes 'is referring to Hammons work which aimed to "turn racist cliches (spade) on its head."'
Kanye has attempted in flipping symbols seen as racist much like Hammons as he sported and sold merchandise with the Confederate Flag back in 2013.
During a radio appearance back in November 2013 West commented on the move as he said: "React how you want. Any energy is good energy. You know the Confederate flag represented slavery in a way – that's my abstract take on what I know about it. So I made the song New Slaves. So I took the Confederate flag and made it my flag. It's my flag. Now what are you going to do?"
No as far as Beuys goes, Wolff hypothesizes that Kanye is mimicking an art installation from 1974 by the German artist which is featured in one of the pictures he shared.
The installation titled I Like America And America Likes Me featured Beuys locking himself in a room with a coyote for three days.
The purpose of the conceptual art was that the coyote was a symbol of the wild and untamed spirit of America and that being around Beuys would make it tolerant toward him. Ultimately it seemed to work as at the end of the three days, the coyote allowed the artist to hug him.
Wolff explains: "I believe Kanye is doing a modern take on Beuys piece with the coyote. He's embraced what might be considered the coyote of today. Gotten close to it. Trump, Candace Owens, Alt Right. Maybe he sees this as a better chance to "tame" the coyote than more traditional methods."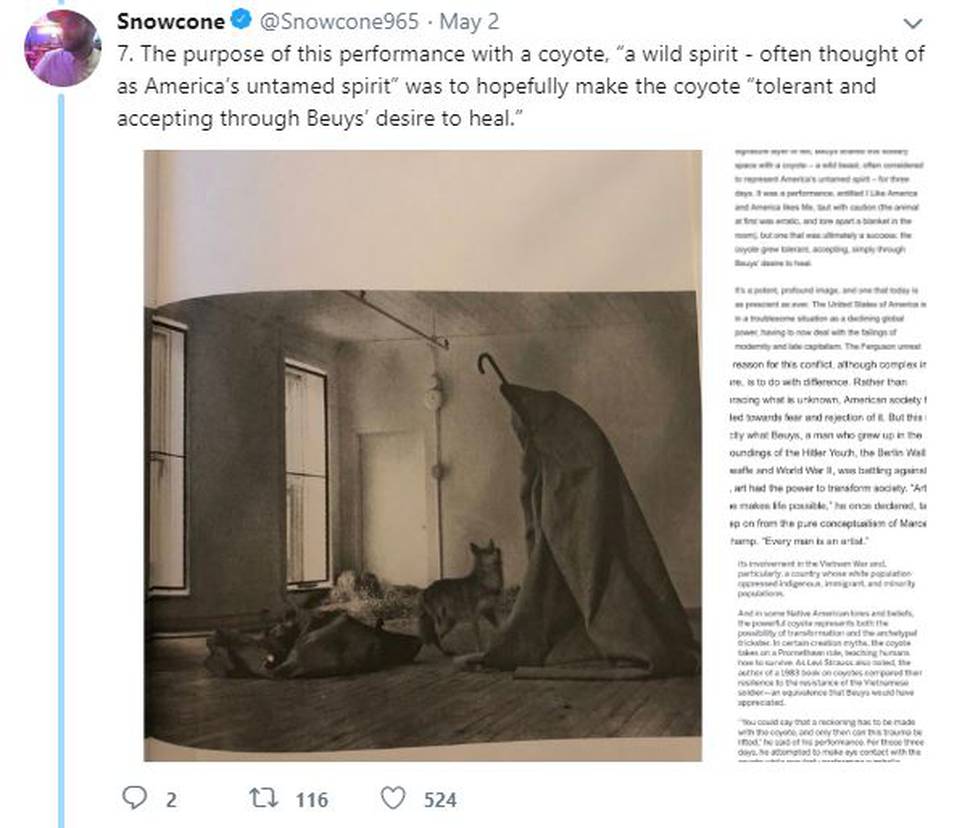 Aside from Beuys and Hammons, there is another artist that the 96.5 The Buzz host believes Kanye is taking inspiration from in the late, great Andy Kaufman.
On April 28, Kanye posted a snap of his "mood board" which featured the work of Beuys and Hammons along with what seems to be a photo of Kaufman as it was of a unibrow, eyes, and nose with "ANDY" written over it.
Andy Kaufman was a comedian, professional wrestler, and performance artist who made his name in the Seventies and Eighties as he often put his audiences in uncomfortable situations while never breaking character.
Tremaine even adds more fuel to the fire that Kanye has gotten inspiration from Kaufman as on April 25 he tweeted: "Let's play twister let's play risk, yeah yeah yeah..." which are lyrics to REM's 1992 track Man On The Moon which was written about Kaufman and later used in the soundtrack of the Jim Carrey film of the same name in 1999.
Perhaps the most interesting bit of Tremaine's inclusion in explaining this theory comes as he retweets Kanye's "mood board" with the caption "The prestige" followed by a spade emoji, juggler emoji, an emoji with a cowboy hat, and wrestling emoji.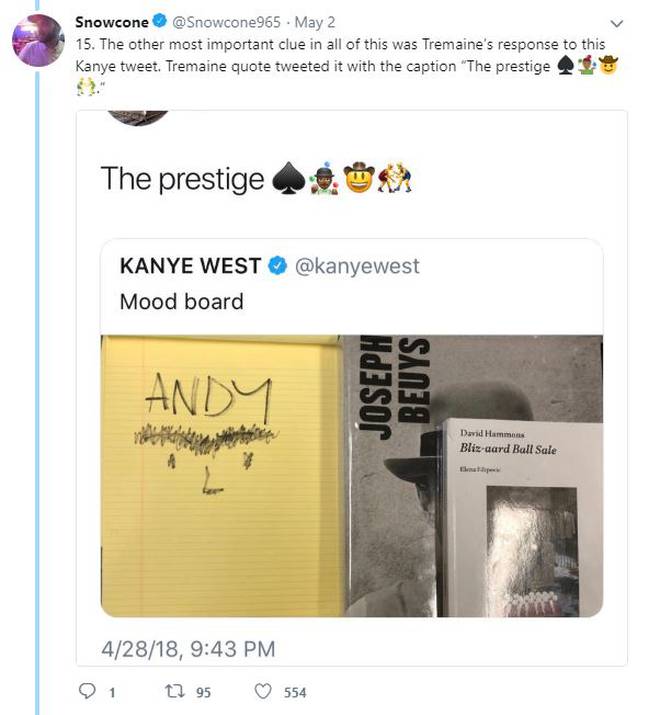 Wolff explains: Maybe I'm reaching here, but I think [spade emoji] represents the MAGA hat, a symbol of perceived racism. [juggler emoji] could represent Kanye pulling a trick, or maybe juggling a lot of things. [emoji with cowboy hat] represents taming the coyote, and [wrestling emoji] represents Kaufman.
He also notes that if the juggling emoji does represent pulling a trick then more context could be added to Tramaine's "the prestige" comment.
In Christopher Priest's 1995 novel The Prestige - which was turned into a 2006 Christopher Nolan film of the same name starring Hugh Jackman and Christian Bale - gives more context to the anatomy of a trick.
He writes: "Every great magic trick consists of three parts or acts. The first part is called 'The Pledge'. The magician shows you something ordinary: a deck of cards, a bird or a man. He shows you this object. Perhaps he asks you to inspect it to see if it is indeed real, unaltered, normal. But of course... it probably isn't.
"The second act is called 'The Turn'. The magician takes the ordinary something and makes it do something extraordinary. Now you're looking for the secret... but you won't find it, because of course you're not really looking. You don't really want to know. You want to be fooled. But you wouldn't clap yet. Because making something disappear isn't enough; you have to bring it back.
"That's why every magic trick has a third act, the hardest part, the part we call 'The Prestige'"
Wolff also compares Kanye's behavior to a more recent example of performance art in Joaquin Phoenix who had a bizaare appearance on The Late Show With David Letterman in February 2009 among other incidents but turned out to be for his 2010 mockumentary I'm Still Here.
He wrote: "One more thing- this isn't something we've never seen before. A lot of people thought Joaquin Phoenix had lost his mind when he quit acting and started rapping. Remember that Letterman interview? Turns out it was all performance art for I'm Still Here."
The radio personality does realize that this could all be a stretch and he may be looking too much into it as he credited Reddit and a popular West messageboard KanyeToThe.com for information and background.
Wolff concluded by reinforcing his hypothesis as he explained: "So my theory is this: Kanye (most likely with help from Tremaine and/or others) is in the middle of a performance art piece. What is the overall goal of it? Idk. Maybe holding a mirror up to the world and forcing us to talk about some things. Maybe the album will explain."
Kanye is currently back in Wyoming finishing up his five album project according to a Thursday report from TMZ.
Kanye will be producing five different albums featuring seven tracks released within a month including: Pusha-T's album on May 25, his solo album on June 2, his project with Kid Cudi titled Kids See Ghost on June 8, rap legend Nas' album on June 15, and Teyana Taylor's album on June 22.