The creators of the popular Netflix show Stranger Things have apologized after being accused of verbally abusing women on set.
Peyton Brown, a grip who worked on the show during its first two seasons, alleged on Instagram that showrunners Matt and Ross Duffer created a hostile work environment for women.
'I will not be a part of the filming of Season 3 of Stranger Things. Why, you ask? Because I stand with my sisters,' Brown wrote on her Instagram account, reports Daily Mail.
'I personally witnessed two men in high positions of power on that set seek out and verbally abuse multiple women.'
In a statement to The Hollywood Reporter on Saturday, the brothers said: 'We are deeply upset to learn that someone felt uncomfortable on our set.
'Due to the high-stress nature of production, tempers occasionally get frayed, and for that, we apologize.'
The statement added: 'However, we think it is important not to mischaracterize our set, where we believe strongly in treating everyone fairly regardless of gender, orientation, race, religion, or anything else.
'We remain totally committed to providing a safe and collaborative working environment for everyone on our productions.'
Netflix added: 'We looked into the concern that was raised when we heard of the allegation on Friday, and found no wrongdoing. Maintaining a safe, respectful atmosphere on set is important to us, and we know it is to the Duffer Brothers as well.'
In Brown's Thursday Instagram post, she said: 'I promised myself that if I were ever in a situation to say something that I would.
'I have 11.5 thousand followers who can hear me say this, TIME IS UP.'
A grip is a technician that usually works in the filmmaking and video production aspects of a film or television show.
According to her Instagram account, Brown also worked on the popular AMC show Walking Dead.
When another Instagram user asked Brown specifically about the Duffer brothers, she responded: 'There was yelling, there were insults, there were threats and people were even fired or forced to quit because of them.'
A screen shot of the posts was taken by Entertainment Tonight.
Hours after the original post, Brown deleted it and the comments since it specifically named the Duffers.
She then re-posted the item without mentioning the Duffers by name, only referring to them as 'two men in high positions of power on that set.'
This past December, when Brown learned that Netflix was renewing Stranger Things for a third season, she posted a video of herself on Instagram showing her having fun on a roller coaster with one of the stars, Gaten Matarazzo.
'When they finally announce that we're getting season 3!!!! ♥️♥️♥️ #WOOOOOOO #StrangerThings #season3baby #noahsitdown,' she wrote in the Instagram post.
Sarah Hindsgaul, a hair stylist who works on the set of Stranger Things, came to the Duffers' defense.
On her own Instagram account, she wrote on Friday: 'Thank you Matt and Ross Duffer for being the sweetest most lovely directors I ever worked with.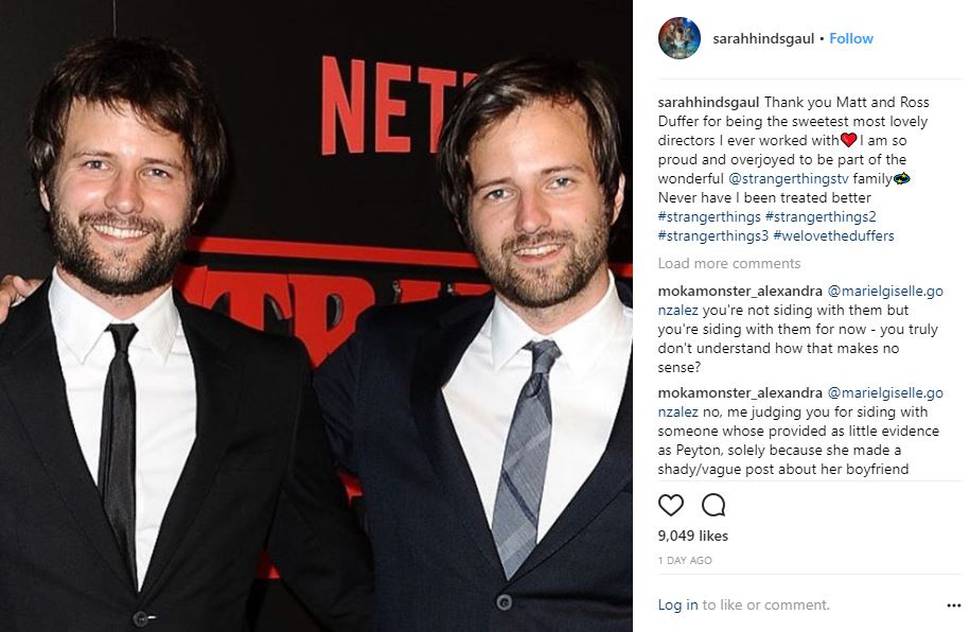 'I am so proud and overjoyed to be part of the wonderful Stranger Things family.
'Never have I been treated better.'
She ended the post with the hashtag #welovetheduffers.
Hindsgaul and Matt Duffer appear to be an item, judging by her Instagram account.
On February 15, she posted an image of Matt Duffer with the caption: 'I love you Matt Duffer sweet valentine.'
That same day, she posted an image of Matt Duffer dining in what appears to be a beach resort in the Maldives.
'Happy b day Matt,' the caption read. 'I miss you and wish I could spend this special day whit you but you got work to do on the other side of the country so instead I will post a picture of one of the best days of my life and I spent it whit [sic] you.
'You are the most amazing being I have ever meet.'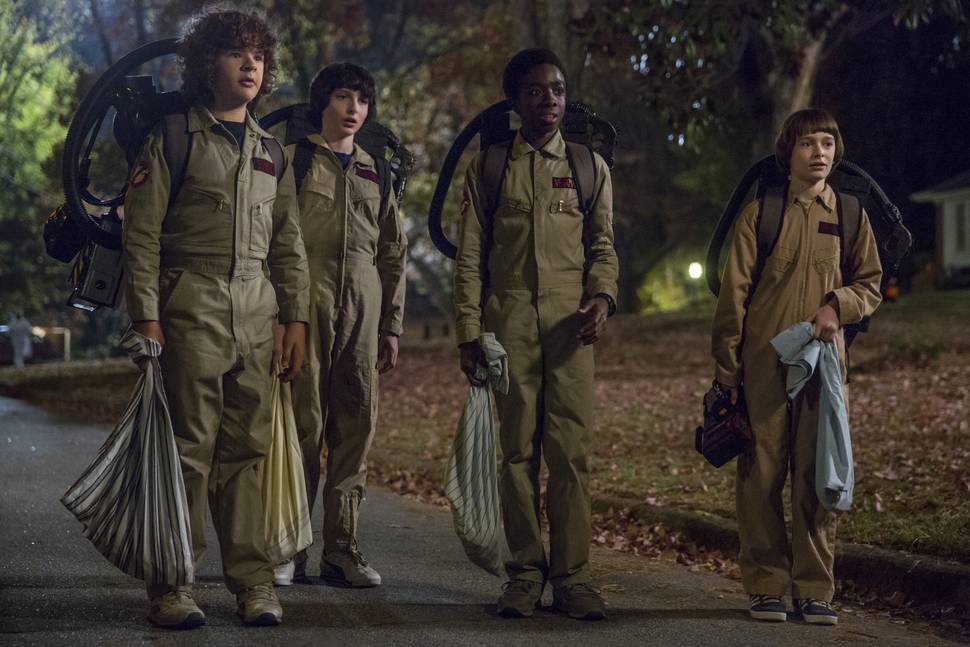 Stranger Things is a science fiction drama that has been praised by critics. In its two seasons, it has amassed a sizeable audience as well.
The show, a series produced by Netflix, stars Winona Ryder, David Harbour, and Millie Bobby Brown.
It also features other big-name actors in lesser roles, including Paul Reiser, Sean Astin, and Matthew Modine.
Since revelations about alleged sexual harassment by Harvey Weinstein surfaced in October, scores of prominent figures in show business have been accused of crimes against women.
Allegations have ranged from unwanted advances to harassment and rape.