Attempts to phone, email, text or otherwise contact Dunedin woman Trista Townsend this afternoon are likely to be ignored.
She's going fishing - for Ed Sheeran tickets.
As the echoes of excitement continue to reverberate over the news Sheeran will perform at Forsyth Barr Stadium in Dunedin in March, there is another chorus growing: how can we best secure tickets?
The Dunedin performance, the only one in the South Island, is scheduled for Thursday, March 29.
Sheeran's only other New Zealand concert will be at Mt Smart Stadium, in Auckland, on March 24.
Tickets for what is likely to be a Dunedin sellout, potentially drawing up to 40,000 fans, go on sale to the general public on May 23 at 2pm. However, Sheeran's promoter, Frontier Touring, is offering fans a chance to buy tickets early as part of a 24-hour pre-sale, which starts at 2pm today.
Townsend has already signed up as a Frontier member, receiving a code that allows a maximum of four pre-sale tickets per person via the Ticketmaster website, which also requires membership in order to buy tickets.
That means, come 1.59pm today, Townsend will be glued to her computer. She will also have a phone to her ear as she and a cohort of friends and family members also seek to secure admission.
She believes the frenzy for tickets is likely to echo her experience getting tickets for English star Adele's recent Auckland shows, the first of which was sold out within minutes of going online last November.
Such was the demand for the 10-time Grammy-winning Adele, second and third shows were added.
''When we got tickets to Adele, we had sub-groups of me and my friends doing this,'' Townsend explained.
''There are strategies to getting tickets. I have signed up to Frontier. But don't put that in your article because everyone will do it,'' she said, laughing.
''The key is to team up. I plan to be on my computer and the phone at the same time as my friends and family. We'll all be trying to get tickets.
''I will be on every device known to mankind trying to get these tickets. But it is pretty much luck of the draw. I don't care if I stand or sit. I'll just be happy to get a ticket.''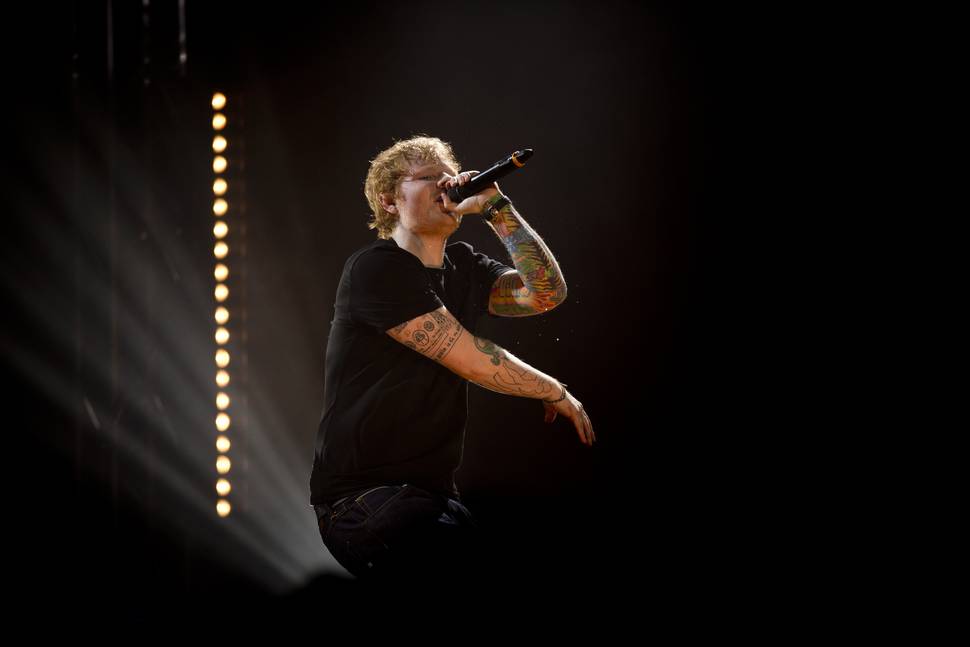 Having secured tickets to see Sheeran at Auckland's Spark Arena (formerly Vector) in April 2015 (he also performed at Mt Smart later that year), Townsend is excited at the prospect of seeing the two-time Grammy winner without having to pay for flights as well.
''The whole family loves Ed Sheeran,'' the married mother of two boys, Jonty (11) and Harry (9), said.
''We promised the kids that if Ed Sheeran ever came to Dunedin, we'd take them. But we said that thinking it would never happen. What the ... now he's coming.''
Significantly, Sheeran's tour dates include a week-long window in New Zealand, meaning there is time to stage extra concerts should demand be high enough.
''We hope March 29 will be a sell-out show, which would be very encouraging for the promoter,'' Dunedin Venues chief executive Terry Davies said.
Don't be late
• Pre-sale tickets are available from 2pm today through Ticketmaster.
• To be eligible, applicants must have signed up with Frontier Touring to get a pre-sale code, which provides access to a maximum of four tickets.
• Ensure your account is set up before attempting to buy tickets
• Double-check your password, address and billing details.
• Other tickets (maximum six per purchase) go on sale to the general public on May 23 at 2pm.