Key Points:
Newly released videos show Harrison Ford's plane flying over the American Airlines jet.
The 74-year-old actor was landing a single-engine plane at John Wayne Airport in California.
One video shows the shadow of his plane passing over the top of the AA plane.
There were 106 people on the plane that was narrowly missed on February 13.
New video has emerged showing just how close Harrison Ford came to a fiery, air disaster when he botched his landing at a California airport and passed just metres above an American Airlines 737, the Daily Mail reports.
Ford's near-miss took place last week when he was landing his small plane at John Wayne Airport in Orange County.
New videos have revealed just how close the 74-year-old came to crashing into a 737 that was taxiing on the tarmac.
In one video, which was shot from a camera fixed on the runway, the shadow from Ford's single-engine plane is seen flashing over the fuselage of an American Airlines plane loaded with more than 100 passengers and a six-person crew.
Another video, shot from another angle, shows Ford's Husky plane over the top of the American Airlines plane, which came to a halt after Ford flew in and landed on the taxiway.
It was revealed last week Ford asked air control, "Was that airliner meant to be underneath me?" just seconds after the incident on February 13.
The Federal Aviation Administration said controllers had given Ford clear instructions to land on the runway, as landing on a taxiway is a safety violation.
They say the actor read the instructions back yet he still somehow ended up aiming for the taxiway.
American Airlines flight 1546 - which Ford narrowly missed - was still able to take off for Dallas just minutes after the incident, NBC News reported at the time.
The FAA was quick to launch an investigation into the incident, which could result in anything from a warning letter to Ford losing his licence.
However, the investigation was put on hold last Wednesday, as it did not pose "immediate danger".
The aviation body said that it could take weeks for the Indiana Jones star's investigation to be processed, because of a considerable backlog.
Ford, a vintage plane collector, has been involved in a number of crashes over the years.
Most famously, in 2015 he crash-landed a World War II-era airplane after the engine failed. The aircraft plummeted into a Santa Monica golf course during the crash in which Ford suffered head injuries and a broken arm.
But Ford was actually praised for keeping his cool and managing to glide his airplane into the crash landing.
Moments before the crash, in audio of his conversation with air traffic control, an unemotional Ford was heard asking for an emergency landing because his engine had failed.
He said he was not going to be able to make the runway at Santa Monica Airport so he picked a long green at the nearby Penmar golf course to land out of the way of the congested neighbourhood.
After plunging 3000 feet and hitting a tree on the way down, Ford was rushed from the scene bleeding heavily from a head wound.
Ford's publicist Ina Treciokas said the actor had no other choice but to make an emergency landing.
"Harrison's been a great pilot. You can see by the fact that he survived this forced landing that he is a skilled aviator," Paul Mitton, who produced a documentary about Ford's love of flying, told CNN at the time.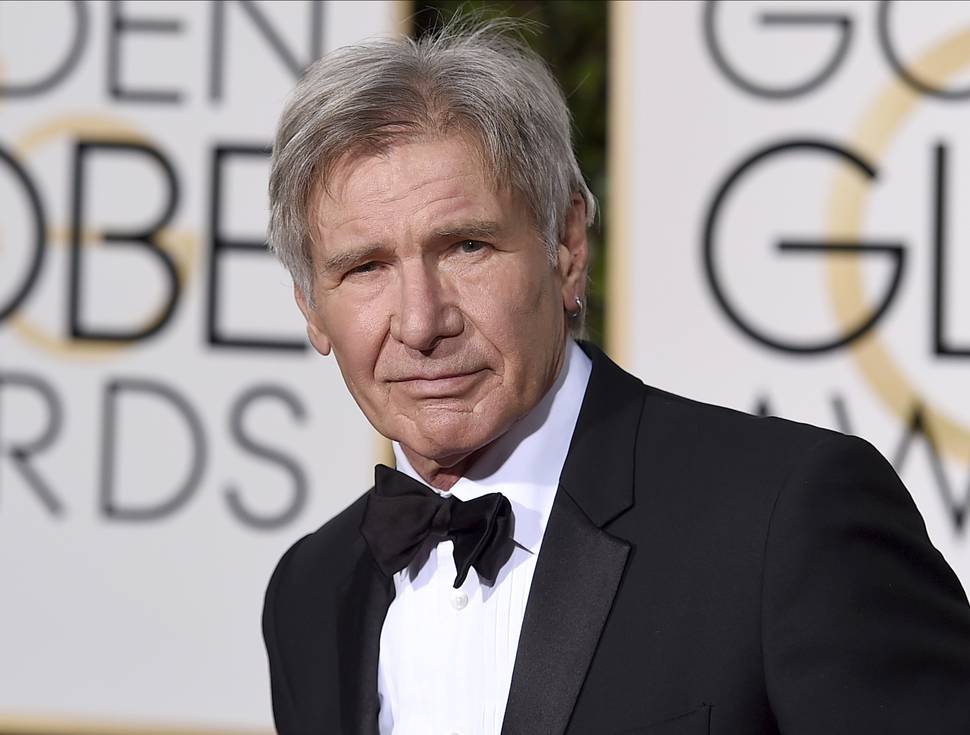 Aviation expert Rick Dake told People Ford's landing was amazing considering the unforgiving nature of the World War II-era plane.
"Everything he did was perfect," Dake, of Aviation Consulting Experts, told the magazine.
He also crash-landed a helicopter in 1999 and was forced to perform an emergency landing the following year in a Beechcraft Bonanza at Nebraska's Lincoln Municipal Airport.
He discovered a passion for flying somewhat late in life but Ford embraced it with gusto and flew his collection of planes as much as he drove his collection of vintage cars.
The actor was 52 when he started taking flying lessons and over the years the Indiana Jones star has amassed an impressive aviation collection.
He keeps the aircraft at the Santa Monica Airport which is where he was where he had taken off from in his two-seater PT- 22 shortly before he crashed on a nearby Venice golf course in 2015.
Now 74, Ford would be too old to fly a commercial aircraft - the mandatory retirement age is 65.
However, the FAA has no age limit on private pilots.
The only additional requirement is that pilots above the age of 40 must pass medical exams every two years instead of every five.