Viewers of a UK quiz show were left spitting out their afternoon teas this week after a contestant discovered a particularly rude word.
Countdown is a long running British quiz show, where contestants are given random selections of letters and have to make the longest word possible from them.
Susie Dent is the show's resident lexicographer, someone who compiles dictionaries, and runs the show's Dictionary Corner.
However, she left contestants blushing this week with her eight-letter pick, the Daily Mail reports.
The letters the contestants were given were MTHIAEDHS.
So can you work out what she came up with . . .?
Mischievous Susie soon pointed out the naughty word hiding in its midst, pointing out you could spell 's**thead' using those letters.
Covering her tracks naughty Susie said: "I apologise for this one in advance, it's in the dictionary."
She continued: "We're only saying this because it gets you one letter further, but it's s***head, I apologise."
The camera then panned to fan favourite Rachel Riley who had spelt out the word, and was trying not to laugh.
The show's host, Nick Hewer, jokingly told Dent "wash your mouth out".
It wasn't the first time Countdown has been a source of amusement for viewers. Fans will remember many a naughty word or innuendo appearing in the jumble of letters.
Viewers enjoyed a thrilling climax to the show when the word 'orgasmed' appeared in 2013 and former co-host Carol Vorderman famously found herself stifling laughter over words like 'p**s' and 'a**e'.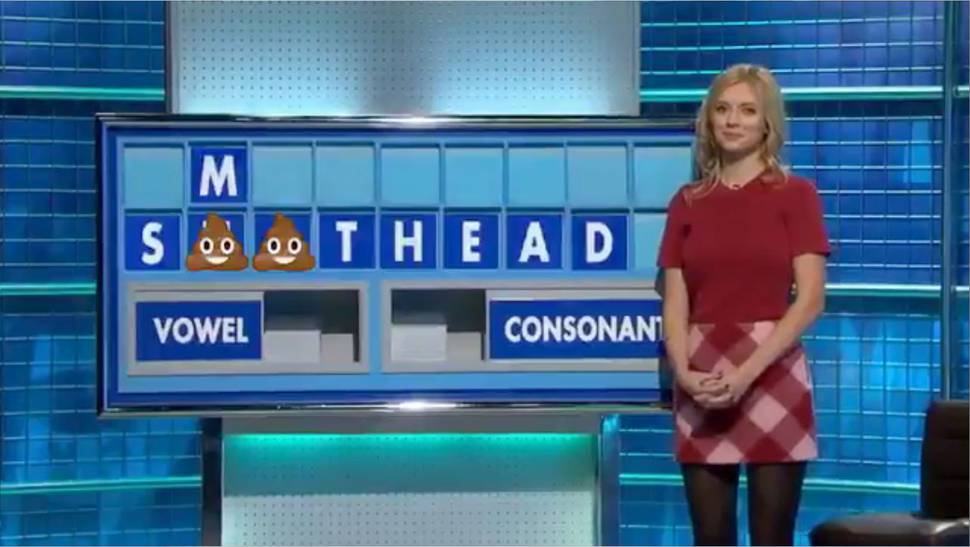 She also had to spell out the word 'todgers' during her time on the daytime show much to the amusement of viewers.
In 2014 viewers took to social media in delight when the word erection was found. However, ever the professional, Rachel laughed off the word and carried on.
Going further back, former numbers and letters girl Carol Vorderman was left in hysterics when the words 'fart' and 'poo' came up.
Famously Hairy Biker chef Dave Myers had viewers in stitches when he found the colloquial term 'todgers' during his appearance. The cheeky television cook even managed to raise a laugh from stern host, Hewer.