Laneway kicked off in its new home of Albert Park - but how did it all work out? Chris Schulz and Siena Yates were there.
Some of the biggest acts in the hipster music world performed at the Laneway music festival yesterday, including alt-rockers Tame Impala and Kiwi veterans The Chills.
But they were all outshined by the real star of the event: the new venue.
Yes, it was the day that the Auckland-based indie and alternative music event - an Australian-born festival now into its eighth year in New Zealand - moved into a much larger and greener location at Albert Park Precinct.
With the festival's four stages placed in the park and surrounding streets, that meant punters were easily able to find space and shade from the searing sun under those giant knotted trees spread around the site.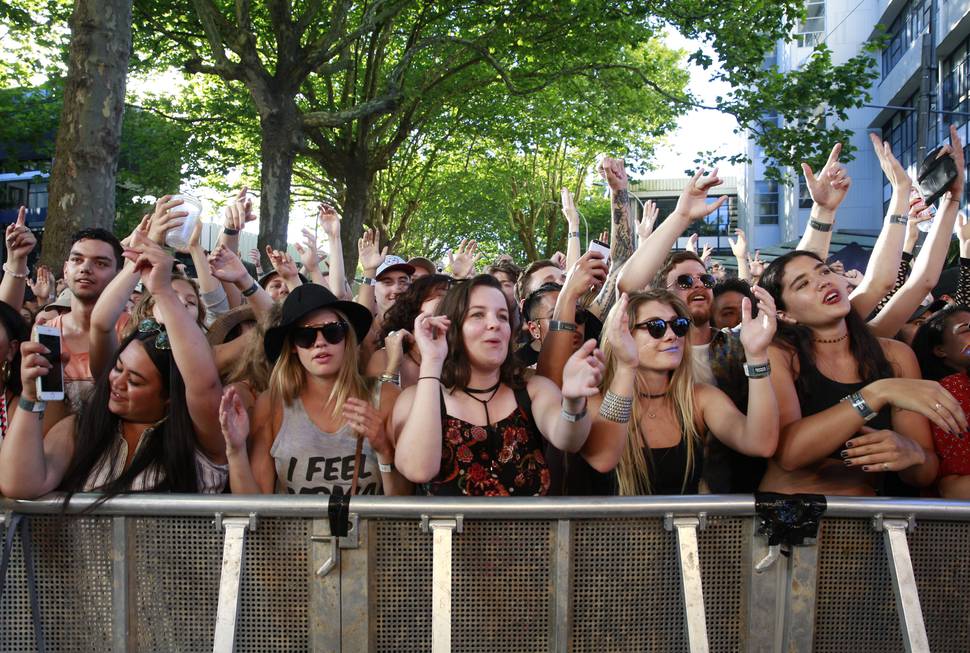 That was a tough, sometimes impossible, task in the concrete jungles at Laneway's previous homes in Britomart, Aotea Square and Silo Park.
Fans attending today's sold out event were quick to compliment its new home, which, despite being 50 per cent larger than its Silo Park site, kept numbers capped at around 12,000.
"It's so much better with all the shade and the stages being so far apart so you don't get all the sound interference between them," said Miles Tordeich.
"They tried to do it at the Domain and that would've been pretty cool, but I think this is way better."
Fellow music lovers Matt Whyte and Barbra Ho said the venue would definitely make them more likely to keep returning to the festival.
"I like the venue more because it's bigger and more spacious. There's a lot of shade and trees and flowers and you can see more people actually sitting down.
"It definitely makes me want to come back more - it's just more fun," they said.
Today's event kicked off with homegrown talents Nikolai and Fazerdaze opening two of the four stages set up at Albert Park Precinct, as temperatures soared to a sweltering 24 degrees by 2pm.
To cope, punters headed to dedicated beer and wine gardens, or grabbed a bite to eat in the shade from the many boutique food options that included pork buns, vegetarian hot dogs, milkshakes, organic sodas and kebabs.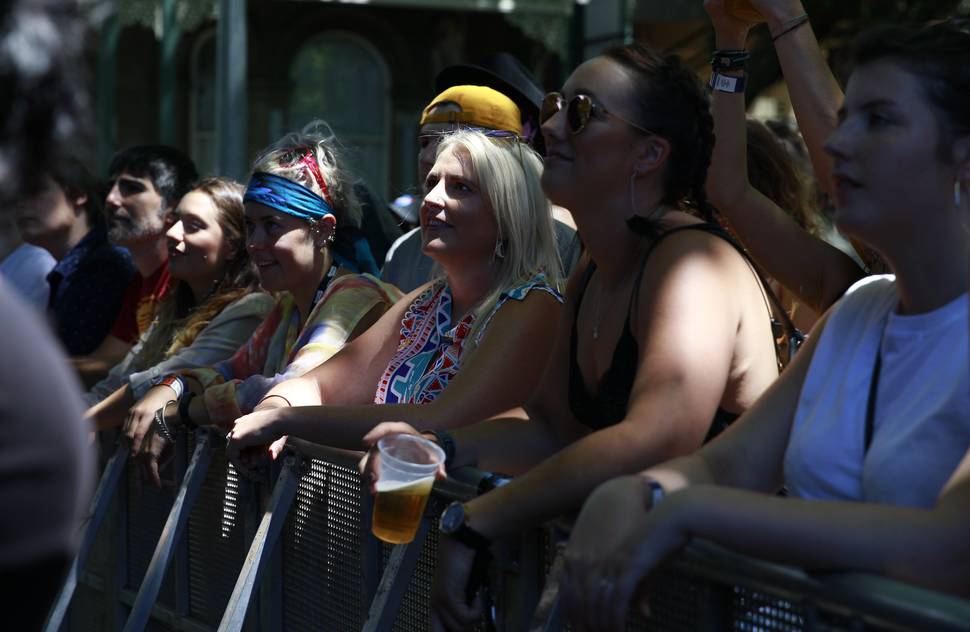 Despite the steamy heat across the site, it was occasionally a little too chill on stage in the festival's early hours. There were solid performances but little to really set pulses racing, and the festival's new home seemed to be the biggest talking point.
That changed when Seattle's Car Seat Headrest proved grunge was still alive and kicking with a determined set of alt-rock antics on the Fountain Stage.
Swedish hardcore rockers Refused then grabbed their baton and ran into the crowd with it.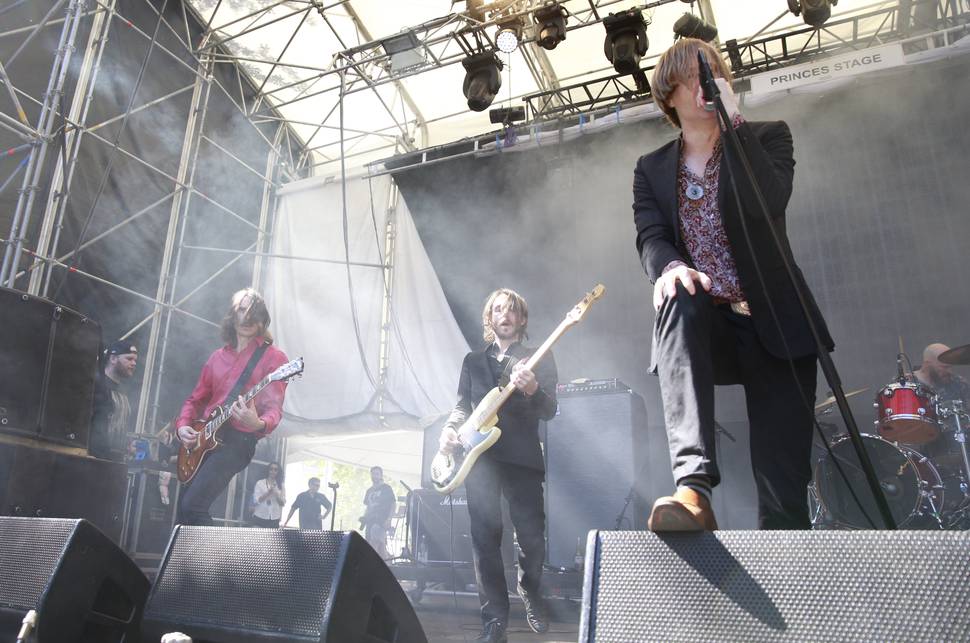 "The world is a complete shitstorm," screamed front man Dennis Lyxzen just three songs into their rowdy set on the main stage on Princes Street, framed beautifully by trees.
"Look what's happening in America ... Britain ... Sweden ... Music should be about revolution, revolt and rebellion."
He capped off his rant by diving into the crowd to perform a song dedicated to "the death of capitalism".
While Laneway's borders have expanded, so too did its line-up, with Canadian indie-rockers Whitney up against spooky Norwegian singer-songwriter Aurora, and Tycho's ambient electronica clashing with Aussie psych-rockers King Gizzard.
Its site may have changed, but Laneway's hipster credentials haven't. To find the day's best acts, you had to go looking for them - and many could be found on the much improved Thunderdome stage hidden down Alfred Street.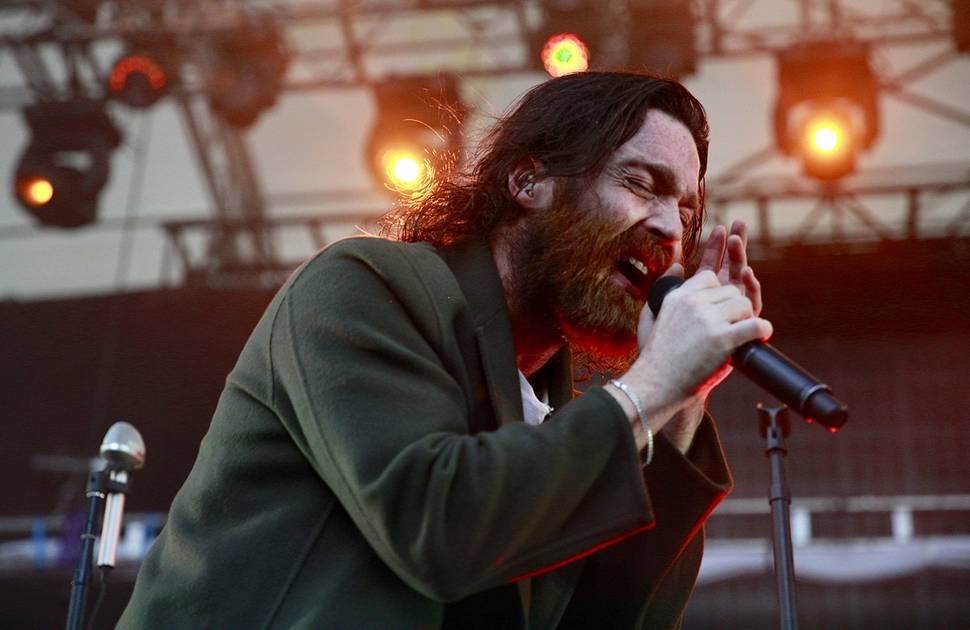 At Silo Park, the stage-inside-a-silo was a novelty detour that suffered horrible noise issues. Nestled between the Auckland University library and quad, it has expanded to become a fully fleshed out stage in its own right that scored hits time and again.
It started with White Lung's jarring early onslaught, continued with Whitney's upbeat antics and continued with the always awesome Cut Off Your Hands, before scoring one of the day's best acts thanks to the shadowy soul-pop of Brit singer Nao.
She was followed by the day's standout Mick Jenkins, an Alabama rapper who made up for the cancellation of Young Thug by delivering a storming set of grimy street raps led by highlights from his most recent album, The Healing Component.
"Drink more water" was Jenkins' running advice throughout his set, and while it's a metaphor intended to carry a much deeper meaning, on a day like today, they were wise words to take literally.