When I tuned into Donald Trump's much hyped but poorly RSVP'd pre-inauguration 'Make America Great Again! Welcome Concert' the entertainers had already begun the process of making America great again.
Sadly, I'd missed the big time party beats of DJ Ravidrums, whose claim to fame appears to be lost, but still, better late than never right? Besides, the man himself hadn't yet shown up so I figured I was all good.
Instead, the original midnight cowboy Jon Voight was at the mic addressing the crowd.
"Yes," he said. "God answered all our prayers."
God, I said, why have you forsaken us?
While I awaited an answer the old soul singer Sam Moore came on and put an old soul spin on America the Beautiful. He sung it pretty good. Had a choir with him. The works.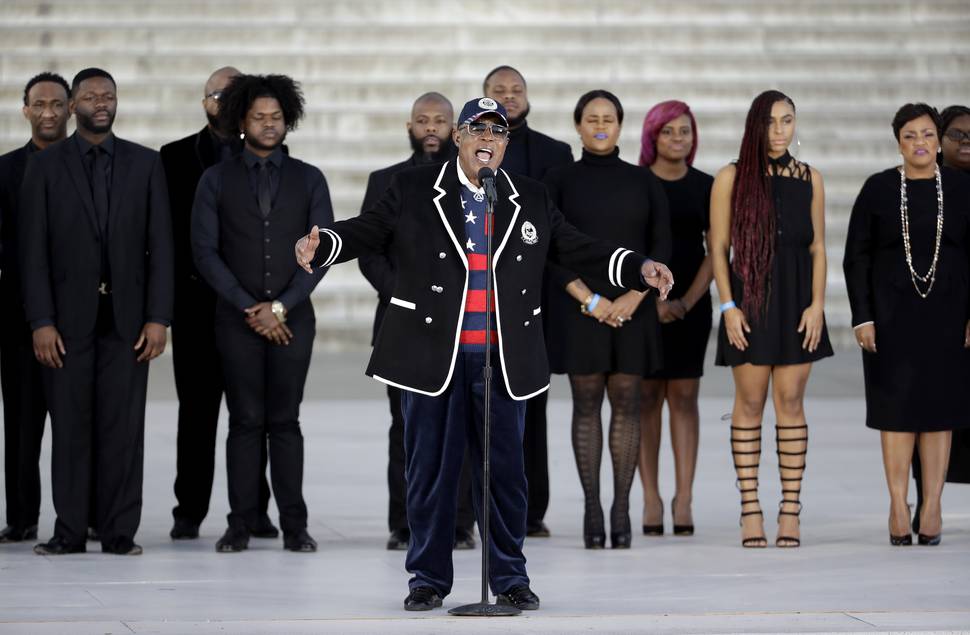 When he'd finished a military band dressed in revolutionary era garb marched on and pa-rum-pum-pum-pum-ed their way through a couple of numbers.
And then the answer to all Voigt's prayers appeared. The man himself, the big guy, the apprentice. No, wait, sorry, the nearly President.
For a guy so passionate about bringing jobs back to America he'd outsourced a pretty bloody important one; providing his entrance music.
The President-elect and his wife Melania walked out in front of the slim crowd, to stand in front of the hugely symbolic Lincoln Memorial statue, while the bluesy riffs of the UK's finest, the Rolling Stones, pumped out of the sound system.
Trump had picked a recording of Heart of Stone. A good enough song I suppose, but a puzzling choice considering its opening lyrics are: "There's been so many girls that I've known / I've made so many cry, and still I wonder why."
Um... yeah.
Anyway, he did a fist pump. Then he did a double barrel fist pump. Then he contorted his face into something that came close to approximating a smile before joining his family behind a shield of bullet proof glass.
The event's announcer assured us that the old dudes in their finest smart casual jeans walking onto the stage were very successful and tremendously famous. They'd won grammys even and had now assembled into a supergroup.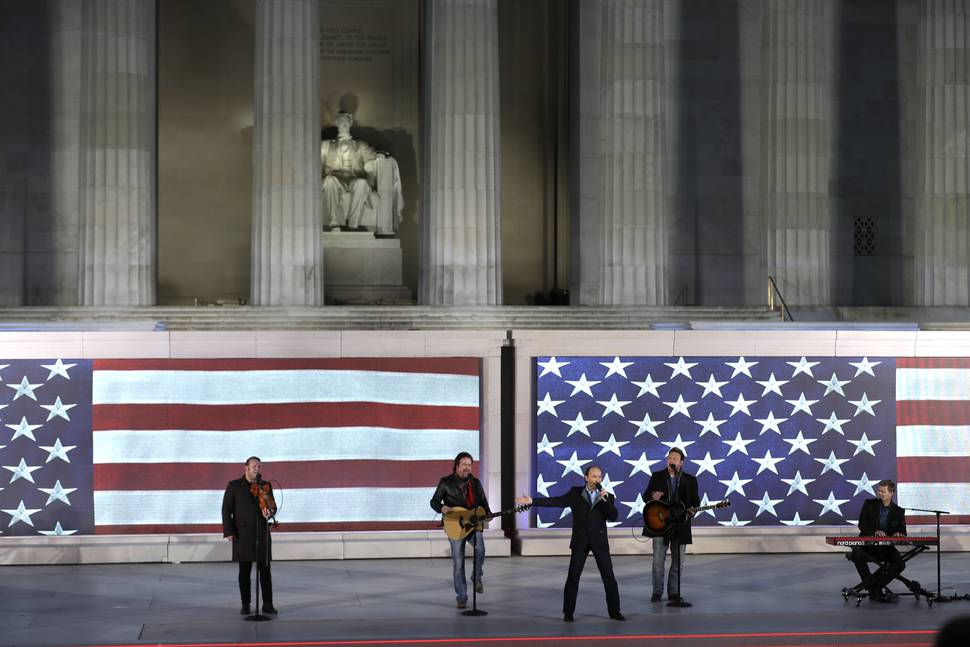 The Frontmen of Country, they called themselves, and they played proficient and patriotic, country songs.
One was called God Bless Texas. Trump liked this one. He boogied in his seat. Bopped to the beat and even attempted singing along.
Next up was the band nobody came for. Or even remembered before they became a highly effective punchline used to highlight the lameness of this auspicious occasion.
3 Doors Down were every bit as good as expected. I can't tell you if they played three songs or one very long song. At one point the singer growled something about Superman and kryptonite and why are they still playing?
He tried, but even Trump struggled to put on a convincing act of enjoying the band. He made a slight effort to groove to their boring chug, but it was clear he wasn't feeling it.
To regain lost momentum DJ Ravidrums returned to the stage. He stood in the middle of a big drum kit and told America it was "time to put aside their differences". Then he banged on his drums to terrible dance music while dancers in silver hazmat suits jumped around.
Next up was the, "internet sensation with one of the most viewed YouTube channels in the world".
It's easy to snigger at internet celebrities because, it's the internet, right? But the Piano Guys videos do really have millions of hits. Their cover of Disney's Let it Go, for example, has been watched 70,909,759 times. Which is 7,929,880 more votes than Trump got in the election.
Maybe these guys should be President?
Their party trick is that they pluck the exposed strings of a piano. It's not bad for a meme I guess, but hardly comparable to the entertainment value of, say, a Bruce Springsteen covers band for example.
"Okay America its time to put all our differences aside," one of the Piano Guys said, "If we do it's going to be okay."
It was not okay. The unpleasant nursery rhyme of a song they launched into repeated the simplistic and naive message of "It's going to be okay," ad nauseam.
Still, you play the cards you're dealt and if life gives you lemons, as Trump clearly had been this evening, what you do is you grimace, stand up, pretend to sing the chorus and dance awkwardly along with everyone else.
The announcer: "Once again please welcome DJ Ravidrums".
Whaaaa? Again?
The announcer: "Once again, please welcome the American Military band."
Whaaaa? Again?
The announcer: "Please welcome one of the most popular artists in history".
Whoa! Cool!
"Toby Keith".
Wait, who?
The announcer was clearly using a bold new interpretation of the phrase, "one of the most popular artists in history,".

Keith sung ultra patriotic country songs about freedom and soldiers and shooting and whiskey and the U. S. of A kicking ass.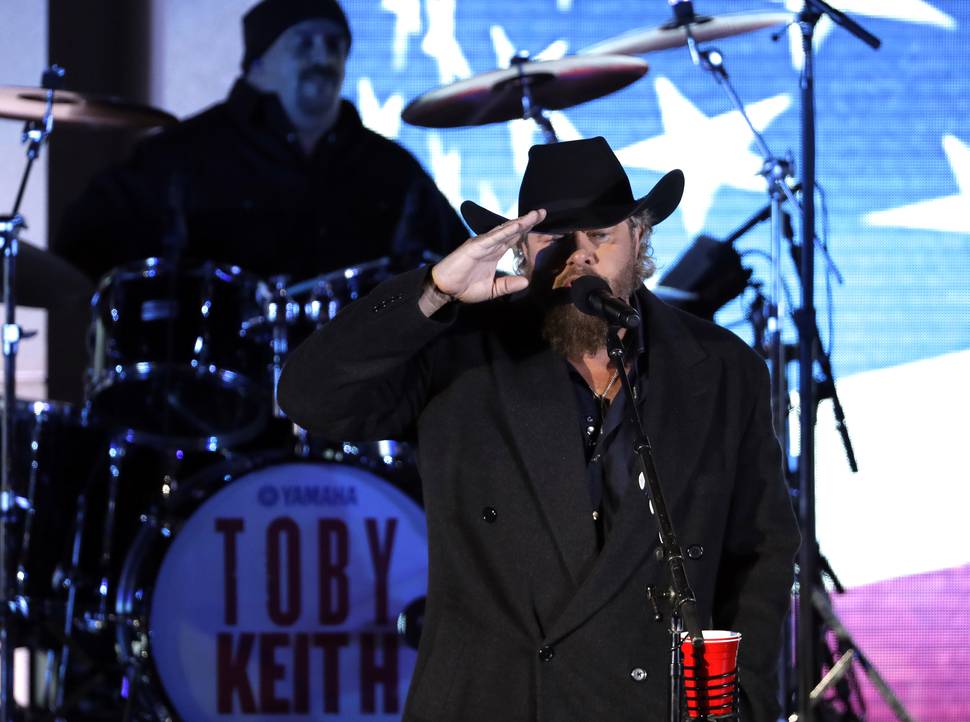 In a moment of surprising class he thanked Obama "for his service". But then he launched into a song about shooting gangsters on the street so the moment was ruined somewhat.
The assembled Americans seemed to like it, and good ol' boy Keith and his band of good ol' boys had upscaled their bar-room country to the big stage with proficiency.
The headline act of the gig was of course the Donald. Sadly, his speech wasn't particularly memorable. I can only assume he's saving all the good stuff for the actual inauguration.
Instead, he talked about the weather and making America great again and having "a big movement".
Trump finished his speech with, "Enjoy the fireworks,".
For a second I thought he was referring to his upcoming presidency but then there was an explosive boom and the sky turned bright red.