A police statement, in which a terrified Kim Kardashian described the moment she lost £8.5m ($14.5m) worth of jewels in a Paris robbery, was published today for the first time.
The 36-year-old reality TV star told officers that she "heard a noise at the door" and "shouted out" but no one answered.
The Daily Mail reports that she described how masked thugs grabbed her and took her out to the entry hall.
READ MORE:
Was it an inside job?
16 arrests over Kim Kardashian Paris robbery
Kim Kardashian 'hysterical' after Paris robbery
She said: "I was in a bathrobe, naked underneath. We went back to the bedroom and they pushed me onto the bed."
The statement release comes as the full names of the alleged gang members behind the robbery were made public, and Kardashian prepared to travel to France to give evidence against them.
The mother-of-two was in a state of severe shock when she was quizzed for an hour from 4.30am by detectives on October 3 last year.
Less than two hours earlier five men broke into her central Paris apartment where she was alone after a fashion week dinner on a Sunday night.
"I heard a noise at the door, like footsteps, and I shouted to ask who was there, but no one answered," said Kardashian in the statement leaked to Le Journal du Dimanche.
She added that she called her bodyguard at 2.56am and saw through her sliding doors two people arrive with a male receptionist who was tied up.
The concierge was Abdulrahman, 39, who was forced to take the gang to the flat at gunpoint.
Referring to the robbers, Kardashian said: "Both men were hooded, one had a ski mask and he had a cap and a jacket with 'Police' on it.
"The second man had the same 'Police' clothes, but did not have any ski mask. The man with the ski glasses was about 1.7m (5ft 6in), thin, black trousers, black boots.
"The second man, also European, was taller and he stayed with the security guard. He was around 1.8 (5ft 9ins) and was dressed in the same way as his accomplice. It was the one with the ski mask who stayed with me."
Aomar Ait Khedache, a 60-year-old nicknamed "Old Omar" and Didier Dubreucq, 60, and dubbed "Blue Eyes" have been arrested on suspicion of robbery.
Referring to one of the men, Kardashian said: "He had a strong French accent and asked me for my ring [In English]. He looked at what was on the bedside table. It is worth $4 million."
Following repeated requests to produce her diamond engagement ring, Kardashian told the robbers that she 'didn't know' where it was.
She said a gang member then "took out a gun" and she "showed him the ring".
"He had gloves. He asked me where the jewels and the money was. He grabbed me and took me out to the entry hall. I was in a bathrobe, naked underneath," she said.
She added: "We then went back to the bedroom and they pushed me onto the bed. And at that point they tied me up and put plastic cables and scotch tap on my hands, and then taped my mouth and my legs. They took me to my bathroom, more specifically in my bathtub.
The reality star then listed the jewellery they had taken.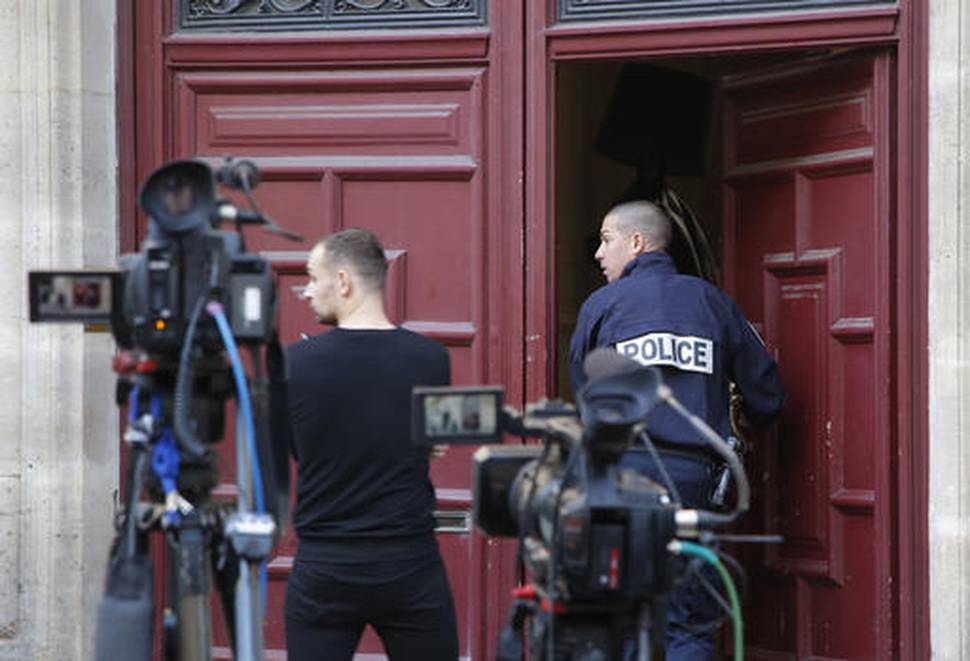 She said: "In my jewellery box there were two Cartier diamond bracelets, a Jacob necklace in gold with diamonds, earrings with diamonds by Loraine Schwarz, and others by Yanina.
"There were three gold necklaces by Jacob, little bracelets, jewels, rings. A necklace by Loraine Schwarz with diamonds, another little necklace with six diamonds underneath.
"Another diamond necklace with the name of my son 'Saint' on it. There was also a Jacob diamond cross. There were two rings in yellow gold. I think they robbed me of $5 million."
In fact, the total haul was worth around US$10m, or $14.5m.
Kardashian continued: "Then they ran away. During the theft, they had the hotel's mobile phone and it did not stop ringing, and they spoke in French.
"I got the impression they were saying they had to leave. Then I succeeded in pulling off the tape from my hands and my mouth. I guessed that they were a bit inexperienced in the manner in which they had tied me up."
Asked if she was would recognise the attackers, Kardashian said: "Perhaps the small one, with the ski mask, but I'm not sure."

Aomar Ait Khedache and Didier Dubreucq have been charged with a range of offences, including armed robbery.
Ait Khedache is said to have admitted his involvement in the well organised heist after his DNA was allegedly found on ties used on Kardashian's wrists.
His son, Harminy Ait Khedache, 27, is one of eight others also charged. Pierre Bouainère, a 72-year-old alleged career gangster, and a woman named only as Christiane, 70, who was the girlfriend of Aomar Ait Khedache, have also been charged.
Yunice Abas, 63, has reportedly admitted his involvement, according to judicial sources.
He is said to have dropped a piece of jewellery as the gang escaped on bicycles.
Ms Kardashian is being kept informed about all developments in the case, and her lawyers have made it clear that she is prepared to return to Paris to give evidence.