Kanye West's close friend and fellow musician John Legend has voiced his concerns for the Fade rapper the morning after he was hospitalised for a psychotic break.
In an interview with CBS This Morning on Tuesday, Legend revealed that he was with West's wife Kim Kardashian right before he was taken to UCLA Medical Centre late Monday.
"We were with Kim actually, you know, right before all of that.
"I was concerned by what I saw, so hopefully he's getting some rest and some time to figure things out," Legend said.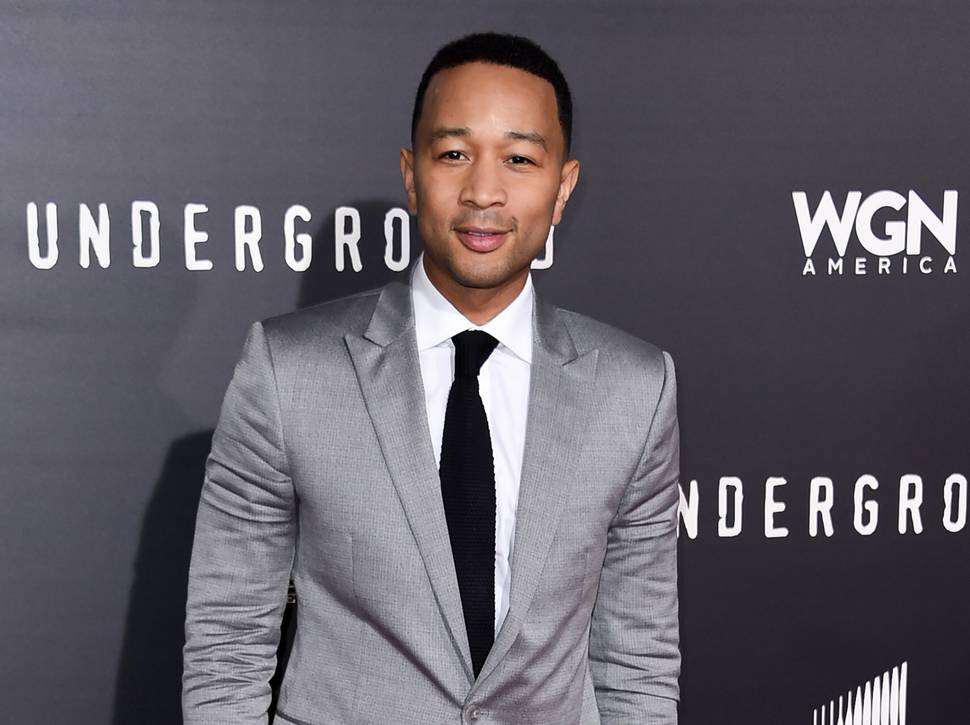 Kardashian was in New York on Monday when her husband was hospitalised for his own safety after suffering a psychotic breakdown. She immediately fly back to L.A., deciding to skip the Angel Ball she planned to attend with her sisters Khloe and Kourtney.
Legend has been friends with West for about as long as he has been in the music business. The two met in 2001, when Legend was introduced to West and hired to sing the hooks on some of West's tracks. He later was signed to West's label.
Their wives are also incredibly close. When Kardashian said she was looking into surrogacy for a possible third pregnancy, because of a health condition, Teigen immediately volunteered to carry her friend's baby.
"I would be her surrogate in a second," the model and cookbook author told Access Hollywood. "I really enjoyed the pregnancy process - I loved it. Yes. In a heartbeat."
The two women have also posted extensively on Snapchat and Instagram about each other, from Kim's baby shower for Chrissy to double dates at Waffle House.
After Teigen gave birth to her and Legend's first child together earlier this year, the couple met up with Kardashian and West to show off the new baby.
Teigen referred to Kardashian as 'Auntie Kim' in a picture posted to Snapchat of Kim cooing over baby Luna.
The rest of West's Saint Pablo tour has been cancelled in the wake of his hospitalisation.
TMZ reports that the star is "spiralling out of control" while friends told DailyMail.com that the 'breakdown' was triggered by problems in his marriage, paranoia over his rift with Jay Z and his seething jealousy of Beyonce.
Paramedics were called to Kanye's home at around 1:20pm on Monday when the rapper was suffering 'severe sleep deprivation', and decided he needed to be admitted. Law enforcement sources confirmed he was hospitalised for his own health and safety.
Sources close to Kanye say he tried to resist being transported to the L.A. hospital and had to be handcuffed to a gurney in transit.
Kim had been due to make an appearance at an East Coast event yesterday but jumped back on a plane to Los Angeles after the shock news of her husband's hospitalisation.
She was later spotted disembarking a jet at the Van Nuys Airport, in Los Angeles, late Monday night and climbing into a car - presumably waiting to take her to UCLA so she could be at her husband's side.
Concerned fans have already begun tweeting with the hashtag #PrayForKanye in the wake of the news.
Earlier today, Kanye's concert promoter, Live Nation, had announced he was axing the remaining 22 gigs on his national tour without giving a reason.
The announcement came just two days after the 39-year-old music artist had walked off stage 30 minutes into his performance following an incoherent political and personal rant.
West took aim at Hillary Clinton, close friends Beyoncé and Jay Z and Mark Zuckerberg in the bizarre outburst while on stage in Sacramento on Saturday. Now friends say the rant is more than just another dramatic tantrum from the rapper known for his outspoken opinions - and even his famous wife has had enough.
"Kim is fed up," a close friend tells DailyMail.com. "They've been bickering constantly - she didn't want Kanye to do the tour in the first place. She wanted him by her side as she recovered from her traumatic robbery
More from Spy:
• Madonna's son arrested in drug bust
• Is Adele having a second baby?
"She lost days with him while he's touring and then he made a rash decision to end the concert after ten minutes and go on a rant.
"He had a psychotic break. Kanye is very hot tempered and he's very reactionary. A lot of times, he speaks before he thinks and he's very sensitive."