Considering our current politically incorrect climate where racist epithets and anti-feminist rhetoric is considered run-of-the-mill narrative on national news programmes, the timing of Billy Bob Thornton's return as the profanity-spewing, booze-swilling Willie Soke in Bad Santa 2 couldn't be more auspicious.
Following the surprise hit of 2003 (grossing $US76 million on a modest $US18m budget), the second instalment pushes the envelope even further.
Thornton, 61, is in Los Angeles to promote the film.
"The raunchy humour is at least as much as it was in the first, maybe more. We didn't hold back in the first one, which was the first time that had been done," he says, referring to the R-rated Santa-themed comedy.
"This time, I think we didn't worry because we'd proven already that it was okay. If you have a movie that popular, you don't want to lose the original fans."
Whereas many actors veer away from portraying unlikeable characters, Thornton has never been afraid to play on the side of unsavoury.
"It's part of the job," he says shrugging. "If you play Pat Boone, you have to be completely Pat Boone. If you are playing Charles Manson, you have to be completely Charles Manson.
"You can't play a role 75 per cent. I'm often asked whether I feel awkward saying offensive things while kids are around, but you have to forget that. It's a movie, you are an actor and it's your job," he says matter-of-factly. "So you jump in with both feet."
Directed by Mark Waters (Mean Girls), the movie reunites Thornton with Tony Cox, who reprises his role as his elfin helper, this time to help Soke rob a charity on Christmas Eve.
A welcome addition to the plot, Kathy Bates plays Soke's foul-mouthed, abusive matriarch, proving the apple doesn't fall far from the tree. Mother and son share a bond in their respective careers, both forged in criminal activity.
Bates, 68, relished the opportunity to play this larger-than-life raunchy "badass" from the wrong side of the tracks.
"It was fabulous," she roars. Arguably, it's an interesting choice for the highly-revered, Oscar-winning actress. "Oh, I never gave it a thought," she retorts.
"I was such a fan of the first movie that when they asked me if I'd be willing to play Billy Bob's mother, I said, 'Um, where do I sign?' I wanted to have a fun time with it."
Fully immersed in the storyline, she explains, "I really wanted her to be a biker chick. I went to the guy who does my hair and makeup and said, 'I need a mohawk!' I had so much fun picking out vintage leather and chains, I just loved it." She says grinning. "When I stood in front of the mirror, it filled me with incredibly joy."
Bad Santa 2 gleefully celebrates its political incorrectness.
"I do use some bad language in my own life, although in the last few years I've had to clean up my act out of respect for other people," Bates says. "On a movie set, things are a little less free these days. I used to enjoy a drink back in the day, but I'm not an alcoholic, and I don't do drugs." She smiles, and offers unexpectedly, "Somebody was saying in relation to the 900-pound gorilla in the room, when they go low, we get high," she laughs. "I like that one."
It's less than a week since the Republican presidential candidate became President-elect Trump, and Hollywood is reeling from the shock.
Thornton says, "When they asked Elvis about the Vietnam War, he said, 'To tell you the truth, sir, I am just an entertainer.' I don't quite understand sometimes why people even consider what an actor or a musician thinks about it, because at the end of the day, nobody cares about what I think about it really; it's just something that can be put in the papers.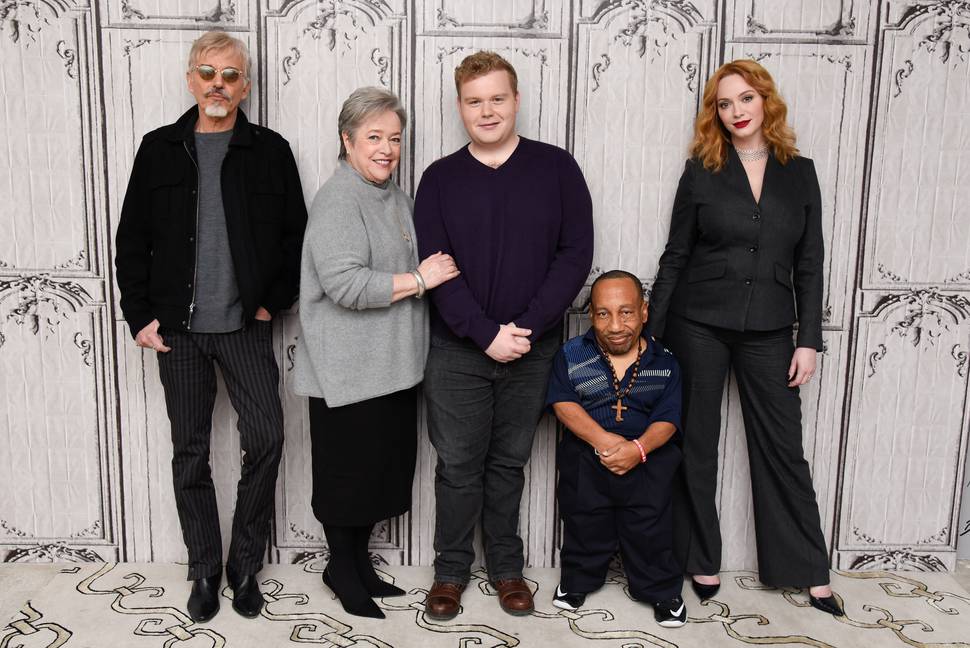 "A few years ago, I would tell you exactly what I think publicly. I have learned over the past few years that you can't say anything publicly anymore - pro, con - about anything. I have very strong opinions about a lot of things, but the truth is not encouraged any more, and when you do tell the truth, someone tries to knock you off the hill for it. So that's why I don't talk politics publicly."
One may assume his alter ego, Willie Soke, to be a classic Trump supporter. Thornton laughs. "I don't think so, no. I think he would probably beat him up. Actually, I don't think Willie worries about politics."