2016 has been a very good year for English actor Kate Beckinsale. She received some of the best reviews of her career playing the sharp-tongued Lady Susan in Whit Stillman's Jane Austen adaptation Love & Friendship. It's a performance that has generated Oscar-buzz around Beckinsale for pretty much the first time since she started acting.
But before any potential awards glory can take place, she's back in the familiar black leather pants as Vampire Death Dealer Selene in Underworld: Blood Wars, the fifth instalment of the popular vamps v werewolves action fantasy franchise.
Beckinsale has played a number of high-profile roles in the years following her big screen debut in 1993's Much Ado About Nothing. Yet Selene remains the character with which Beckinsale is most associated.
"It has been odd being very well known for the thing that's the biggest stretch, that's been weird," Beckinsale tells TimeOut during a sitdown in Los Angeles. "It's kind of a quirky curate's egg of a career, but I'm oddly kind of happy with it, I must say.
"I went to Oxford, I had a fairly classical beginning, and didn't realise I think the effect of, especially doing movies like this, which is very much not my comfort zone. To me ... it's about trying lots of different challenging things and keeping muscular and testing yourself, but people get so excited about the leather trousers, it suddenly becomes [like] that's sort of 'you'."
In person, Beckinsale couldn't be anything less like the sombre, tortured, machine gun-touting Selene. She's relentlessly self-deprecating, warmly conversational and speaks with the rapid-fire pace of a sassy 1930s film heroine.
As far away as she is from Selene in real life, she says she is proud of the way the Underworld franchise helped establish the commercial viability of female-led action films.
"When we first started doing this, there were a few female-led franchises, not many, and obviously Alien being the kind of intense one that we all worshipped. You want different things from your female action hero than you do from your male action hero, and one of them is a really quite intense emotional life. I think the most successful, most brilliant action heroine ever played, is Furiosa [played by Charlize Theron] in Mad Max: Fury Road. There isn't a more vulnerable, damaged, hopeful, loving person, and it's very, very important. We had that [side] in the beginning, but it's been a conscious thing to want to keep that as much at the forefront as possible."
Underworld: Blood Wars is noteworthy as the first entry in the franchise to be directed by a woman, Anna Foerster, who's helmed episodes of the hit TV series Outlander.
"The themes are children and love and birth and death and existence," Beckinsale says. "And the wonderful thing about Anna is that ... she was very, very collaborative, and I think, two women, together, really wanting those themes to work was really nice treat."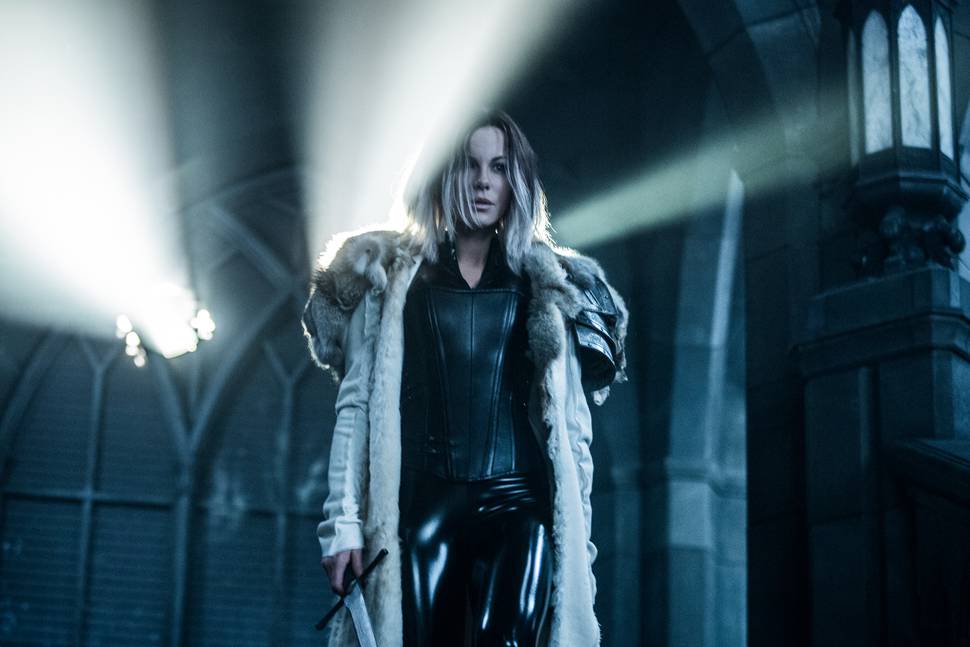 Beckinsale has starred in four of the five Underworld movies - she skipped the 2009 prequel shot in New Zealand - and remains open to the possibility of further entries.
"I think it all really depends on if people like the movie and they want to see the character again. So it's a real relationship between the audience and the movie. I don't need to make five more Underworld movies; I've played the character and all that and it's not a burning need but if you feel that relationship is still alive and engaged then that's a really nice thing so, I mean, I wouldn't say no. I was amazed that I was cast in the first one, and I've said every single time that I think that's it, so I've learned that I just have to be open to surprises."
Repeatedly mentioned in the reviews of Love & Friendship was the talent for comedic timing that Beckinsale displayed, something she's hasn't had a huge number of opportunities to pursue in her career. She's says she's desperate to do more comedy but again, perception is everything in Hollywood.
"I've been wanting to [do more comedy] for years. I think I possibly may have thrown everyone a curveball with the machineguns for a second there, but that's my first favourite thing. Love & Friendship is a good comedy, obviously it's Jane Austen but I find it a really funny movie so I was happy to get to do that. Whit [Stillman] knows I'm funny. That's the thing. Whit quietly knows that, he pays no attention to the machineguns."
Lowdown:
Who: Kate Beckinsale
What: Underworld: Blood Wars
When: In theatres from December 1