If this mixed-up world has taught us anything, it's that there are no sure things. But a new original fantasy movie set in the Wizarding World of JK Rowling, written by her, no less, surely comes pretty close.
Hitting theatres all around the world next week, Fantastic Beasts and Where to Find Them is one such movie.
"I don't think it's a sure thing," David Heyman, the film's producer, tells TimeOut in Los Angeles. "Yes it's Jo Rowling, and that's fantastic, it's the wizarding world and that's a huge asset, but it's not Harry, Ron and Hermione and you don't have the security, the crutch, that are the books."
Heyman should know. He's the man who successfully brought all seven Harry Potter books to life in eight ridiculously successful movies.
"I think we have things working for us," he continues, wildly understating the world's ravenous appetite for all things Rowling.
"And there's things not working for us. People don't know Newt. They don't know New York in 1926, the magical world. Now that's also really exciting because you can do different things. All you can do is make the best film you can and the rest will come or not."
People don't know Newt, but they soon will.
Portrayed by Oscar-winner Eddie Redmayne (The Theory of Everything) Newt Scamander is our entry point into this bold new world. He's an English Magizoologist (Hogwarts students use his textbook) who kicks off the story by arriving in 1920s New York after some time in the wild studying all manner of exotic magical creatures. Some of which may now be in his suitcase.
It must be an awesome responsibility being the face of a brand-new franchise with such a gargantuan built-in fan base.
"Every job you ever do, you think is the hardest one," Redmayne tells TimeOut. "When I was playing Stephen Hawking, I was like 'Stephen's gonna see the film, what's he gonna say?' and then with this I'm like 'But the fans!'"
In person, Redmayne's porcelain facial features seem even more delicate than they do on screen. He's softly-spoken, but warm, and clearly concious of the fact that he's getting to live out every young Potter fan's fantasy, even if he admits to clamming up when he handled his first wand.
"It was weird. They were like 'Pick a wand" and your inner 9-year-old is having a disco going 'This is the greatest moment of my life' and then you're like 'My wand!'. I got total stage fright."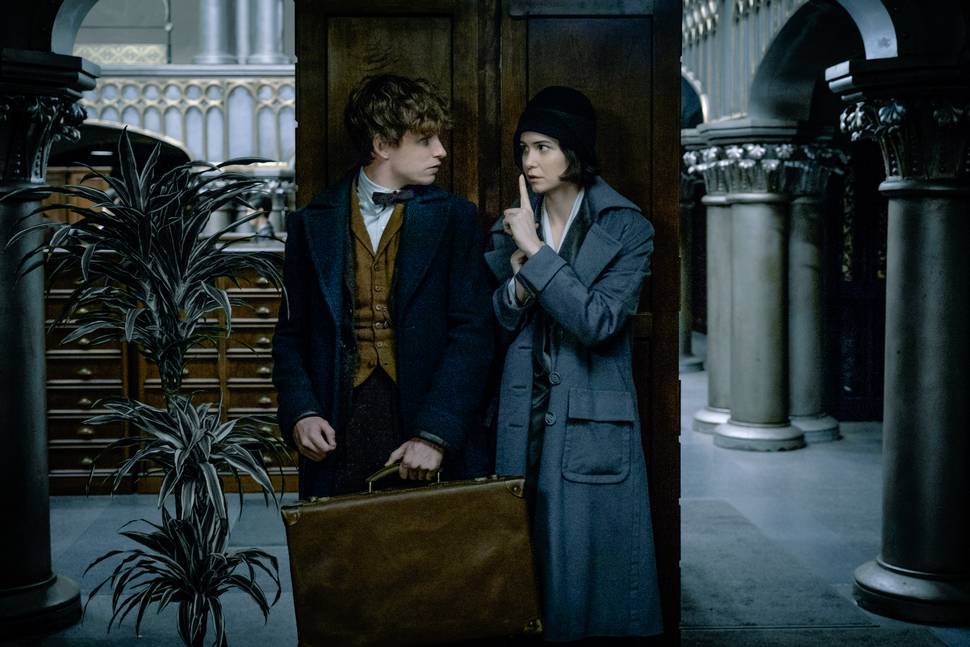 Redmayne got help in this arena from movement specialist Alex Reynolds, who worked with the actor on The Theory of Everything and The Danish Girl, two physically transformative roles. Redmayne also took inspiration from some of the Potter cast.
"If I was doing some of the spells and stuff, I'd go and watch how Dan [Radcliffe] and Emma [Watson] and Rupert [Grint] did it, or Ralph Fiennes."
Unlike with the Potter movies, Rowling wrote the screenplay for Fantastic Beasts, and was on set as a resource during shooting.
"You can ask her anything about any intricacy, back story detail, because her knowledge is encyclopedic, and she was ready for all of us. We were literally like kids sitting around going 'Then what happened?'"
"What is amazing about what she's done I think in this script is, she'd managed to bridge so many genres, it goes from being a thriller to being really quite dark to then there's humour, and it's romantic."
Apart from a notable lack of children, Fantastic Beasts' biggest point of difference from the Potter films, the American period setting, is what got Redmayne most excited for the project.
"It felt like there was such fuel for it being such an exciting period. It was the Roaring Twenties, the notion of Prohibition. It made such perfect sense that the wizarding world was happening there, post-war. What I love about Newt is that he's spent a year in the field, he's been to literally everywhere in the world, and yet when he arrives in New York, this is the strangest place he's ever been, because it's so vast and high and hard and confident."
As impressed as Redmayne is by the wizarding world that he is the new face of, the actor reveals this isn't his first exposure to magic.
"I was obsessed with magic when I was a kid. I used to love doing magic tricks. So when my Grandma, who's 95, heard I got this part, she was thrilled: 'Finally Eddie, you get to play a magician.'"
Ezra Miller shares how he is a massive Harry Potter fan and reveals what is freaking him out about the Fantastic Beasts and Where to Find Them movie.
Newt's principle partner-in-magic is an American witch with ties to MACUSA, the Magical Congress of the United States of America. Hot after her breakout performance in last year's Steve Jobs Waterston recently spent two weeks in Milford Sound ("I'm dying to go back.") filming the upcoming Alien: Covenant. Like Redmayne, she admits to having trouble with her wand work.
"I felt like I just couldn't be assertive with it. It did take work, just to get back to what kids do so naturally and easily. It really is just playing."
Jacob Kowalski (Dan Fogler)
Jacob is the first No-Maj (the American term for Muggle) to play a central role in a Wizarding World story. A Brooklynite who helps Newt get to grips with New York, he shares a background with his portrayer, a familiar-faced character actor. "I could be playing my great-grandfather, this character is that close to me," says Fogler (Fanboys). "And New York is already a very magical place. I always thought I was born in the wrong time. I always thought I should've been born in the twenties."
Queenie Goldstein (Alison Sudol)
Porpentina's younger sister, Queenie, rounds out the film's core quartet of heroes. This isn't her first acting role (she was in Transparent), but Sudol is still perhaps better known as alternative rock act A Fine Frenzy. She's also a tried-and-true Potter-head.
"I read all of the books. When you read it as you're growing up it becomes a very real world, almost like some alternate space that you also grow up in. And it's so powerful and detailed and beautiful and wonderful and something you want to be a part of and that doesn't leave you."
Percival Graves (Colin Farrell)
The final trailer for Fantastic Beasts suggests there's more to Percival than what has been officially revealed. "I'm an Auror," explains Farrell (In Bruges). "Kind of like an investigator or policeman, basically the director of magical security at MACUSA. Someone who's charge is to make sure the dividing lines between No-Majes and the wizarding world, that line of division is kept clean. So it's a position of great importance." And how did Farrell perfect his wand technique? "In my hotel room, trying to change the channel."
LOWDOWN:
Who: Eddie Redmayne and Colin Farrell
What: Fantastic Beasts and Where to Find Them
When: In cinemas from November 17