They have kept their silence over the collapse of Brad Pitt's marriage to Angelina Jolie.
But Jennifer Aniston's husband Justin Theroux appears to have taken a well-hidden swipe at the actress' very famous first husband, according to the Daily Mail.
The 45-year-old actor shared a graffiti design by street artist Nick Flatt to express his feelings surrounding the upcoming US presidential election.
The image showed a woman biting on her middle finger as she flipped the bird while she is surrounded by expletives, including "F**k politics", "F**k war", and "F**k imperialism".
But one slogan sent his followers wild - next to the woman's face is the words "F**k Brad Pitt".
Eagle-eyed fans were quick to comment, with many congratulating Justin for "throwing shade" at Jen's ex, who famously left her after meeting Angelina on the set of Mr. & Mrs. Smith in 2005.
MailOnline have contacted Justin's representative for comment.
The post comes after the couple's mutual pal Chelsea Handler came to the actress' defence when the subject of Brangelina's divorce came up in a chat with Grazia - saying it was "ridiculous" people thought she'd care.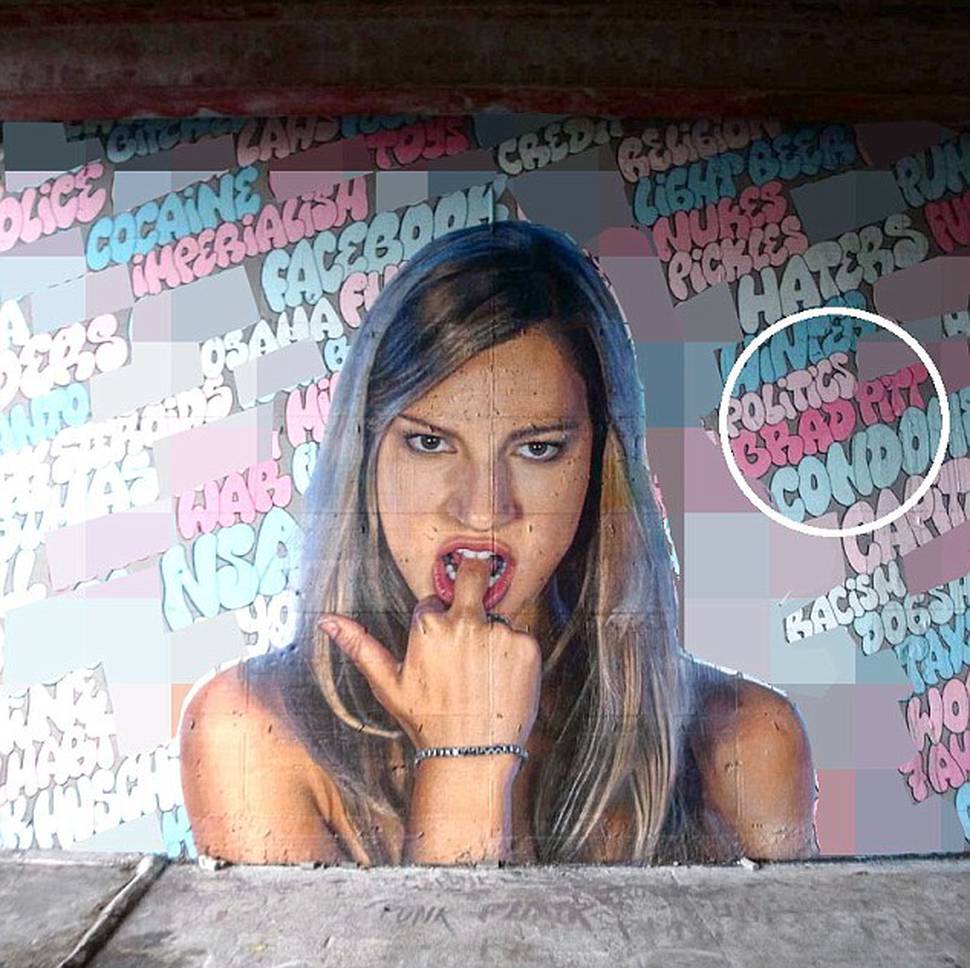 Chelsea, who is the star of her own Netflix chat show, hasn't been afraid to address the subject of the biggest divorce in Hollywood.
And as news broke of Brad and Angelina's split last month she called the By The Sea actress a "f***ing lunatic".
Quizzed on Jennifer's attitude towards the breakdown of her ex-husband's second marriage, Chelsea certainly wasn't afraid to share her opinions.
"It's so stupid and pathetic," the comedian said of Jen being dragged into the matter. "As if Jen cares - she doesn't care."
Chelsea said it was "ridiculous" the former Friends star was being placed in the same headlines as Brad, who left Jennifer for Angelina, and the break-down of his marriage.
Soon after the break-up was announced numerous reports surfaced suggesting the We're The Millers actress was gleefully watching her ex's marriage implode.
Sounding off her feelings on the matter, Chelsea snapped: "Hello! As if she [Jennifer] is sitting around even caring about this."
The former E! network heavy hitter was unrepentant with her less than favourbale views on Brangelina, explaining she was simply voicing what many others were thinking.
The couple shocked the world in September when they announced that they were separating after two years of marriage and 12 overall years together as a couple
Turning her thoughts back to her friend Jennifer, the comedian softened her tone and applauded Jennifer for taking a swipe at the scrutiny surrounding her life.
"It was just so nice for her to finally respond to it," she said. "It doesn't matter how famous or rich or wealthy you are, you're still able to get your feelings hurt."
Earlier this year, the actress, 47, wrote an op-ed piece for The Huffington Post where she responded to scrutiny surrounding her life.
"We are complete with or without a mate, with or without a child," wrote the actress.
More from Spy:
• So famous he forgot to eat
• Stressed Kendall Jenner suffers health scare
"We don't need to be married or mothers to be complete. We get to determine our own 'happily ever after' for ourselves."
She was praised for her piece by many celebrities and fans, with her husband Justin Theroux amongst the first to congratulate his wife on her carefully penned article.