All the latest news and rumours from Jeremy Clarkson's new Amazon Prime car show - The Grand Tour
With the first series of Top Gear receiving a mixed reception (causing Chris Evans to step down as its lead presenter), many will be looking forward to seeing how its rival show fares on Amazon Prime.

It's called The Grand Tour and will be presented by a certain Jeremy Clarkson, James May and Richard Hammond.
The trio signed with the online streaming service in July 2015 after the BBC decided not to renew Clarkson's contract following his "fracas" with producer Oisin Tymon.
However, it's only more recently that details of the new show have started to emerge.
Fasten your seat belts - here's what we know so far.
When does it start?
It airs on Friday, November 18 and the trio have signed up to present three 12-episode series, with each episode set to be roughly 60 minutes long.
The first episode will feature footage from their studio tent recording in California. Mark your diaries.
How similar will it be to Top Gear?
Regular elements of Top Gear, such as The Stig and the Star in a Reasonably Priced Car, are the property of the BBC, so won't be carried over.

However, the format will still be familiar to Top Gear viewers, with a mix of studio-based chat and international adventures.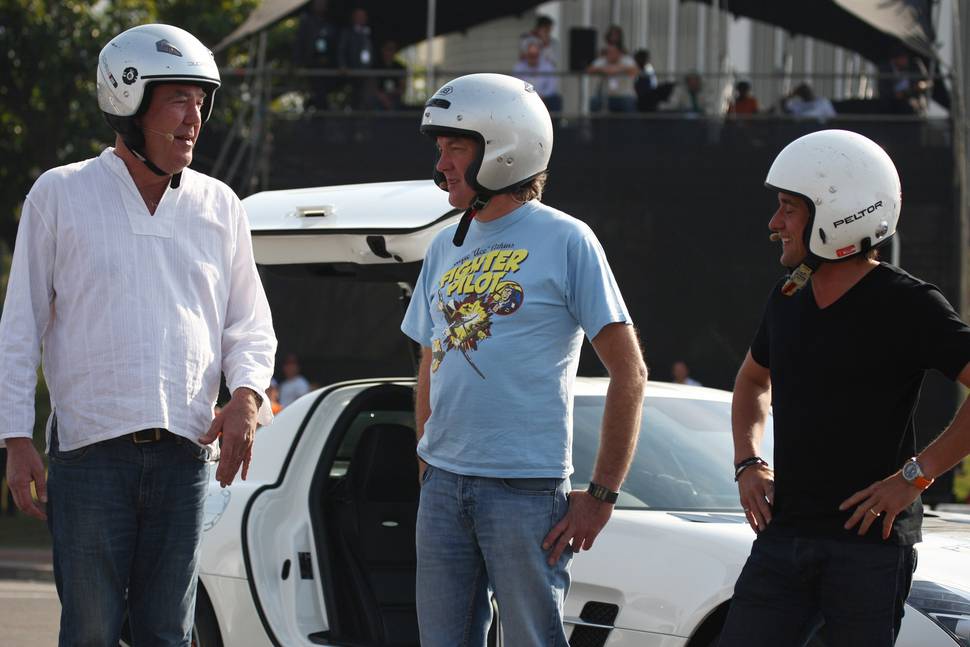 Former Top Gear executive producer Andy Wilman, who has also moved to Amazon to work on the show, told Broadcast the three presenters would have "more time to yak" and their friendship would be the show's central element.
"You can't reinvent the sideways, Last of the Summer Wine-type relationship they have because that is outside of television, that is theirs," he said. "But there will be a new look, new elements, new home."
So what can we expect?
We now know that the show will feature co-host May driving with a broken arm, Clarkson driving in a flak jacket and goggles while May shoots at him and Hammond waking up to find the car he is in has been airlifted.
Executive producer Andy Wilman revealed new content from the show's films at the Edinburgh TV Festival.
Footage also shows the trio racing Maseratis, a Rolls Royce and a Porsche, as well as Clarkson on a jetski.
In a scene that drew big laughs, Hammond woke up in the front seat of a car to find himself flying and yelled: "What the f***? You bastards!"
Wilman also revealed a look at the travelling tent (apparently Clarkson's idea) the show takes place in - a huge black marquee with the show's logo on the side which takes two to three days to put up. Inside, the audience sits round a small stage, with the hosts seated at a table.
In addition, he said that the second episode of the series was shot first and 90 per cent of the films have been shot, leaving them free to concentrate on the studio tour element.
The Mad Max style opening cost $4.3 million
The opening sequence for The Grand Tour may be the most expensive ever made for TV, reportedly cost a jaw-dropping £2.5m (NZ $4.3m).
By the sounds of things, the show's producers are fans of Mad Max: Fury Road; like the hit dystopian action movie, The Grand Tour's opening scene is set in the desert, with a huge line-up of cars (150), and a posse of "petrolheads" (2,000 of them) flanked by acrobats and stilt-walkers.
Oh, and six jet planes. As yet, we don't know whether there will be a guitar-playing, flame-throwing "doof warrior", but with the cars alone costing more than £20 million, it's clear that no expense has been spared.
According to a report in The Sun, the opening scene sees Clarkson, Hammond and May speeding through California's Lucerne Valley, in colour-cordinated red, white and blue Ford Mustangs.
"Nothing remotely like it has been seen before," a source told the newspaper.
And there will be other film references too...
Judging by the trailer, it's not just George Miller who is inspiring the show's producers: Spectre, Lawrence of Arabia, and The Italian Job are among the films referenced in the 90 seconds of footage we've seen so far.
James Corden was taken for a spin by Clarkson (and he was terrified)
As The Grand Tour rolls ever closer, fans of Clarkson, Hammond and May were treated to an appearance from the trio on James Corden's Late Late Show, where the comedian gave them a high-velocity quiz as they did circuits around a track at 100mph.
Clarkson did rather well on the questions, until Corden caught him on the back foot by asking, "Do you miss Top Gear?" "Oooh," groaned Clarkson, "Ask me about idiots and politics."
Charlize Theron and Matt Damon will be going on tour
Clarkson has apparently managed to convince Oscar winners Charlize Theron and Matt Damon to join his new show.
The Sun reports that the actors will appear on The Grand Tour, and among a list of A-listers who will be grinding gears with Clarkson, Hammond and May.
A source told the tabloid: "All the early signs suggest The Grand Tour will have a much bigger pulling power than Top Gear. Matt and Charlize are just two of the names involved. More big stars will follow. Top Gear's influence and power has clearly waned without Jeremy at the helm."
Where will Clarkson, Hammond and May test cars?
Clarkson, Hammond and May obviously don't have access to the Top Gear test track anymore, but that doesn't mean they'll be forced to do all their testing on the road.
Instead, they're expected to use a number of different motor racing circuits, including the Autodromo Internacional Algarve in Portugal.
On Twitter, Clarkson posted a video of the P1 racing down the track with the filming helicopter trying to keep up. The caption was "We're going to need a faster helicopter".
In addition to the first show being filmed in Johannesburg, Amazon has confirmed that Clarkson, Hammond and May will be filming in Germany and America, as well as visiting Yorkshire.
Each studio segment will be filmed in front of a live audience. Amazon will release tickets for the recording in a prize draw. As with the format for Top Gear, the Grand Tour will combine pre-recorded films with "studio" links.
How much is Clarkson being paid?
Clarkson's salary hasn't been revealed, but the new show is said to have a budget of £160 million.
Spread over 36 episodes, that's £4.5 million a show - more than four times the budget of Top Gear when Clarkson, Hammond and May were presenting it.
With such a large budget, the trio could blow up more than 1,125 caravans an episode, hold 54 car football matches or fire 375 Reliant Robins into space.
I'm excited. How can I watch it?
The show will be available to anyone who has signed up to Amazon's Prime streaming service.
Fans can follow The Grand Tour on Facebook and Twitter.