Award-winning songwriter Rufus Wainwright will headline next year's Auckland Arts Festival. He speaks to Karl Puschmann.
After a cheery greeting, Rufus Wainwright says, "I'm looking forward to coming back down under. Waaaay down under."
Wainwright is in good spirits. He's friendly and funny and very familiar with the long haul trip required to get here. He's been visiting on the regular for yonks. In recent years alone he's lit up the Civic, shared the stage with Paul Simon and headlined the Womad festival.
In March he'll be back again, this time to headline the Auckland Arts Festival for what promises to be a spectacular night of music. He's joining forces with the Auckland Philharmonia Orchestra, and the show is split into two halves.
The first is an abridged version of his opera - yes, opera - Prima Donna, while the second is a selection of songs from his popular Judy Garland tribute, Rufus Does Judy, a recreation of Garland's triumphant 1961 Carnegie Hall show.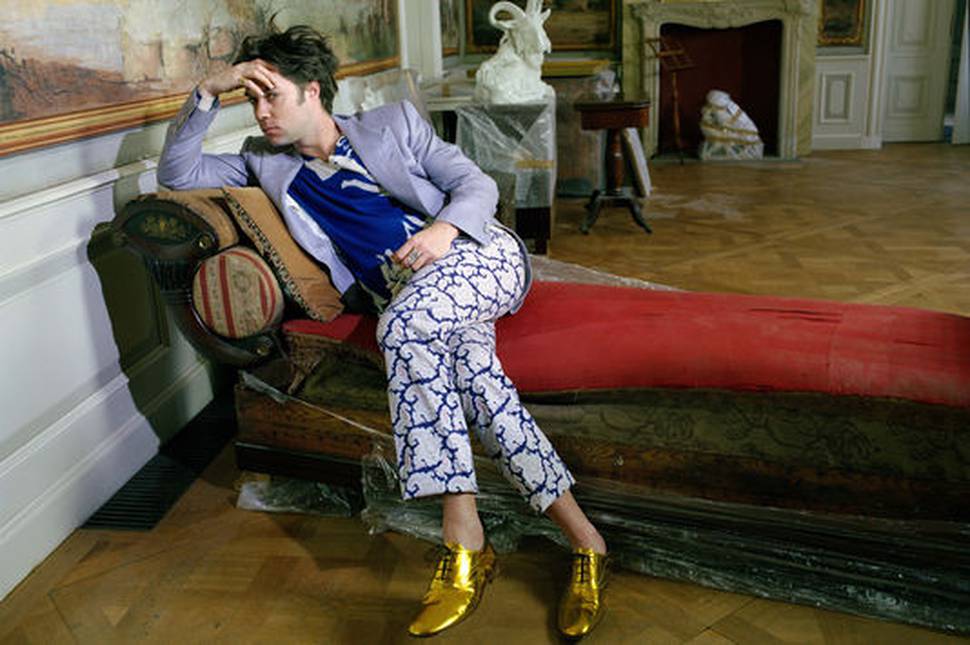 But before we get to all that I want to ask what keeps him coming back?
"I love that it's very exotic and incredibly civilised," he replies. "It's this weird balance between another planet and your backyard."
He pauses for a moment and his voice gets a little quieter.
"When my mother passed away a few years ago I ended up touring the world. I really felt that once I reached New Zealand I had spiritually ended my search for her on this planet," he says. "You really feel that you're at the precipice and there are certain things you throw over that cliff and there are other things you keep with you. New Zealand's the kind of place where you can do that."
It's an incredibly honest and touching answer. Most people just say bungee jumping... He explodes into laughter.
"Hah! Emotional bungee jumping," he exclaims.
His answer does however tie in with the evening, I say. It being a night of two halves.
"It's the two halves of a very intense heart," he agrees. "That of a distressed woman, whether it's Judy Garland or Prima Donna. It's my foray into the psyche of a very feminine, powerful icon; which is the creature of the stage."
Wainwright was a critically acclaimed and commercially successful singer-songwriter when he turned to opera. Why, I ask, did he want to write one?
"I became a huge opera fan at around 13 after listening to a recording of Verdi's Requiem. It was like a religious experience and I was changed forever after that. I always loved the form and I always wanted to write one," he says. "But in knowing the music and in knowing how complicated and sophisticated and looong it can be, I could never find a subject that I could get my head around.
"One day it occurred to me I should write an opera about an opera singer. On one hand I can relate to that world, but also I relate to her physically in terms of being a singer myself. All singers are the same, whether they do opera or pop. It was a vision of sorts, so I just went for it."
At the risk of sounding like a cultural philistine I admit that I find opera a foreign and scary thing.
"What's really great about this concert is that it's selections from Prima Donna, so it's only an hour of that type of music," he says. "There's a narrative you can follow, which is basically a day in the life of a performer. It's a very old-fashioned story. You do that and then the second half pulls up and it's the great American song book, which nobody can really argue with.
"So for anybody who's even minutely interested in opera but doesn't want to take the full plunge, it's a nice middle ground to dip your toe into."
Wainwright makes a good case. It sounds like an accessible entry point into that world.
"Yeah, I think it is, "he replies. "There's this kind of monolithic snobbism that is firmly rooted in contemporary classical music and especially opera. I think it's actually starting to unsettle a bit. There was a time when if you even thought of writing a melody in an opera you were considered mentally deficient or something. Whatever. I'm trying to move away from that sort of cynical attitude towards musical opera. I think that's why a lot of people are afraid of the form.
"When you compare it to what is mostly written these days for the opera stage the music that I write operatically is very, very accessible."
As are the swingin' tunes of Rufus Does Judy. The double LP Judy at Carnegie Hall is regarded as one of the greatest live albums of all time. It stayed in the Billboard charts for 73 weeks, 13 of those at number one, and won four Grammy awards, including Album of the Year, making Garland the first woman to win the award.
The album is full of hits; Puttin' on the Ritz, Chicago, I Can't Give You Anything but Love, and, of course, Over the Rainbow.
"I'm not doing the whole show, I'm doing selections from it," Wainwright clarifies, laughing as he says. "If I did the whole show and the opera we'd be there all night."
"But I'm doing a big chunk. What I love about that section of the evening is that when I first did this concert, 10 years ago exactly, actually, I was scared shitless and didn't know if I could make it through the evening. A lot of the show was propelled by pure adrenaline. A fear-based adrenaline.
"Now, after 10 years of living with the material and really knowing the songs intimately, and also having had big life experiences that therefore deepen my understanding of the music - whether it was the death of a parent or getting married or having a child - I can now relax into this material and sing it with a certain amount of authority. That's very exciting."
Anyone can belt these songs out, but the big difference when listening to the true greats - Sinatra, Martin, Garland - is how effortlessly they inhabit the songs. You can't fake that.
"What I think is interesting and is it's a double-edged sword. I do find - and I'm not going to mention any names - but the vast majority of people who take up this material and rehash it... it's pretty dull and it's pretty milquetoast and it's pretty vapid," Wainwright says.
"I'm hoping - and what I'm trying to do with my resurrection of that songbook - is to infuse it with some of the live danger Judy Garland brought to the table. I like to have that. To make it more of a highwire act.
"Because yeah, you can just sit there and sing the tunes and yeah, we all know they're great," he says in a blah-blah-blah tone, before his fire returns. "But to really give the songs blood is necessary. And that I get from opera."
From opera?
"Opera has to have blood," Wainwright answers. "Or else it's, you know, kind of dull."
LOWDOWN
Who: Rufus Wainwright
What: Performing selections from Prima Donna and Rufus Does Judy
When: Auckland Arts Festival, Wednesday 22 March