Her boyfriend Orlando Bloom recently attracted headlines when he was photographed paddle boarding in the nude during the couple's summer getaway.
Now Katy Perry appears to be taking a leaf out of her British beau's book, after stripping naked in a new Funny Or Die video urging fans to vote in the US general election, according to Daily Mail.
In the clip, the 31-year-old singer is seen waking from her slumber sporting patriotic pajamas and messy bed hair, complete with popcorn and a lollipop as she declares: "I've got some great news: This year, you can look like s*** when you vote."
Katy, an avid Hillary Clinton supporter, then walks to her polling station, passing other voters in their nightwear as she explains: "Yep, I've briefly scanned the Constitution, and nowhere does it say that you can't just roll out of bed and come to the polls in whatever state you woke up in.
"In the name of democracy, any just-out-of-bed look is A-OK."
She then proceeds to give examples of what is acceptable, including child's onesie, hunk in kid's briefs, that free XL, T-shirt you got from your bank and covered in slime.
More from Spy:
• MAFS star hits back at 'bitter' castmate
• Why Katy Perry's getting naked for Hillary
The I Kissed A Girl singer then spices things up a notch as she declares: "Or, if you're like me, I sleep naked," before ripping away her pajamas to go nude.
With bars protecting her modesty, Katy grins cheekily at the camera as fellow voters gasp and a man behind her drops to the ground in astonishment.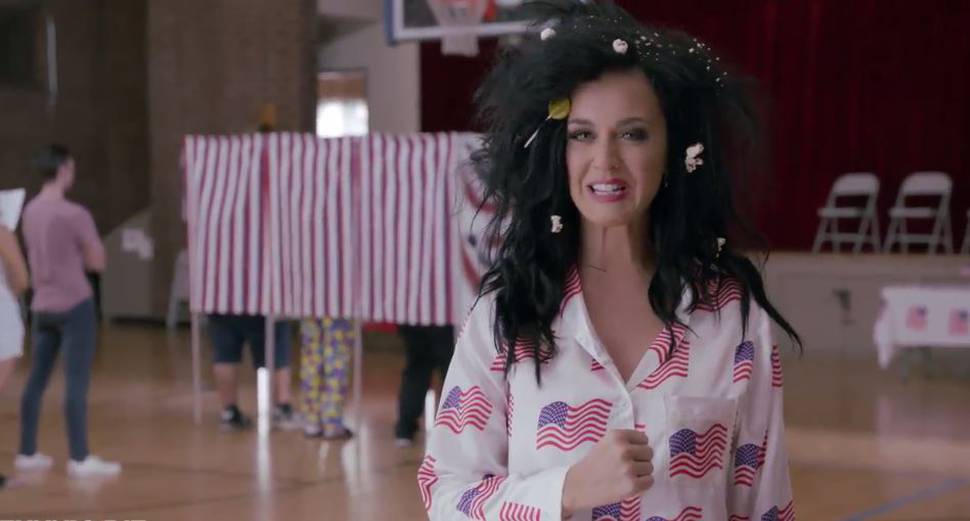 "Yep, let those babies loose," she booms, before a pair of police officers strolled over, with one cutting in: "Alright, ma'am. That's enough of that."
"No, I read the Constitution and I know I have the right to vote naked," she protests, to which the other arresting officer responds: "Did you read it, or did you just briefly scan it?"
Katy is then led to a police car, where she finds herself sharing the backseat with a buff and shirtless Joel McHale, who reacts: "You too?"
Leaning out of the window, Katy yells to the camera, before being whisked away: "Scratch that. Gotta wear clothes. My bad. See you at the polls November 8th"
The video was released on Tuesday, and a day earlier, Katy sent out a tweet and a teaser image, declaring that she was hoping to change the world with her clip.
Katy's picture - which featured the Rise singer standing naked in a polling station with most of her body blurred out - included written text that read: "Katy Perry votes naked tomorrow."
The Dark Horse hitmaker is a very vocal supporter of Democratic nominee Hillary Clinton.
The US Presidential debate was broadcast on the same day as the Roar hitmaker posted her naked video still, and the star had no hesitation in tweeting her thoughts on the event, expressing her adoration and backing for the 68-year-old candidate.
As of yet, it is unclear how Katy intends to 'change the world' with her actions, but she recently revealed that one of the main things she is interested in is the improvement of women's rights.
Asked recently on Twitter what she wanted to hear Clinton and her Republican rival Donald Trump debate, she said: "National security, gun control, police reform, excess incarceration and women's rights."