It was a dream home twenty-two years in the making.
But Brad Pitt and Angelina Jolie's sprawling home in the Los Feliz section of Los Angeles is now at the centre of a nightmare, the Daily Mail reports.
The 80,000 square foot compound, which is made up of five different houses amid the leafy Hollywood Hills, has been surrounded by photographers since Jolie, 41, filed for divorce citing 'irretrievable differences'.
Neighbours who endured years of raucous parties and shrieking children are now faced with regular patrols through the neighborhood by the Los Angeles Police Department due to the media frenzy.
Pitt began building his dream home in July 1994 when he purchased a six-bedroom, Craftsman-style house, for $1.7 million.
Over the next 22 years - 12 years of which he spent with Jolie - the estate grew to encompass five adjoining properties.
Pitt, who has always taken a deep interest in architecture, wanted to create a free-flowing compound, which was in keeping with the original houses in the area which date back to 1915.
It was meant to be a home for work as well as relaxation: The upper floor of the main building houses Pitt's Plan B production company.
His friend, director Andrew Dominik, says: "You go to the homes of most movie stars and they're like really, really nice hotel rooms. Brad lives in pieces of art. There's a breeze blowing through every window. As soon as you walk through the door, you feel stoned."
Two years after Pitt's initial purchase he bought another small house for US$380,000 at the back of his land. In 1998, he acquired another neighboring house for US$475,000.
And in 2008 the couple bought another small property in 2008 for US$1,287,500. To top it all off they acquired a huge barn-structure - with a secret cave and its own bar - for US$1.1 million in 2009.
This was so they could build a huge playroom, kids' living quarters and den for their six children: Maddox, age 15; Pax, aged 12; Zahara, aged 11; Shiloh, aged 10; and twins Vivienne and Knox, aged eight.
They even installed a skate park by the side of the main villa in 2014. That was later extended to include a bike path which wraps around one side of the main house.
But despite the luxurious surroundings, day-to-day life at the home appears to have been tumultuous.
According to one report, neighbors said back in 2011 that their lives were made miserable because of 'raucous' parties. The six children could be heard 'all the time, yelling and screaming at the top of their lungs,' while another complained about the family's "aggressive and mean" staff, who bullied anyone who came near the house.
A source told the Daily Mail newspaper that the children were allowed to run wild.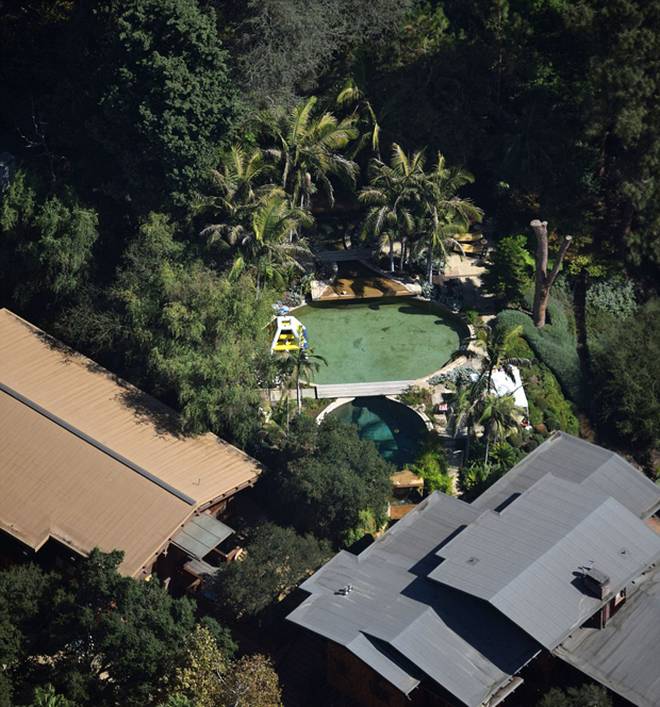 "She [Angelina] is famously against any kind of rules. There are no set bedtimes, and they are allowed to eat what they like," the source said.
"She not only allows the children to collect martial arts weapons but has said she doesn't see how she can deny them tattoos. She also lets their biological daughter Shiloh live as a boy - which apparently left Pitt's mid-Western parents aghast.
"On top of this, Miss Jolie has the rather alarming habit of throwing knives to calm down once annoyed."
Pitt admitted himself in an interview with Esquire in 2013 that it could be noisy in the compound.
"I always thought that if I wanted to do a family, I wanted to do it big. I wanted there to be chaos in the house. There's a constant chatter in our house, whether it's giggling or screaming or crying or banging. I love it. I love it. I love it. I hate it when they're gone," he said.
"Maybe it's nice to be in a hotel room for a day - 'Oh, nice, I can finally read a paper.' But then, by the next day, I miss that cacophony, all that life."
Jolie has hardly been at the residence this year. Instead she was in Cambodia filming First They Killed My Father. Then the family relocated to London so that Pitt could film the sequel to World War Z, and she could concentrate on her UN humanitarian work.
And some of the couple's grand plans haven't quite come off. The pools remain empty and abandoned, with only a few inflatables showing any signs that they have ever been used.
Two of the buildings purchased by Pitt in the 1990s are also unused - one is still being renovated 12 years later, and half of another smaller property has been razed to the ground awaiting to be rebuilt.
A bodyguard called Bill told In Touch Magazine in 2010 that Pitt and Jolie's relationship had cooled considerably to the point that Pitt slept in a separate bedroom.
More from Spy:
• Brad Pitt's plans after divorce unveiled
• The real victims of Brangelina's divorce
He added: "In my opinion, the real Angelina is self-centered and a control freak. She has no patience at all. She doesn't do things out of the kindness of her heart. And she's totally psycho. She is not moved by tears."
It is a far cry from Pitt's original vision, where he said the family have been "thrown together. We suffer from a lack of privacy sometimes, but, on the other hand, we have to stick together. We are a little cut off from the herd, and so we have to look to each other for some kind of familiar experience."