Denzel Washington didn't grow up watching westerns. He never played Cowboys and Indians.
So just how he came to lead the all-star cast of bounty hunters in Magnificent Seven - a remake of the classic 1960 western - is somewhat of a mystery. Even to him.
"I was into sports. I played football and baseball so it wasn't a childhood dream of mine," he laughs.
Washington plays Sam Chisolm, a bounty hunter who forms a group of equally talented crime-fighters, an old-school superhero assemblage of sorts, in which each player brings his own unique skill to the table, or in this case, the gunfight.
Their mission is to regain control of Rose Creek, a small town pillaged by a band of bad guys led by Bartholomew Bogue, played by a menacing Peter Sarsgaard, who turns in an intense performance.
The cast who complete the chosen Seven are comprised of Chris Pratt, Ethan Hawke, Byung-hun Lee, Manuel Garcia-Rulfo, Martin Sensmeier and Vincent D'Onofrio.
Although the western is one of the most romanticised genres, it wasn't on Washington's bucket list.
"I just liked the script," he shrugs. "I trusted Antoine. Obviously, we've had great success together." Indeed. This marks the third Washington-Fuqua collaboration. Washington earned a Best Actor for Training Day, in 2001, and they reteamed for The Equalizer, in 2014.
"There's definitely a shorthand between us. I trust him and go wherever he wants to me go," he says.
Clearly, the actor-director relationship in this case is an enduring one and Fuqua returns the compliment. "Denzel and me are like musicians in a jazz band. We just understand each other's rhythm."
Washington adds: "Antoine has a deep love of westerns and it shows. That kind of enthusiasm was infectious on the set."
Fuqua concurs: "I grew up watching Kurosawa's Seven Samurai and I used to watch westerns with my grandmother. I loved that the stories weren't complex. There were the good guys and the bad guys, although sometimes even the good guys were a little on the dark side."
Set in 1874, not an era associated with racial equality, Washington found it was more progressive than he realised.
"There was a woman named Black Mary and she was known as a great gunslinger and would knock men out. So, I guess you had to earn your stripes, especially on the frontier beyond the normal laws of the north or the south."
But while Washington had never considered doing a western, Fuqua saw him as an obvious lead.
"When I was in the room at MGM we were going through the list of actors who could play the Yul Brynner role. I said, 'I want it to be an event. I want it to be someone that we haven't seen do something like this. When I suggested Denzel, everyone in the room paused. They were like, 'Do you think he'd do it?' It was one of those things where you felt more excited to make it more diverse by having Denzel play that role."
Though the storyline is set 150 years ago, Fuqua thinks the subject matter has never been more timely. "I'm definitely not trying to make a message movie, I just wanted to make good entertainment and have some fun, but sometimes westerns were defined by what was happening in the world at that time. When I read the script, I thought, 'This is terrorism no matter how you look at it'. When you take someone's home and kill people randomly for their property, or for anything else, tyranny is tyranny."
Washington can be a little prickly at times to interview, however, this afternoon at the Toronto Film Festival, he's in good humour.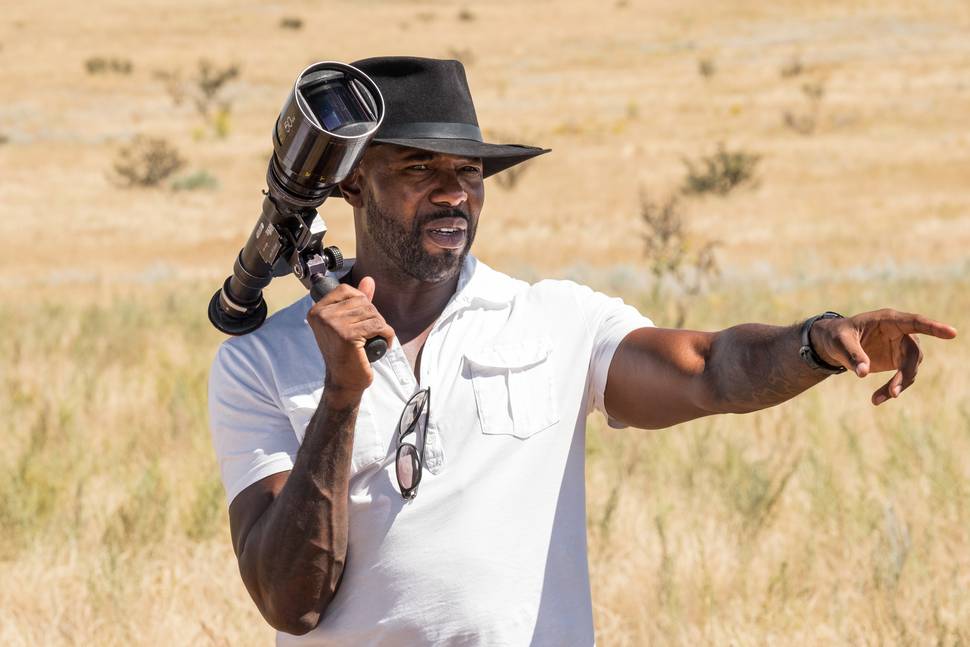 At age 61, he's been married since 1983 to Pauletta Pearson, with whom he has raised four children. "My mother told me years ago, 'Boy, the older you get, the older you get'." He laughs loudly. "You like that one?
"She used to talk about keeping things simple and I think the older you get, the wiser you get, hopefully, and the more you cut away the fat. Life isn't that complicated. I am blessed. I've got a great job, I get paid well and I am getting as much joy now as I ever was.
"Two of our kids are actors. And this is a shameless plug, but my son stars in an HBO show Ballers, and his sister is a wonderful actress in the New York theatre scene. I get so much joy just watching them. My other son just graduated from AFI [American Film Institute] in the director's programme and my oldest daughter is the associate producer of Fences." He grins proudly. "So, I am a happy dad."
Washington may be one of Hollywood's A-listers and a highly revered actor, but he insists that, that status reigns in his professional life only. "Every woman in my life is the boss. Between my mother and my wife, I am just happy to be on the team."