More of a mass pop rally than a concert, the world has never been more susceptible to Chris Martin's happy-clappy stadium rock, writes Anna Hart.
The world's biggest rock band are headed to Auckland's Mt Smart Stadium this December, on what must feel like the victory lap of an exhaustive world tour that kicked off in Buenos Aires in March. A four-night run at London's Wembley Arena in June gave Kiwi fans a taste of what's to come.
Playing to a crowd of 80,000, the band took the stage to the strains of a Puccini aria, ringing out like a grandiose international anthem, before launching straight into the title track of their latest album.
Nothing is held back; during the opening number alone, we're treated to overblown fireworks, flashing LED wristbands that had been dished out to the entire audience, showers of colourful confetti in the shape of tiny swallows and mesmerising lighting that transformed Wembley's arches into vast rainbows.
This exuberance extends to the running order, with the foursome burning through fan favourites Yellow, The Scientist and singalong anthem Paradise all in the first 15 minutes. Restraint has no place in this show.
The last time New Zealand saw Chris Martin et al was November 2012, during their Mylo Xyloto Tour. In 2014 the band chose not to tour their uncharacteristically downbeat Ghost Stories album in Australia and New Zealand, denying Kiwi fans the chance to sob along to this low-key break-up album in the aftermath of Martin's "conscious uncoupling" with the actress Gwyneth Paltrow.
By contrast, A Head Full Of Dreams is an album so bombastically optimistic and brimming with self-confidence that touring it essentially means splashing around in the slop. This is a kaleidoscopic, relentlessly upbeat two-hour extravaganza, played out to wildly appreciative fans across a dispiritingly turbulent world.
The rainbow colours of the album's sleeve were first replicated during Coldplay's half-time performance at Superbowl 50, which saw them take to the stage with Beyonce amidst puffs of colourful smoke and confetti, and enough psychedelic swirling and cutesy graphics to make an 8-year-old girl barf up her birthday cake.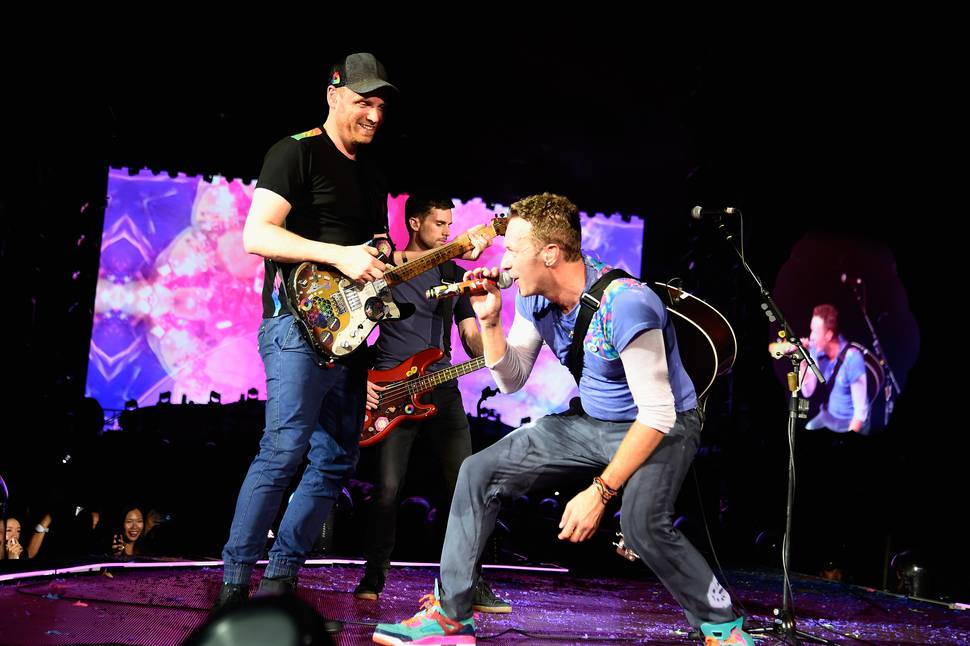 The visuals here are no less flamboyant, but thankfully it's all a lot more grown-up, with aesthetic hat-tips to Holi, Bollywood, Gay Pride and Live Aid.
Big stadiums, big showy technological flourishes and big crowds are where this veteran foursome are most comfortable, commanding huge pop mass rallies where their cheery platitudes sound rousing rather than contrived.
Watching Martin race up and down a runway with all the gung-ho athleticism of Bruce Springsteen and the prancing showmanship of Bono, it's almost hard to imagine Coldplay functioning on a smaller scale - something they explicitly address during a brief sequence when the band decamp to a smaller thrust stage in the midst of the crowd.
This is where drummer Will Champion, bass player Guy Berryman and guitarist Jonny Buckland cluster around Martin and fire off a tight quickfire round of early hits for the old-school fans who still prefer the stuff on A Rush of Blood to the Head.
It's an effective trick, a quick flex of musical muscle proving they can still deliver moodily anthemic indie rock like God Put A Smile On Your Face, without all the Lisa Frank-esque paraphernalia in the background.
They return to the main stage amid hundreds of soaring oversize balloons, and Martin resumes his stadium persona, a role he has stepped into with sufficient confidence to be able to crack jokes about Coldplay's permanently uncool status.
"Thank you for all the shit you put up with for being into Coldplay," he says with a grin, in sportsmanlike acknowledgment that Coldplay are truly U2 for the millennials. Martin's gleeful lack of cynicism is infectious, and the band's desire to please fans as they celebrate their 20th birthday is evident throughout a generous two-hour set.
Holding 80,000 people in the palm of your hand is no mean feat. Neither is holding a band together for two decades.
But Coldplay's biggest achievement? Riding out their swelling fame with zero jadedness or lethargy, and still treating the audience like they're the boss.
Lowdown
Who:
Coldplay
What:
A Head Full Of Dreams tour
When and where:
Auckland's Mount Smart Stadium, December 3
Tickets: