Charcoal brushing has unfortunate side effect
The kids of the interwebs are brushing their teeth with charcoal in an attempt to whiten them and are flaunting their nightmarish black mouths. However, Dr Nigel Carter, chief executive of the Oral Health Foundation, tells Indy100.co.uk that any anecdotal evidence may be due to the abrasive qualities of the charcoal which, when brushed on the teeth, removes some superficial stains. But it probably also removes some of the enamel - which leads to dental erosion and more significant problems.
Dumbest rules your school ever had
1. We couldn't say bullets when talking about making a list in a word document, instead we had to say nuggets.
2. "It takes two to tango" rule, meaning that if there's any fighting going on, everybody gets punished. You're just punishing people for being bullied, you idiots.
3. There was a $70 fine for every time somebody used a swear word. So we all started swearing and it got to the point where it was such a ridiculous amount of money that they could never rationally expect anyone to pay. Rule was gone in two months.
4. There was a sagging pants problem at my school, so they amended the dress code to say your underwear couldn't be showing. Fun fact: Your underwear can't show if you're not wearing any. The dress code was amended again the next week.
5. Everyone had to tuck their shirts in because that's when guys started wearing those really long-ass white T-shirts that looked like women's nighties.
6. In my school we weren't allowed to say the word "easy". This was for no other reason other than it could be considered offensive to people who find things difficult.
Teacher plays same game as the class
Ritchie Way writes: "Back in the 50s our all-male engineering class at Hawera Technical High School got tired of waiting for our geography teacher to arrive so we put our chairs on top of our desks and sat underneath on the floor. We heard him come into the classroom, pause, look around, and seeing no one there, go off to find his missing class. As soon as he left we came out of hiding, sat at our desks with our open books in front of us and pens in our hands. A few minutes later the teacher returned, and without comment, or a glimmer of a smile, began teaching."
Save the trees and eat that dripping mess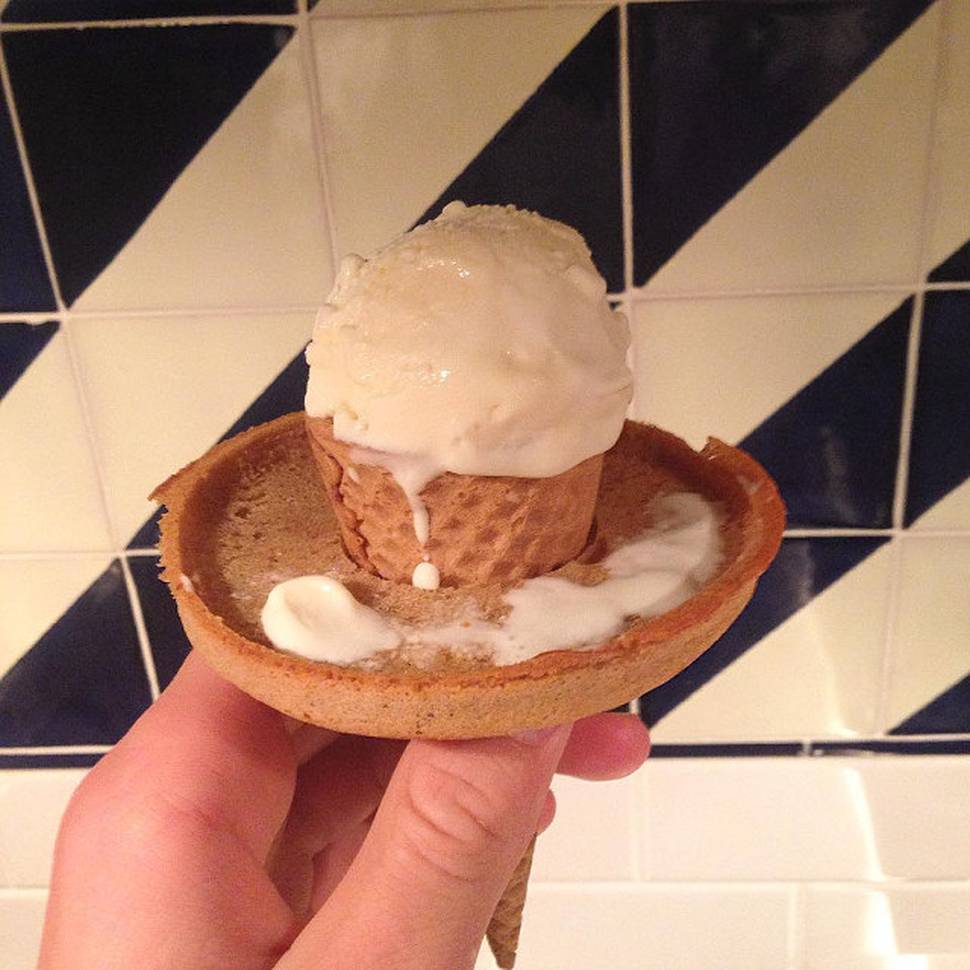 Did you know that approximately one million trees could be saved each year if the number of napkins used in ice cream shops was replaced by edible and delicious Drip Drops? That's the pitch by the 14-year-olds who have come up with the idea for the edible ice-cream cone ring, which collects the mess-making melting-ness.
Video: Men play a game of volleyball while wearing official Olympic women's beach volleyball uniforms...
Herald app users tap here for today's video.
Got a Sideswipe? Send your pictures, links and anecdotes to Ana at ana.samways@nzherald.co.nz