Last night a small group gathered at our offices to watch the finale of Game of Thrones' sixth season. It was an event I'd normally have been anticipating for weeks, but I was forced to wear noise-cancelling headphones and silently resent the happy crowd as I worked in a neighbouring room.
The reason I left them to their dragons and swords was that I had abruptly quit the show in the middle of this season's second episode. A few weeks earlier I was lying pathetically on my suburban couch as I watched Ramsay Bolton, the psychopathic young heir, turn to face Walda Frey carrying a tiny baby. "Where is Lord Bolton," she asks forlornly, to which Ramsay, having recently committed patricide, replies that he is Lord Bolton. Frey turns ashen, knowing what that implies. "Please, please," she begs, "he's your brother!"
"I prefer being an only child," he replies - which I'll concede is an impressively brutal line - before setting his ravenous dogs on the pair.
Read more: Thrones' biggest secret has finally been exposed
I lay there, listening to anguished howls as a defenceless infant and her mother were torn limb from limb, and felt a kind of disgust. I looked across at my wife and said: "I'm out." She agreed.
And with that we quit on Game of Thrones.
It felt good, too. Like a burden had been lifted. Because despite the show becoming perhaps the signature cultural phenomenon of this era, it also had begun to suck. What had been accurately and memorably elevator pitched as "The Sopranos in Middle-Earth" came to resemble "late-period Lost in Battlefield Earth". The plot lines, always dense, had become impenetrable. Worse, they seldom intersected, so it often felt like you were watching six or seven shows which just happened to be set in the same epoch.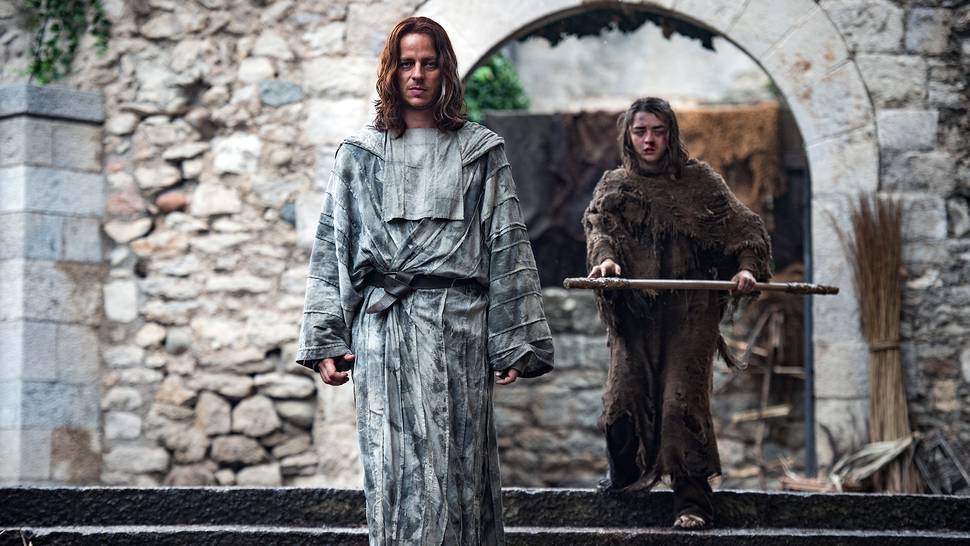 And some of those shows were incredibly boring. Watching Bran and Hodor stumble from miserable cellar to dank cave to have quasi-mystical chit-chat never failed to make me glum.
Arya Stark, once the brightest sprite in the seven kingdoms, seemed forever trapped in some kind of crap purgatory without reason or purpose.
Despite the show becoming perhaps the signature cultural phenomenon of this era, it also had begun to suck.

SHARE THIS QUOTE:
All my favourite characters died - Oberyn Martell, Ygritte, even the seething brat Joffrey Lannister - and we followed around these increasingly binary goodies and baddies as they mooched aimlessly about. Worse, the characters didn't seem to develop, instead curdling into more sickly and concentrated versions of themselves.
It was this latter point that really made the horrific baby murder most foul. It wasn't simply that, as a parent (a diabolical phrase but unavoidable here), I found the scenario deeply confronting. It was that it accomplished nothing. We already knew Ramsay was the single worst person on earth after his wedding night and his sadistic torture of Theon Grayjoy. It didn't need this gratuitous reiteration.
Read more: That Game of Thrones flashback explained
In the aftermath of that moment I realised that I'd been enduring Game of Thrones for quite some time, waiting out increasingly lengthy stretches of boredom or unpleasantness for relief that was only sparingly granted. And that the yawning gaps felt less like they were in the service of some great hammer blow of a conclusion than in stretching out this franchise inexorably so that the many millions it vomits forth for HBO might flow forever.
In the weeks that followed, I felt fine. Lighter, less encumbered. I had more television time to devote to other franchises I'd fallen behind on - some of them, like the terrific but distinctly under-watched Silicon Valley, directly funded by the rivers of gold pouring from Westeros.
So today, even though all who watched appeared satisfied by the epic conclusion of yet another season, I remain perfectly happy to have left the show behind.
It turns out that there's more to television than George RR Martin's creations, and I'm comfortable with leaving them to their dirt and peril.