Naz Khanjani has admitted her relationship with Jordan Mauger runs deeper than anyone who watched The Bachelor realised. Much deeper.
During media interviews this morning, the Bachelor runner-up confirmed she'd already slept with Mauger - despite Fleur Verhoeven winning the TV3 reality show.
More from Spy:
• Cosy couple or showbiz sham?
• Things we learnt from the Women Tell All
Speaking to The Edge radio station, Khanjani admitted she had slept with Mauger "more than once" and said: "I think I'm the only girl (to admit to it)."
Despite being harshly dumped by Mauger in the finale, Khanjani was the favourite to win - causing the hashtag '#TeamNaz' to trend on Twitter.
And her appearance on last night's Women Tell All reunion also raised eyebrows, as she embraced Mauger for an extended period of time and stood up for him when other contestants asked him tough questions.
In an interview with the Herald, Khanjani admitted giving Mauger a gift, removing it from her cleavage after taping of the special had finished.
"No one really knows this, but during our date on the Bay of Islands when he gave me his shell ring, he gave me another one and he told me to give it to him later down the track towards the end," she said.
"So I did, I kept it, I brought it home with me and gave it to him at the end. He couldn't believe it, he said, 'Thank you'."
Khanjani, who accepted Mauger's offer of a sleepover during the show's controversial overnight date episode, said she still had major feelings for him.
"I care for him a lot. I do. And my feelings for him are still very strong ... I wish them all the best but if it doesn't work out he's got my number, I'll happily take that phone call."
Khanjani's admission sparked a swift reaction from a runner-up from season one of the show, Alysha Brown, who called her comments "disgusting".
"There is something to be said for a woman who doesn't kiss and tell. A woman who conducts herself in a manner that you would be proud to call her yours," she posted on Facebook.
"I can say with no hesitation that one woman, in particular, I would be horrified if my daughter aspired to be anything like you. Class and respect for other women can not be taught."
'I wasn't taking any crap'
Khanjani was a fiery mood when she arrived on stage during last night's special, trading harsh remarks and squabbling with the rest of The Bachelor cast.
At one point she told an audience member to "come here and say it" when she was heckled.
Khanjani told the Herald she wished the tell-all had gone differently.
"It was really intense. I wish that I'd handled the situation a lot better and didn't swear so much as well. There was a lot of emotion built up, not just that but I felt like ... the whole time I was on stage I was being targeted by the audience, by the girls, and I put this wall up.
"I wasn't taking any crap from anyone."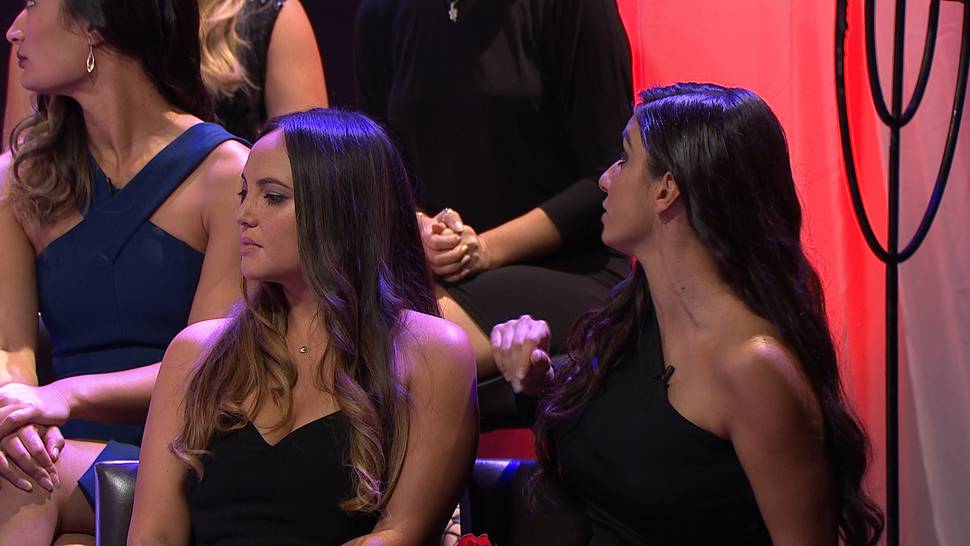 After being dumped in the finale, she was also apprehensive about seeing Mauger again.
"I was thinking in the back of my mind that Jordan's going to walk out in a few minutes. There were all these things going through my head. It was tough."
Despite her frank admissions and her affectionate behaviour towards Mauger last night, Khanjani said the pair were just friends.
"I respect him and Fleur being together. But I think after not seeing him for so long, seeing each other again for the first time all those emotions just came back and they definitely showed on stage," she said.
"It was something we couldn't help. I didn't have any bad intentions though."
'This is not the last you've seen of me'
Khanjani says she's heard every rumour about her time on The Bachelor - and she thinks they're hilarious.
"I've heard it all: 'I'm an actress, I'm getting paid,' all this different stuff. It's been really funny. No, I was just in there, being myself, doing what I do."
She refused to apologise for her confrontational approach in the show's early episodes, saying it was important to score time with The Bachelor's leading man.
"At the start I was very competitive because there were 22 other girls and I needed to get Jordan's attention," she said.
"I did stop being so competitive later down the track because feelings started forming so I needed to take it more seriously. I put the competitive side away."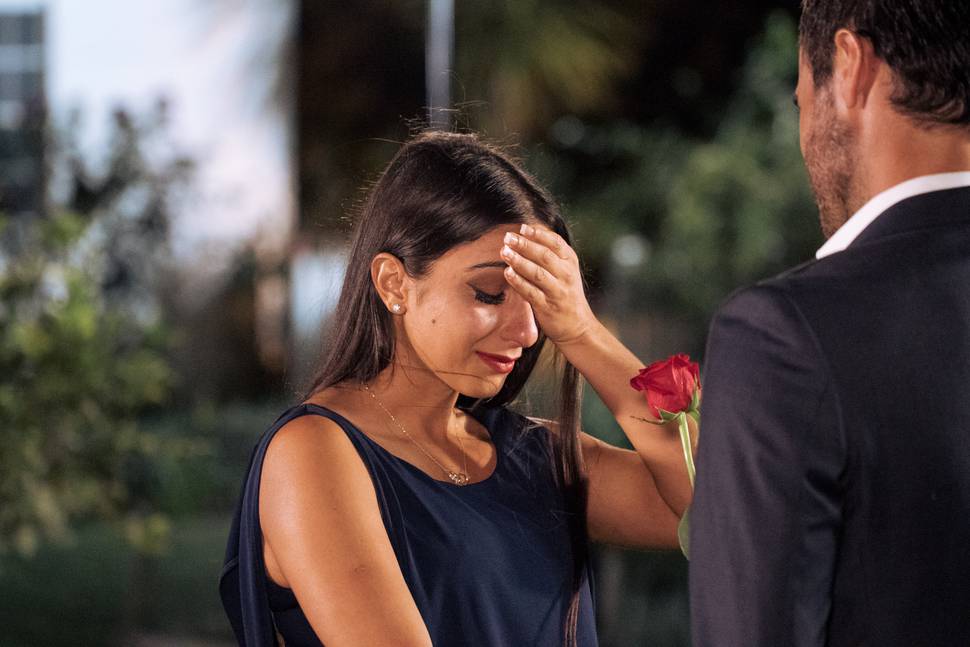 She believes many of the contestants were scared to show their true nature in front of the cameras.
"A lot of the girls were scared about getting judged and thinking, 'What will people think of me?' There were a lot of things said off camera. They could be quite different when the cameras were away.
"I'm just me, I don't care about getting judged, I'm happy with that, I think it has to do with my confidence, a lot of the girls saw it as a threat, so jealousy came into play."
Despite missing out on Mauger, Khanjani said she'd had plenty of offers of work since the show had aired.
"I've got a few things lined up. A few big opportunities have come my way. This is not the last you've seen of me."
Mauger chose Verhoeven over Khanjani in Monday night's finale after a season in which 23 girls were competing to win his heart.
Last night's 90-minute tell-all was the highest rating episode of the season, with 438,000 viewers.