Sophia Amoruso tilted a bottle of dry white wine, cautiously filled a long-stemmed glass, brought the drink to her powdered lips, and then, with her free hand, angled her iPhone's camera and snapped.
"Can this thing go any faster?" the founder of the popular L.A.-based clothing line Nasty Gal asked over the helicopter blades.
Three feet to her left, Deborah Yeh, Sephora's SVP of marketing, looked on incredulously behind her designer frames. Helicopter rides make for strange bedfellows.
As the sun began its dip over the Pacific, Amoruso teased the pilot as he danced a thousand feet over Orange County. "How much does one of these things cost," she asked before taking another sip, another snap. "Everything looks so pretty from up here."
The man at the controls - a Riverside cop moonlighting to pay his mortgage - chuckled, "Not a bad Monday."
Not bad at all. Monday, April 4, was day one of the eighth PTTOW! summit at the Terranea Resort in Rancho Palos Verdes, California, the main annual event of the secretive organization that counts Quincy Jones, Tony Hawk and the Dalai Lama as members.
The marketing-heavy coven totals two hundred fifty CMOs, CEOs and celebrities, including execs from the likes of Coca Cola, Red Bull, McDonald's and AT&T, with a brand portfolio in which marketing and media spending totals $82 billion.
Pronounced "pah-TOW," the acronym stands for "Plan To Take On The World." The organizers are prone to hyperbole.
"We want to shape tomorrow's culture by creating positive change," explains the organization's CEO and co-founder Roman Tsunder. "That has to happen outside the boardroom."
While PTTOW! tries to keep its mission altruistic, it's emblematic of today's tight-knit brand-celebrity relationship. Brands have deep pockets and celebs wield the influence they desire.
Plus, brands these days have a boundless interest in courting millennials and marketing to them in a way that's "authentic" - which is why they want to be rubbing elbows with youth icons like Wiz Khalifa, who offered one-on-one networking sessions.
Appropriately, the summit grabs elements from the likes of South by Southwest and Coachella, which started as niche events and have become beacons for millennials. Champagne-soaked fêtes staffed by an army of actresses and models, belly dancers, parachuters, Burning Man-esque light shows, a circus of stimuli to lubricate conversation and help participants let their hair down.
And yet the summit is still private and intimate - recognizing that A-listers are most comfortable with other A-listers.
It resembles a marketing edition of Game of Thrones. Flanked by palm trees and the Pacific, everyone's plotting and making deals amidst the revelry.
So how does cigarette boat racing or Navy Seal training with marines create positive change? It's about relationship building, Tsunder says. And that happens through bonding over shared experiences.
Amorous, for instance, is plotting her next step after penning an eponymous bestseller and selling a scripted show to Netflix. She's looking for novel interactions, she says, and PTTOW! "lends itself to getting to know how people think. Otherwise, everyone's staring in one direction watching speakers."
The panache is bookended by Ted Talk-style presentations that featured Diana Nyad reflecting on her 110 mile swim from Cuba to the U.S., and Danish star-chitect Bjarke Ingels, designer of the Smithsonian's South Mall master plan and proposed Washington Redskins stadium.
Perhaps most unexpected: A pair of ex-radicalized Muslims told attendees how to fight online recruitment of extremists by having multinationals give jobs to disenfranchised groups.
This kind of dialogue facilitates year-round deals, many of which start at the summit. The non-profit Year Up teamed with nearly a third of member organizations to help at-risk youth find entry-level jobs. Discovery Communications, iHeart Radio and GoPro put out the Sundance-screened endangered-species documentary "Racing Extinction."
But not all of the deals are about causes. Last year, the singer Janelle Monae attended a separate PTTOW! music event (there are one-offs throughout the year) where she linked with Pepsi's head of music, Emma Quigley, and Atlantic Records' Camille Hackney.
They ended up filming a Super Bowl commercial. PTTOW! led Olympic gold medalist Shaun White to sign with Macy's to feature his clothing line.
And among the business elite, there are degrees of VIP. This year, Michael Bloomberg kicked things off with a Q&A before being whisked away shortly thereafter.
And you could experience private brainstorms with Khalifa, Erin Andrews, and Michael Bublé, if both sides sense a strategic benefit. Meanwhile, there was live music from Andra Day and Lil Jon and even sleight-of-hand from David Blaine.
"Is that your card?" the illusionist deadpanned to a giggling Sarah Jessica Parker during cocktail hour.
"I can't believe it," she answered, clutching an ace of diamonds as onlookers selfied away.
Hours later, awards were given to Parker, former U.S. Ambassador-at-Large for War Crimes Issues Pierre Prosper and model-cum-activist Christy Turlington. Then a DJ set from Steve Aoki got everyone moving.
With so much happening, and a tone that can lapse into the overly self-congratulatory, it can be difficult to take it all seriously at times. Tsunder balances his showmanship by keeping the mission grounded, saying the sweet spot is linking causes with bottom lines. "We don't believe an idea is good enough unless you can tie it to a P&L," he says.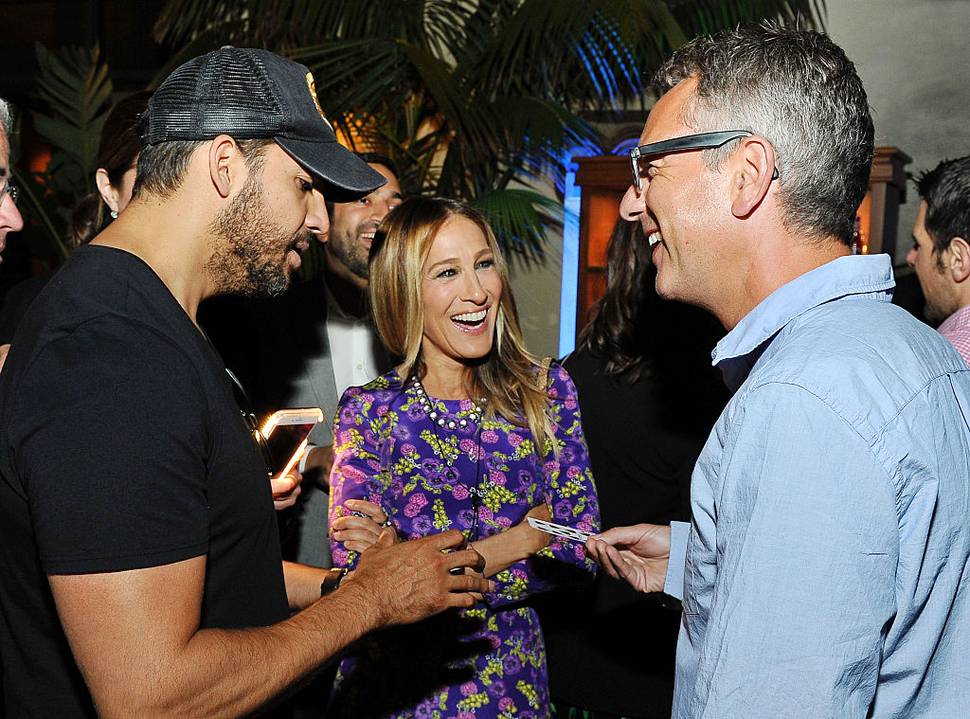 To do that, there are 36 "think tanks" and 12 "spark sessions," on topics such as understanding attention and the buying power of youth culture, gender in the changing workplace, marketing to multi-culturals.
At one panel, Brian Wallace of the startup Magic Leap explained a potential future where marketers can target consumers in virtual reality. Foursquare founder Dennis Crowley imagined social media feeds displayed on buildings.
"I think you just came up with your next company," responded Dan Riess, Turner Broadcasting's EVP.
For every deal that goes down, PTTOW! gets a cut (sometimes it's rolled into membership dues, which are in the six figure range).
And with an ear to such big names - PTTOW! consulted for the Olympics last year, and frequently meets with company heads throughout the year - it seems the 12-person operation headquartered in Culver City is punching above its weight class.
Tsunder grew up in Orange County, after his family fled Communist Russia in 1978. After leading Access 360, a company that places advertising in stadiums, he launched PTTOW! in 2009.
Tsunder spent six months and took multiple trips to India, finally convincing the Dalai Lama to come speak at his third summit in 2011. Last year, Tsunder personally planned the Dalai Lama's 80th birthday gala.
Today, along with co-founders Terry Hardy (co-owner of the World Surf League) and movie executive Jim Sullos, the firm is expanding with Worldz, a satellite edition geared for emerging talent that kicks off Aug. 2 in Los Angeles.
"We're here to set and celebrate impossible journeys," he says, smiling at the cliché. "What will PTTOW! look like 10 years from now? We're going to create the 10 most important cultural movements of the world."