The MTV Movie Awards strive to be the polar opposite of the Oscars. It's safe to say that, like every year, the 2016 ceremony definitely accomplished that goal - and not only in the diversity of its nominees. If you missed the annual show, here are 10 moments that sum up the madness.
1. The hosts threw shade at the Academy Awards
The nominated movies (Star Wars: The Force Awakens, Straight Outta Compton, Jurassic World, Deadpool) were some of the biggest blockbusters of the year - unlike the Oscars, which generally favours smaller films.
Hosts Kevin Hart and Dwayne "The Rock" Johnson not-so-subtly hinted at this, such as when Hart noted it was the show's 25th anniversary: "That's a milestone moment for the show that awards movies that people actually pay to see," he said. Later, during a rap celebrating all the films, The Rock had some choice rhymes: "So now we're here in 2016/To celebrate movies that you've actually seen." Oh snap!
2. Winners threw shade at the Academy Awards
"I would just, like, to take a moment to thank the academy - I mean, MTV!" actor Jason Mitchell said when Straight Outta Compton (one of the films snubbed by the Oscars) won for Best True Story. "I'm sorry ... my bad!"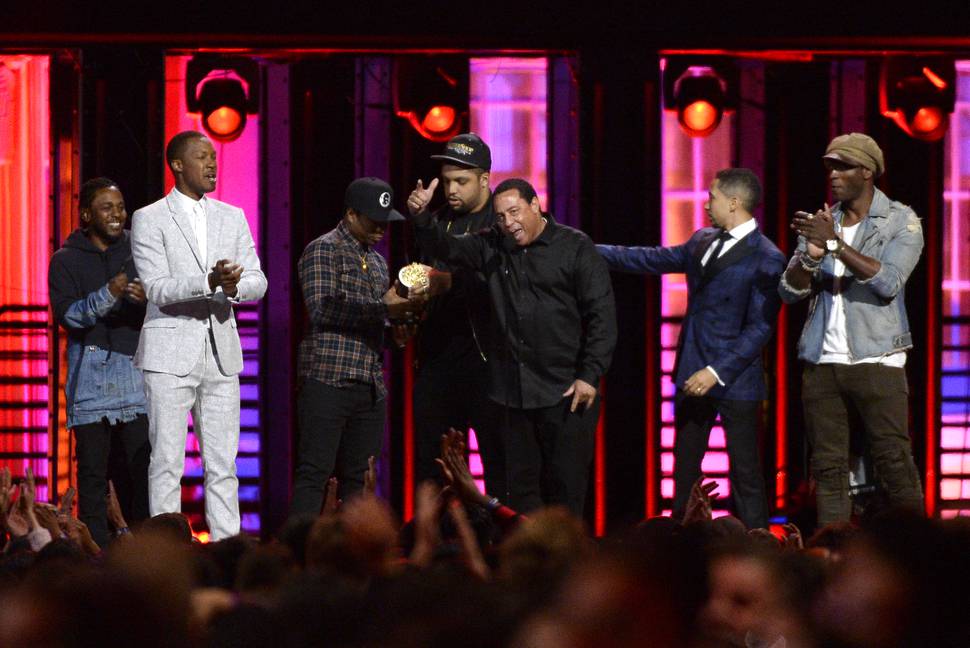 3. Endless acceptance speeches
Most award shows are on a strict time limit, so winners have about 30 seconds to thank their agents and publicists and dog walkers before they're hustled off the stage. Not so much here. The ceremony was taped a day earlier, so producers could edit the show as they wanted and let celebrities ramble.
Charlize Theron (Best Female Performance, Mad Max: Fury Road) thanked every single person she could think of and segued the movie's feminist theme; Amy Poehler (Best Virtual Performance, Inside Out) turned her speech into a celebration for Parks and Recreation: and Chris Pratt (Best Action Performance, Jurassic World) ticked off dozens of his action movie heroes.
4. Endless comedy bits
The Rock and Kevin Hart's opening monologue and other segments dragged on, especially as one was basically just a commercial for Batman v Superman: Dawn of Justice.
The same thing happened with many presenters, including a bit with Bad Neighbours 2 stars Zac Efron and Seth Rogen about Rogen's "new" muscled physique.
At least some were self-aware. When Now You See Me: The Second Act stars Lizzy Caplan and Jesse Eisenberg tried to guess what co-star Woody Harrelson was thinking on stage, he guessed, "This bit's going on too long and we're bombing and we should get along with the nominee?"
5. The best night of Ryan Reynolds' life
Despite his bombs of the past, Deadpool was a smash hit in February and Reynolds was richly rewarded with golden popcorn trophies for Best Comedic Performance and Best Fight.
"I want to thank my wife Blake (Lively), everything I do is to make her laugh - especially the sex," he said while picking up the first award, ensuring the tabloids have a field day. During his second win, he gave a shout-out to stunt performers: "These people are under-appreciated and incredible."
6. A factually inaccurate musical number
It's not often that a film studio has to release a statement explaining that its movie does not feature a bear rape scene. However, that's what happened last year when it was rumoured Leonardo DiCaprio was raped by a bear in The Revenant. Actually, DiCaprio is just viciously attacked, but the debunked rumour offered too much potential hilarity for The Rock and Kevin Hart.
7. Rebel Wilson and Adam Devine furiously made out on the floor
Well, what else are you supposed to do when you win Best Kiss for your work in Pitch Perfect 2? Even the MTV censors were ready to blur out wardrobe malfunctions when Wilson started rolling around on the stage in her short dress.
8. Will Smith won the Generation Award and correctly deduced it's an insult
Smith read between the lines of his prize: "I thought that was code for the old-ass dude award," Smith joked. "Hey man, your best work's behind you." He said at this point in his 30-year career, kids recognise him as "Jaden's dad."
Still, he was a good sport. Andy Samberg's the Lonely Island played a medley of his musical hits, and Queen Latifah and Halle Berry presented the trophy. "Will is a champion for diversity in Hollywood, blazing a path for actors by showing that someone of any colour can play any role and can open any movie," Berry said. "And can win every award and be the biggest freakin' movie star in the whole word."
9. Melissa McCarthy really had a great weekend
Not only did her comedy The Boss come in No. 1 at the box office, but she crowd-surfed to the stage to accept the Comedy Genius Award. "I may be the first woman to receive this award but I am certainly, certainly not the first one to deserve it," McCarthy said, naming her comedy heroes from Julia Louis-Dreyfus to Lucille Ball to Carol Burnett.
10. Star Wars: The Force Awakens won the Movie of the Year award
Take that, Oscars!