Kim Dotcom's new music video has it all - fast cars, racy women, big boys' toys, even a stormtrooper on a jetski.
As the lyrics to Good Life say, "it's so insane". But not in a good way.
The internet mogul's latest offering was released to coincide with the fourth anniversary of FBI raids on his Coatesville compound.
According to Dotcom, the track is also a middle finger to those who doubted he would amount to anything.
The video is an epic display of wealth - featuring everything from low-flying helicopters to speed boats, and includes one of the world's largest superyachts, Alfa Nero.
We have rounded up the best (worst) bits of this truly bizarre new clip.
1. Peculiar pool parties
Take your pick of sleazy, cringeworthy pool scenes.
Moving from his former Coatesville mansion to the back of a superyacht - Dotcom makes a splash. He's filmed fully clothed in a wave pool, with his arms wrapped around bikini-clad women, popping bottles waterside.
2. Flashy number plates
Personalised plates on shiny new cars are the ultimate cash-flashing accessory.
Good Life features not one, not two, not even three, but four of them.
Emblazoned with words such as Good, Police, Evil and God - you just know they didn't come cheap.
3. Stormtrooper cameo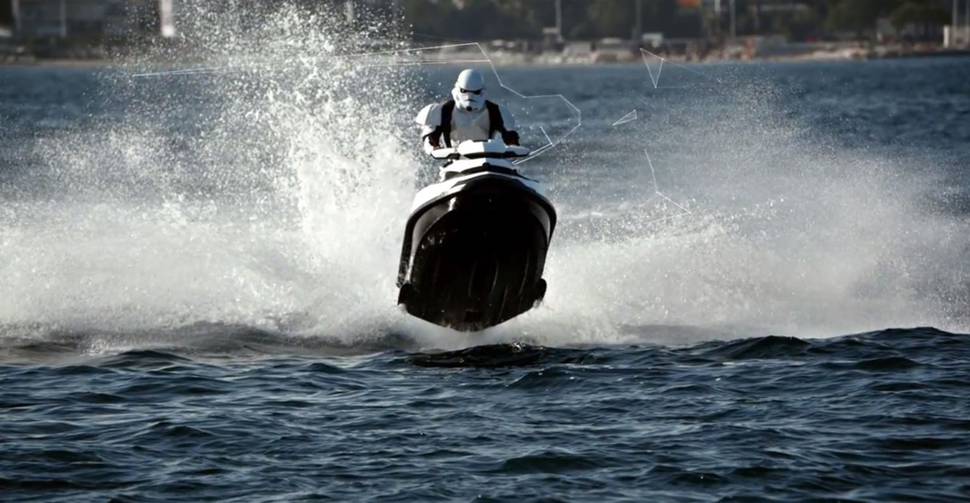 A Star Wars stormtrooper on a jetski is something you don't see every day - but in the world of Kim Dotcom anything is possible. One can only assume that's the point anyway, seeing as it has zero relevance to anything else happening in the video.
4. Open-top antics
Dotcom shows off an impressive car collection, a private plane, jetski, helicopter, speedboat and...a four-wheel buggy?
He can be seen racing around the Nurburgring Nordschleife track in Germany with glee. We note he's clearly too badass to wear a helmet.
5. Oh baby
Scenes of oiled-up beauties were to be expected - Dotcom throwing a baby in the air was not. The mogul seems to delight in tossing the child as he stands in a pool; leaving the viewer with more questions than answers.
Who is this fair-haired mystery kid? What is he doing there? And where is his mother?
- nzherald.co.nz