Harrison Ford could star in a fifth Indiana Jones film.
Lucasfilm President Kathleen Kennedy has confirmed the series is being brought back to the big screen and the 72-year-old actor could be expected to reprise his famous role.
Speaking to Vanity Fair, she said: "A new Indiana Jones movie will one day be made inside this company. We haven't started working on a script yet, but we are talking about it."
Now he has wrapped shooting Star Wars: The Force Awakens - in which he returns as Han Solo, the actor might once again play the daredevil archaeologist in the upcoming film.
The announcement comes three years after Disney paid £3 billion (NZ$6 billion) for Lucasfilm - originally created by George Lucas - and with that the rights to the Star Wars and Indiana Jones franchises.
The Indiana Jones franchise, created by Lucas and directed by Steven Spielberg, began in 1981 with Raiders of the Lost Ark and was followed by three more movies about the whip-wielding archaeologist.
The films have earned a combined £1.32 billion (NZ$2.68) at the box office worldwide.
While Ford is set to appear in the new film, it's unlikely it will be as the lead character, as in January Chris Pratt was being eyed to be the main star.
In fourth film, Indiana Jones and the Kingdom of the Crystal Skull, Shia LaBeouf played Indy's son Henry 'Mutt Williams' Jones III and the plan at the time was for that character to become the lead star of the franchise.
Vanity Fair
has released the cover of its June issue, featuring cast from the upcoming film,
Star Wars: Episode VII - The Force Awakens
.
Shot by famed photographer Annie Leibovitz, original star Harrison Ford is joined by his sidekick Chewbacca and newcomers Daisy Ridley and John Boyega.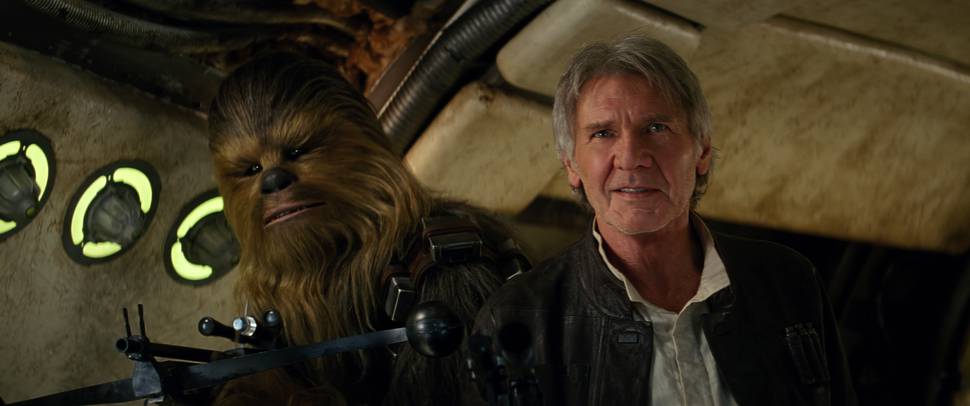 They are pictured aboard their spacecraft, the Millennium Falcon, which is commanded by Han Solo (Ford) and Chewbacca. BB-8 can also be seen in the corner.
The Force Awakens, which debuts December 18, takes place 30 years after the events of episode VI - Return Of The Jedi (1983).
Ford is still recovering after being involved in a plane crash in March which saw the 72-year-old star was rushed to hospital with head injuries.
The star's two-seater aircraft - which he was piloting - smashed into Penmar Golf Course in Venice, Los Angeles, when he was forced to make an emergency landing due to an engine malfunction.
However, Harrison - who had been flying a vintage two-seater World War II fighter plane - returned home earlier this week and his Indiana Jones producer Frank Marshall told Variety he is much better and even wants to return to playing sport.
MailOnline has contacted a spokesperson for Harrison Ford for comment.
- Daily Mail