Ewen Gilmour has been remembered as a comedic legend and "one of the nicest guys on the planet" by the entertainment industry.
Gilmour died overnight at his Port Waikato home. He was 51.
Fellow comedian and friend Urzila Carlson said she was in shock to hear of his death.
The pair have the same manager, Hilary Coe, who told APNZ today that Gilmour's death was sudden and he had not been unwell.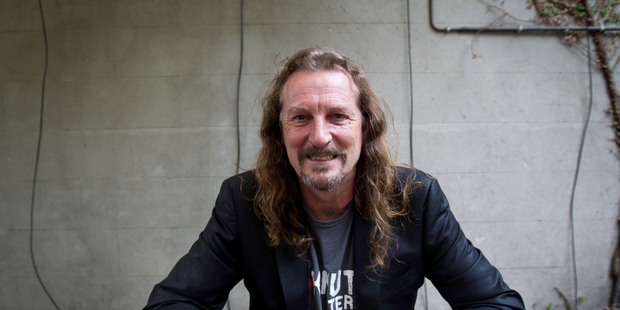 Photo / Richard Robinson
"He was just a really, really great guy and this is absolutely devastating," Ms Carlson said.
"[He] will leave a massive hole, I don't know if anyone could fill it.
"Everybody knew him or knew of him, even if they didn't know his name they knew 'that Westie one'," she said.
The pair met a comedy gig in 2008, she said.
"He just came up to me, gave me a massive hug, because he's the world's best hugger, and he said 'Hey, I'm Ewen,' and we were friends from then on."
Ms Carlson said Gilmour was a keen ten-pin bowler outside of work.
"He'd bowl every Tuesday ... him and I were going to get our manager to sponsor us in a bowling league. He even had his own bowling ball made for him," Ms Carlson said.
Read more:
• Michele Hewitson Interview: Ewen Gilmour
Comedian Jeremy Elwood was in California and shocked to hear about Gilmour's death.
"That is incredibly sad news," he told the Herald.
"All I can say is that Ewen was the most consistent and one of the best comedy acts and the most professional act that I worked with. And, he was a good friend."
Twitter breaks the news - and leads tributes
Other friends shared their grief on Twitter.
Rhys Darby tweeted: "Just heard the incredibly sad news that my friend the veteran legend Kiwi comic Ewen Gilmour had passed away..."
Te Radar tweeted: "It's a dark day out west. Thanks for the good times Ewen. You brought so much joy to so many people."
Rose Matafeo tweeted: "Ewen was a really kind-hearted comic who gave a lot of love & support to the people around him."
Mediaworks: He was part of the family
MediaWorks -- which aired a range of Gilmour's shows or programmes featuring him, including 7 Days, Road Madness and Dancing with the Stars -- paid tribute to a "friend and colleague" in a statement.
The statement said Gilmour had been filming in MediaWorks studio last night for a comedy special, which has no on-air date at this time.
"He was a much-loved and respected part of the wider MediaWorks family and had given generously of his immense talent over the years.
John McDonald, head of local production at MediaWorks TV, said: "Gilmour was mischievous, intelligent and warm-hearted. He set the standard for many of our young comedians to aspire to, with a knack for telling a wonderful, crazy, circular story that had fantastic gags all the way round. He'll be hugely missed."
'He's a really significant comedian in this country'
International Buskers Festival artistic director Jodi Wright said Mr Gilmour, who often performed as part of the event, was a "joy".
"He was just a real pleasure to deal with, a really funny man," she said.
"I am really sad to hear that he has passed away so young.
"He had such an interesting sense of humour, his improv was so good. He could just stand up on stage and make everyone laugh.
"He really intrigued the crowd and they appreciated his humour."
She said Gilmour made an effort to perform in post-quake Christchurch where comedy played an important part in helping Cantabrians through the aftermath of the natural disasters.
"People here need to laugh and we really appreciated people coming down here and looking at the city in a different way and giving us a laugh about it, because it's pretty heavy for a lot of people living here.
"He's a really significant comedian in this country."
Gilmour won the Billy T Award in 1997 and the Decade Achievement Award from the NZ Comedy Guild in 2010.
Recently, Gilmour presented the TV3 show Road Madness and appeared as a panelist on 7 Days.
He was highly regarded as an ambassador for Variety NZ, the children's charity, and received a Variety International Presidential Citation.
Variety NZ president Joa Moodabe ONZM said Gilmour was an unwavering supporter of Variety fundraisers.
"Ewen has been for many years an amazing friend and fundraiser for Variety and we are devastated to hear of his death."
Variety vice-patron Simon Dallow also joined Gilmour on a number of fundraisers.
"Ewen was a champion for New Zealand's disadvantaged children, tirelessly raising money to make a tangible difference to their lives", he said.
"He was simply a great bloke with an enormous heart who bought smiles, and aroha wherever he went. He was my friend and Westie brother -- loved, now missed, but never forgotten".
Gilmour lived alone at Port Waikato after the death of his wife Catherine in 2011, who had a long battle with cancer.
He was the current chairman of the Onewhero-Tuakau Community Board for the Waikato District Council, and served as a Waitakere City councillor from 2004 to 2007.