The Auckland mother of three who manages to feed her family on less than $89 a week says shopping smart and sticking to the basics is the only way she can survive.
Part-time teacher aide Catherine opened up her household books to bust the myth that those struggling to make ends meet are wasting their money.
Careful scrutiny of Catherine's budget found she was left with just $89 a week for food after rent and other essential expenses had been paid.
"I don't waste any money because there's no money to waste," says Catherine, who doesn't drink or smoke.
"You have to try and stretch every dollar right down to the cent."
Catherine says she shops at Pak n Save Papakura for her grocery essentials and uses the big discounting Reduced to Clear outlet for bulk purchases every two or three weeks.
Almost everything she buys is either the house brand or on special.
Her weekly food budget consists, on average, of

$5 worth of pasta and rice,

$4 on four $1 loaves of bread,

$2 on Weetbix,

$9 on milk,

$2.50 on jam and margarine,

$3.50 on eggs,

$25 on meat,

$3 on frozen veges,

$8 on cleaning and hygiene products,

$2.50 on cheese,

$15 on school lunches and snacks,

$6 on tinned food and baking materials

$1 on tea and coffee.
The remaining $2.50 is put aside for an occasional treat for her children at a local fast food outlet.
Catherine says she doesn't spend any money on fruit as this is provided by the school.
The school also offers food provided by the KidsCan charity when an emergency expense means Catherine's forced to spend less on groceries and runs out of food for school lunches.
"We sometimes run out of bread and they'll go to school and have some spaghetti for breakfast and they love it.
"Going to school and getting a hot meal is awesome. It gives the kids a good jump start for the day."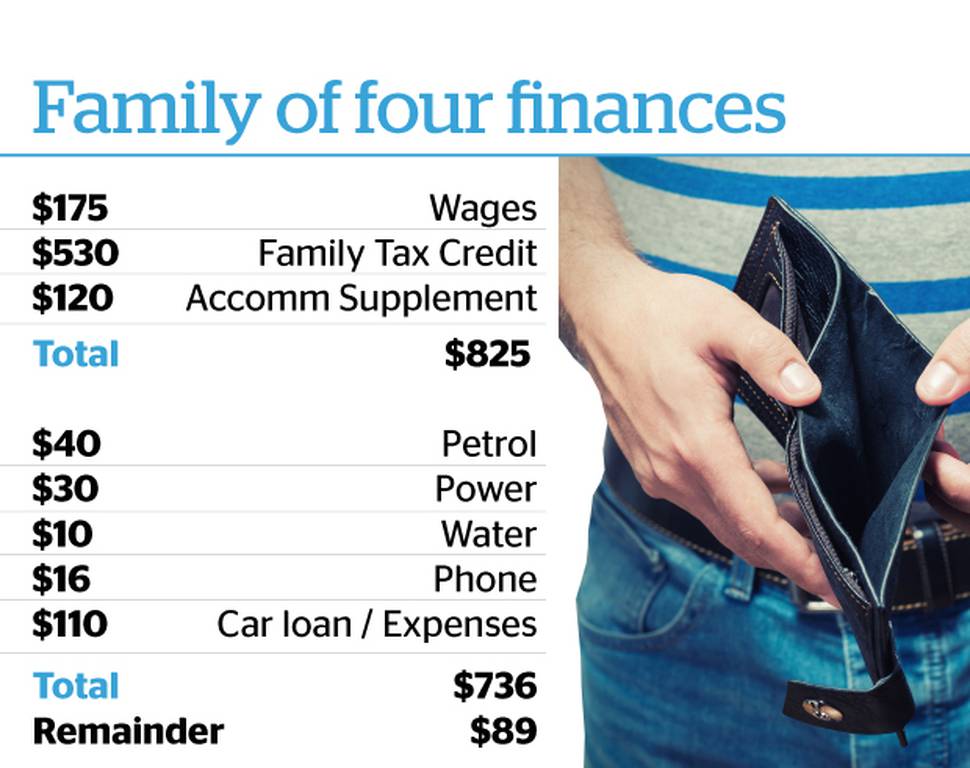 KidsCan chief executive Julie Chapman said there was a misconception that people struggling did not work, whereas the latest child poverty monitor figures showed 40 per cent of children in poverty had at least one parent in work.
"I can put my hand on my heart and say that the majority of parents I see are not doing drugs, they're not doing alcohol, in fact they have very little money to be able to afford those things."
KidsCan is raising money to help 2,325 children from 16 low decile schools who are living in hardship.