In rooms full of brightly-coloured ceramic installations, finely crafted bowls and platters, immaculately glazed pots, fantastical cups and saucers and sloppy ceramics, sat a smallish piece with a pearly smooth and almost featureless surface.
Quiet and unassuming, Clinch VI repeatedly called to Janet DeBoos, the international judge at this year's Portage Ceramics Awards. DeBoos couldn't help but run her fingers over the glossy surface and try to separate the two parts.
A ceramic artist and former Head of Ceramics from the Canberra School of Art at the Australian National University, she rolled the word "clinch" around in her head and decided it was charmingly provocative. Not an embrace or a hug, but a clinch implying an unbreakable bond - whether it was wanted or not - or sealing a business deal.
Its smooth surface "obscured the darker associations of the title and certainly initially obscured the difficult, clever process by which it came into being". So DeBoos choose Clinch VI, by Caroline Earley, as Premier Winner at the Portage Ceramics Award.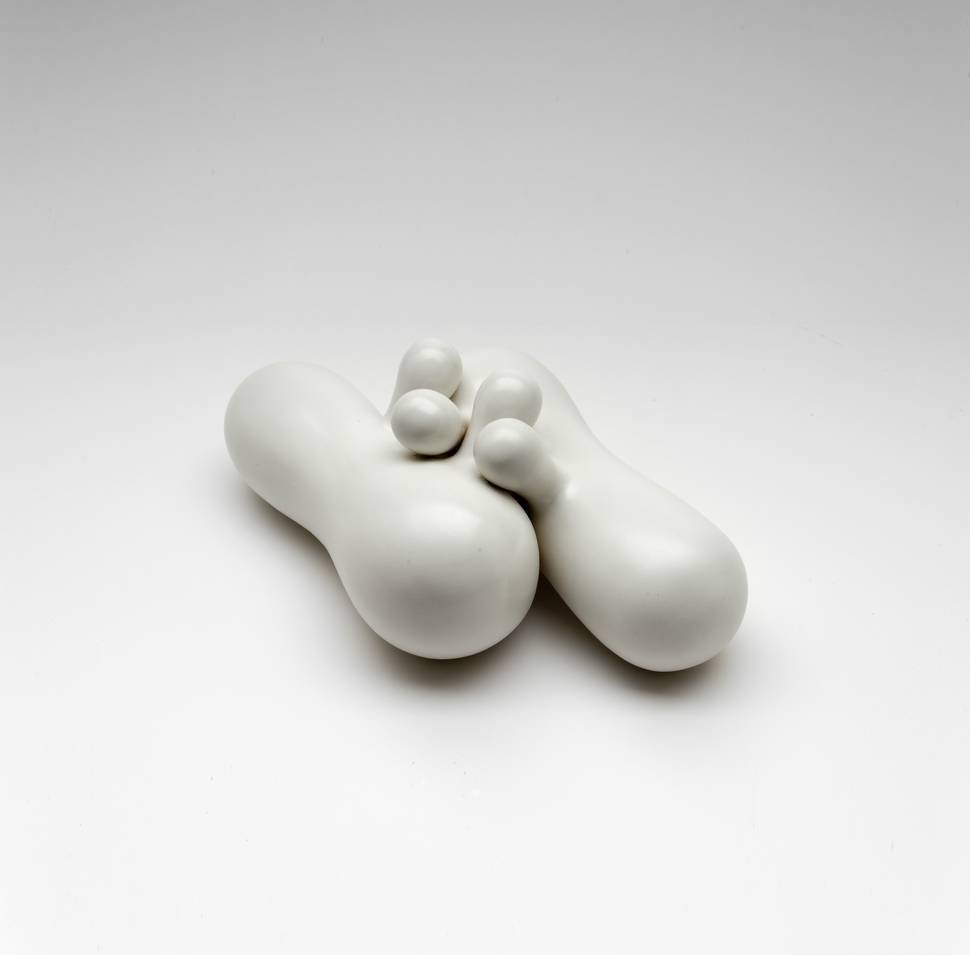 Earley, who is Associate Professor of Art at Boise State University in Idaho and divides her time between Paekakariki, on the Kapiti Coast, and the United States, receives $15,000. Whangarei's Greg Barron, a ceramic artist and potter for more than 40 years, won the scholarship award to the Peters Valley School of Craft in New Jersey.
Three merit awards of $1000 were given to Titirangi ceramic artist Susannah Bridges for her work Stick to the Knitting; Dunedin's Jim Cooper, a previous winner of the Premier Award, for his work Shrine from the Temple of the Good Shepherds and Sandringham's Mark Goody & Emily Siddell for Deconstructed Fables. DeBoos was so impressed with the quality and dedication to craft of this year's 50 finalists that she also awarded 10 Honourable Mentions.
DeBoos first saw photos of the entrants' work (by email) when she was in Ireland at the Ceramics Ireland Festival in Thomastown, Kilkenny. Her deliberations continued in Barcelona, where the International Academy of Ceramics held its biannual General Assembly.
"It was interesting to look at what was - is - happening in New Zealand because one hopes, with an award like Portage, it provides a snapshot of what is happening in a specific place that is specific to that location," she says. "It was fascinating to see, despite time and different histories, common elements of ceramics production and presentation across all these geographies but there were differences."
DeBoos thought the New Zealand work was enormously varied and, to be expected from artists in an island nation, contained many references to boats, water and birds.
"At a lot of competitions now, you see video entries," she says, adding these are often a way of including site-specific installations, time-based or performance work into competition.
She saw a lot of "sloppy ceramics" - a term that describes ceramics that look naive, absurd and messily made but, in fact, often require considerable skill. Though DeBoos likes this style, she's not a fan of work that is "just a self-conscious copying of current trends".
But she stresses judging the 15-year-old competition meant putting her own likes and dislikes aside.
"I try not to choose what I necessarily like so it's not a question of my own taste; I want it to be about the work of New Zealand ceramic artists, not about the taste of Janet DeBoos," she says. "I like functional pottery because of its interaction with people, so it's about relationships and, in fact, that relationship that exists between the maker and the user is also something I enjoy seeing.
"I like work that sees the spaces between things, so rather than it being specifically this or specifically that, I find this grey or difficult area much more interesting."
She sought pieces that were well-crafted, but not so much so that it seemed highly-crafted without content other than skill. Also out was work that looked derivative and work that didn't take itself seriously.
"I don't mean work that was fun or had a sense of humour or was ironic, but work that seemed to be 'smarty-pants' and regarded itself as a tad above the current company."
At Thursday's awards' ceremony, DeBoos told those gathered that Clinch VI captivated "with its apparently simple conception, but one which belied the sheer cleverness and complexity of its execution."
What: Portage Ceramic Awards 2016 Exhibition
Where & when: Te Uru Waitakere Contemporary Gallery, until February 5