The Pop-up Globe theatre returns to Auckland in February, with organisers promising one of the most ambitious seasons of Shakespeare ever seen in New Zealand.
Rather than popping up in the central city, it will be based at the Ellerslie Racecourse and four plays - Much Ado About Nothing, Othello, As You Like It and Henry V - will be performed in a vastly enhanced theatre.
The plays, theatre redesign and location were revealed today by executive producer Tobias Grant and artistic director Dr Miles Gregory.
Grant says the question was never really whether to pop-up again - given 100,000 people attended its first season, it was a given - but centred on where and when.
They wanted to ensure the second season offered something different, which meant four new plays, a different site and "ground-breaking" new theatre design.
The King's Company and the Queen's Company, totaling 30 actors from New Zealand and around the world, will each work on two productions paired to heighten the themes of love and jealousy found in Shakespeare's plays.
Directors Gregory and Ben Naylor return and are joined by local star Miriama McDowell and UK comedy specialist Tom Mallaburn. They'll be supported by two live bands and two backstage teams, creating 90-100 jobs all up.
The wardrobe team will craft 140 costumes while building partner, CamelSpace, will pull out from its Mt Wellington warehouse the 125,000 individual scaffolding components used earlier this year to build the first Pop-up Globe.
While the exterior will look similar, the interior is based on new research. It will house a three-storied Jacobean-inspired stage front, built and painted entirely by hand, including Jacobean imagery and architectural detailing, two balconies and an elaborate hand-painted stage ceiling.
Gregory says actors will be able to fly across the stage, as they did in Shakespeare's day, and there will be a cannon.
He was quick to reassure those gathered to hear Pop-up Globe's latest news that the cannon will comply with all health and safety regulations to ensure history does not repeat itself.
On June 29, 1613, during a performance of Henry VIII, the cannon started a fire that razed the Globe Theatre. It was rebuilt in 1614 and, 400 years later, the Pop-up Globe was constructed based on this, becoming the world's first working replica of the second Globe Theatre.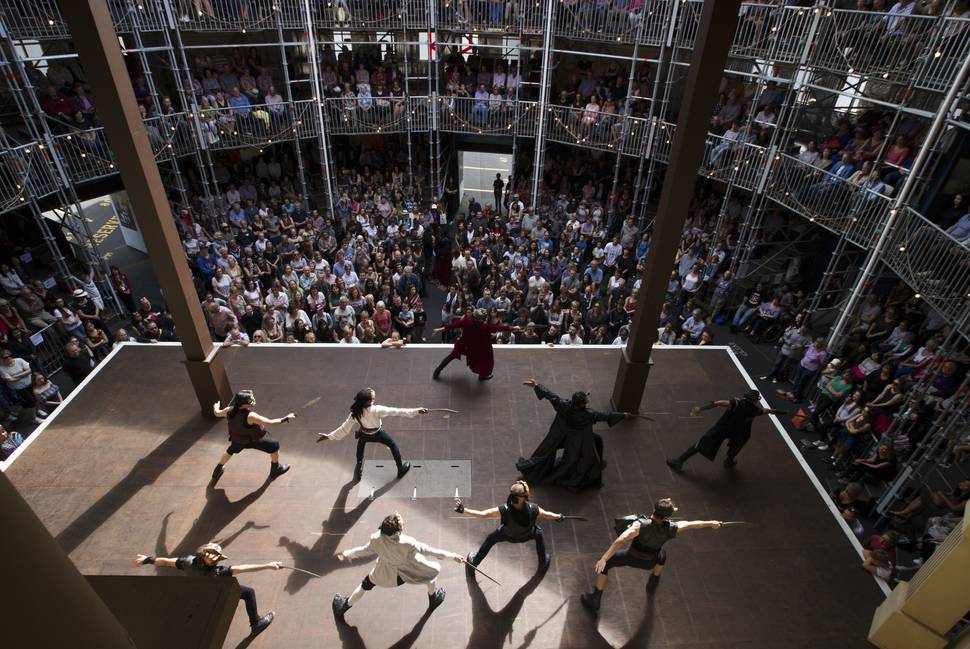 But Gregory says the most special effect will come from the Onion Dome, which stood atop the Globe's roof. Many questions have been asked about its exact function - was it for ventilation or some sort of fire safety measure? - but he and researcher David Lawrence now believe it served a dual purpose.
"It's what we are calling the Stonehenge effect because sunlight streams through the Onion Dome's openings and illuminates the stage from the back," Gregory says.
"The Globe was orientated to catch the midsummer sun - as our building will be - so it proves those Jacobians knew a thing or two."
Grant says they wanted a site that looked like a "beautiful and verdant oasis", where the theatre would stand proud and be clearly visible, as well as have good access to major transport links.
"Ellerslie Racecourse was perfect," he says.
The site will also include a pop-up bar and restaurant.
• The 2017 Pop-up Globe Season will run from February 23 - May 14.