Our writers rate some of the Kiwi performances from the Commonwealth Games on a scale of 1 to 5 stars (five being top)
Liam Napier
Beach volleyball
Tauranga brothers Sam and Ben O'Dea, seeded fourth, punched above their weight to bag a maiden bronze, with the sport making its Games debut. Kelsie Wills and Shaunna Polley lost their quarter-final to miss a medal.
Full scale capitulation. Results leading into the Games always suggested the Silver Ferns would struggle to make the final. But to lose four matches, including the shock Malawi defeat, was embarrassing for the sport and a disservice to the Ferns' legacy. First time not to claim gold or silver let alone go without a medal altogether.
Five medals, equalling their 1950 counterparts in Auckland, was a positive result for the eight-strong team. One more semifinal win would have been nice but, as it was, their four bronze and David Nyika's second historic gold capped a successful Games for a sport that survives on fumes of support.
Shooting
Worst Games for the shooters. Expectations were high but the 11-strong team failed to hit the bulls-eye enough and, therefore, missed medals for the first time.
Can't ask for anything more than two golds. This was some reversal after both falling short at the Rio Olympics where the women were forced to settle for silver and the men missed a medal altogether. Given their patchy form on the World Series circuit, expectations were tempered with the men but they targeted this pinnacle event and delivered on the big stage. For the women this was sweet revenge. It doesn't get much better than beating Australia on their home patch.
Niall Anderson
Badminton
New Zealand sent only'two badminton players to the Games, with Susannah Leydon-Davis and Oliver Leydon-Davis winning their round of 32 mixed doubles before losing to an English pairing in the round of 16. Eminently forgettable.
The Tall Ferns performed solidly, being the second best team in the competition, only for the unfortunate seedings to cause them to run into the Australian juggernaut in the semifinals. Their bronze was a good result, much better than the Tall Blacks' bronze, who suffered one of their worst losses in years, losing to Canada despite being 25-point favourites. Beating lowly Scotland for bronze should not spare their blushes.
Cycling – road
Medals in the time trial to Linda Villumsen (silver) and Hamish Bond (bronze) were expected, but Georgia Williams' drought-breaking silver medal in the road race was superb. Sharlotte Lucas' fourth was also credible, but the road riders were denied a 5/5 showing after an enthralling men's road race ended poorly. The men did well to have six riders finish in the top 16, but couldn't finish it off.
All bar one of the six events ended with the Kiwi contestants low on the final leaderboard. Elizabeth Cui and Yu Qian Goh performed well to finish fourth in the 3m synchronised springboard, but New Zealand's 28-year drought without a medal lives on.
No medals in the individual events, with Ryan Sissons claiming fifth in the men's, while Nicole van der Kaay gave a good account to finish seventh in the women's. However, any lingering disappointment was probably counter-balanced by the bronze medal earned in the mixed relay, where Sissons, van der Kaay, Andrea Hewitt and Tayler Reid combined.
Cam McMillan
Lawn bowls
A disappointing campaign for the lawn bowls team with eight of the 10 entries failing to make their quarter-finals. Shannon McIlroy and the men's four are defending world champions, so to leave the Gold Coast empty-handed is a let-down. Another gold for Jo Edwards was one of the highlights of the Games, while the open para triples did a great job making the gold medal match.
Four medals from five events – got to be happy with that. Joelle King and Paul Coll went in as top seeds so a gold and a silver respectively is probably a pass. King and Coll should have also made the gold medal match in the doubles, but rebounded well from their disappointing semifinal to claim bronze. King, who played every day at the Games, confirmed her status as a New Zealand's MVA (most valuable athlete) by winning a second gold in the women's doubles alongside Amanda Landers-Murphy.
Swimming
Sophie Pascoe pads the stats with her two gold medals after another superb effort. 17 finals in 26 events is not bad for a fairly young team, but it made you realise how underappreciated Lauren Boyle was in keeping up with and often beating the big names. Lewis Clareburt was one of New Zealand's surprise athletes of the Games and he's shown promise ahead of the Tokyo Olympics.
A let down compared to four years ago when the sport produced two bronze medals. Not one member of the team had multiple victories with Glasgow medallist Sam Belkin the only one to advance to a bronze medal match. He was soundly beaten within a minute.
Off the pace across all disciplines. Ethan Dick managed a respectable fifth in the floor final and Devy Dyson produced a sixth in the rings but no one in the team looked like a medal contender.
Andrew Alderson
Athletics
The usual suspects delivered. Shot putter Tom Walsh and hammer thrower Julia Ratcliffe advanced to gold from silver at Glasgow.
The campaign was highlighted by duels which resulted in silver: Shot putter Dame Valerie Adams against Jamaican Danniel Thomas-Dodd; pole vaulter Eliza McCartney against Canadian Alysha Newman; para javelin thrower Holly Robinson against Hollie Arnold, despite setting a world record early in the final; and Alana Barber against Jemima Montag in the 20km race walk, justifying her Dad's decision to travel overseas for the first time in 45 years.
New Zealand headed home with 12 medals. More importantly, their performances were peppered by personal bests, the truest measure of progress. The biggest boost was five medals for women, compared to zero four years earlier. The women's sprint results resonated most, due to their unexpected nature. Natasha Hansen and Emma Cumming secured four medals between them across the individual and team disciplines, the 500m time trial and Keirin.
Cycling – mountain biking

Antagonism overshadowed New Zealand's gold-silver finish in the men's race. Sam Gaze and Anton Cooper completed a repeat one-two finish, reversing the order from Glasgow.
Gaze delivered a blistering comeback after a puncture, as Cooper attempted to defend his title. However, the win came with rancour. Gaze critiqued Cooper's sportsmanship and stood stony-faced atop the dais. He showed contrition later. Samara Sheppard was ninth in the women's event.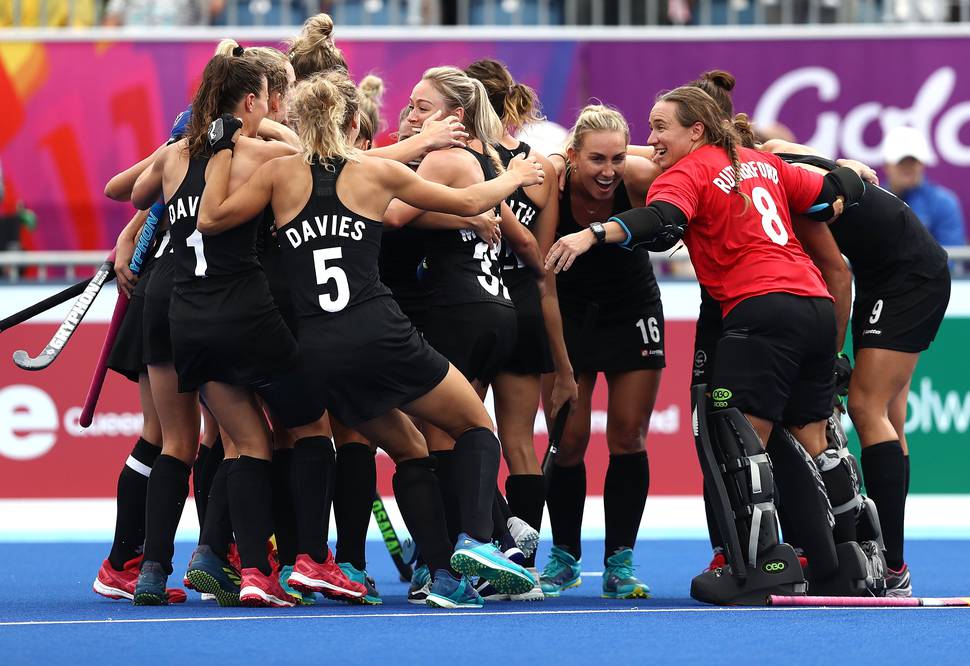 Hockey
New Zealand's best showing at a Games with gold to the women and silver to the men. Those were peak performances. The women endured a penalty shoot-out against England before trouncing Australia 4-1 in a pioneering moment from six Commonwealth Games attempts. Euphoria flooded out of the dug-out as the final hooter brought unshackled triumph. The men were defeated by the world No.1s who had secured gold at every Games.
New Zealand needed a new champion to take the mantle from Richie Patterson. They found it in David Liti. He clean and jerked 229kg above his head, and saved face for the team. New Zealand had no medals from 11 events going into his 105+kg class. Defending 85kg champion Patterson could not get beyond the snatch phase and retired, as did Tracey Lambrechs after finishing fifth in the 90kg bracket.