WARNING: Graphic content
Horrific images have revealed the devastating impact exploding airbags can have on the human body.
They show how victims have been left blinded and some have almost been decapitated after their cars launched metal shards into their faces. The injuries are often so severe that surgeons need to dig the fragments from their bodies and they are left reeling from the injuries and trauma for years.
One of those victims is Corey Burdick who was hit in the face by a piece of debris that caused him to lose his right eye.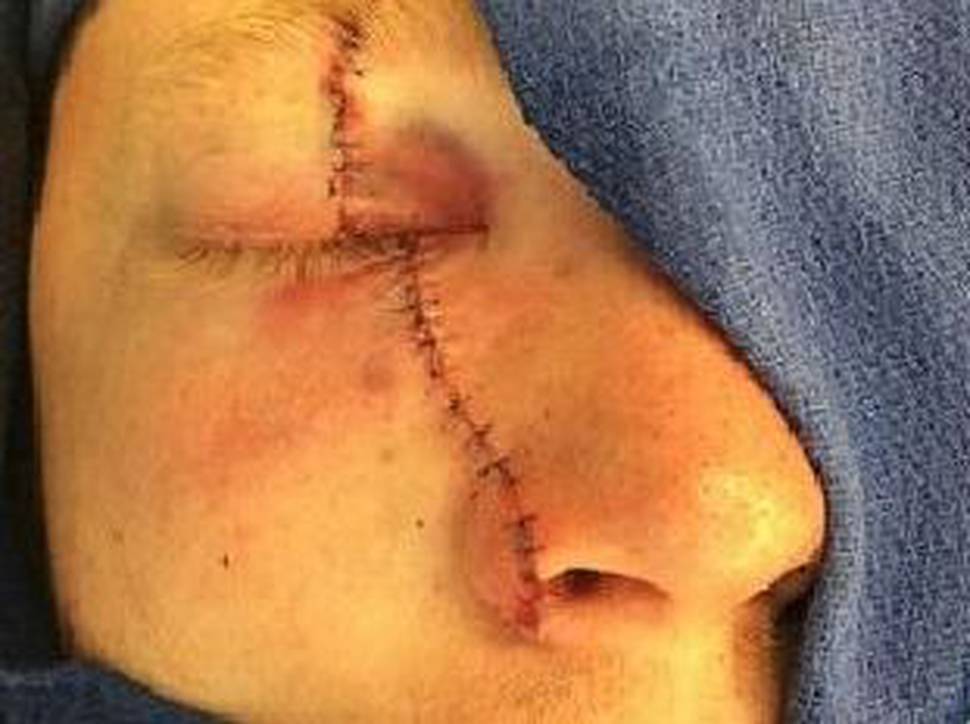 It happened when his defective airbag blew up in his face as he crashed his 2001 Honda Civic into another car at just 24km/h.
Now a campaigner, the Florida motorist, uses social media to urge drivers to change their faulty airbags.
"I lost my eye because of a defective airbag," said Mr Burdick in one of his most recent campaign videos. "Take your car in today so this doesn't happen to you."
Although there has only been one death and one serious injury linked with Takata airbags in Australia, globally the faults have taken a devastating toll. There have been 23 deaths and 230 serious injuries.
It comes as drivers in Australia are being strongly urged to check if they need to have faulty Takata airbags replaced from their motor vehicle in the country's largest ever consumer recall.
The Federal Government announced that nearly four million cars with the defective Takata airbags would be recalled.
Similar images that news.com.au has deemed too graphic to publish show how metal fragments have torn apart motorists' faces.
Stephanie Erdman's lost part of her vision after a minor accident in her 2002 model Honda.
The Florida resident underwent four surgeries to remove the shards and one to build a new eyelid from tissue taken from one of her ears.
However, the impact of an exploding airbag can be deadly. One family from the US who lost their daughter in 2014 gave a chilling warning to Australian motorists.
Alexander Brangman's daughter, Jewel was killed when shrapnel from a faulty airbag in the rental car she was driving exploded. It punctured her carotid artery during a car accident in California.
"One of her last words were 'I love my life, Dad and I'll see you on the 15th', obviously that day never happened, due to blatant incompetence and unconscionable unethical behaviour," Mr Brangman told ABC.
"I think it's an unethical corporate problem in making poor decisions basing profit over lives."
He added that it doesn't take a huge accident to trigger the explosion.
"It was a fender bender. It's questionable that the airbag should have even gone off," Mr Brangman said.
"[It was] very low damage, and impact … my lawyers were shocked and astonished that the airbag went off in the cabin of the car.
"This was an incredibly close relationship that was taken from me, I had her 26 years, 11 months, about 15 minutes and quite frankly I was devastated.
"But in her name and her honour, and the kind of person that she was, I wanted to spread awareness and immortalise her and let the world know what was lost and who she was."
Another victim to the devastating fault is 18-year-old student Ashley Parham, who wasn't even driving fast when she died in 2009, just days after her high school graduation.
Ms Parham is likely the first victim of the deadly malfunctioning airbags made by Japanese manufacturer Takata.
She was wearing a seatbelt and wasn't speeding as she drove around the car park looking for a space, according to local TV station News 9.
She bumped another car, a relatively minor prang, but nonetheless the airbag in the steering wheel inflated. As it did so, it threw metal pieces at such tremendous force towards Ms Parham that one hit the teen's neck, slicing open her carotid artery. She bled to death in her seat.
Local Police Chief Brandon Clabes told Reuters her injuries were so catastrophic that doctors who treated Ms Parham initially "thought she might have been shot".
A strong warning also came from the RACQ yesterday, following the recall announcement.
RACQ's head of technical and safety policy, Steve Spalding, said consumers needed to take the recall seriously.
"What is critical is that motorists take this advice seriously, there is an element of owner responsibility if you don't receive a notice, check your vehicle," he said.
Mr Spalding said drivers should not attempt disconnect their airbags.
It could be years before every vehicle affected by the faulty airbags is fixed.
"When you think about the size of the problem there are significant logistical issues," Mr Spalding said.
"It's a staggering number of cars affected and dealerships are already running close to capacity, they don't have staff sitting around doing nothing.
"In some regional towns they might not have a dealership nearby ... it's a very big problem for consumers and dealerships."