The cable has landed.
Rain, a silver sea and sky and a remote beach added atmosphere as the super-fibre Hawaiki Transpacific Cable made landfall north of Mangawhai Heads this morning.
Hawaiki Submarine Cable (HSC) project managers, stakeholders and Northland local government and economic development representatives were among people who witnessed what will be the only beach landing of the 15,000km submarine cable between New Zealand, Australia and the US.
The other landing points will be via pipes.
Karakia and waiata by local iwi Te Uri O Hau marked the significant arrival on shore of the cable that, when completed and commissioned in late June, will travel from Oregon to Sydney, with landings in Hawaii, American Samoa — and Mangawhai Heads.
''This is definitely a milestone step in the Hawaiki cable process. Landing on a beach is no mean feat and we're very happy with how it went,'' HSC programme manager Richard Howarth said.
The high-tech internet cable has been described as linking New Zealand to the rest of the world faster, with greater capacity and more reliably.
The fibre itself is only the diameter of a $2 coin, its sheath bringing the cable to 35mm in places.
Getting it ashore at the only site it makes land in New Zealand involved the feeder ship CS Responder sitting offshore while a smaller vessel carried the cable, supported on the surface by buoys, to the surf zone where divers took over and brought it ashore.
At the end of the meticulously planned step in the $500 million, high specification, super-technology process, one man handed the thin cable to another in the shallows of the Northland beach.
A digger buried the cable in the sand parallel to the dunes, and later continued across a land corridor to the Cable Landing Station on Cove Rd.
Mr Howarth described the submarine cable and laying process as ''environmentally benign''.
''The whole technology enables the smallest possibly footprint on the environment,'' he said.
The Mangawhai landing is roughly the midway point of the job, with 7000km buried about two metres under the seabed so far.
From Mangawhai work will continue to near Norfolk Island where the cable will be connected to the Sydney-Oregon stretch.
The name Hawaiki is a reference to trans-Pacific travel, with significance for Maori whose mythical homeland was Hawaiki.
Vaughan Cooper, general manager of infrastructure for Northland Inc, was at the historic arrival of the cable as it was ''sung ashore'' by Te Uri o Hau.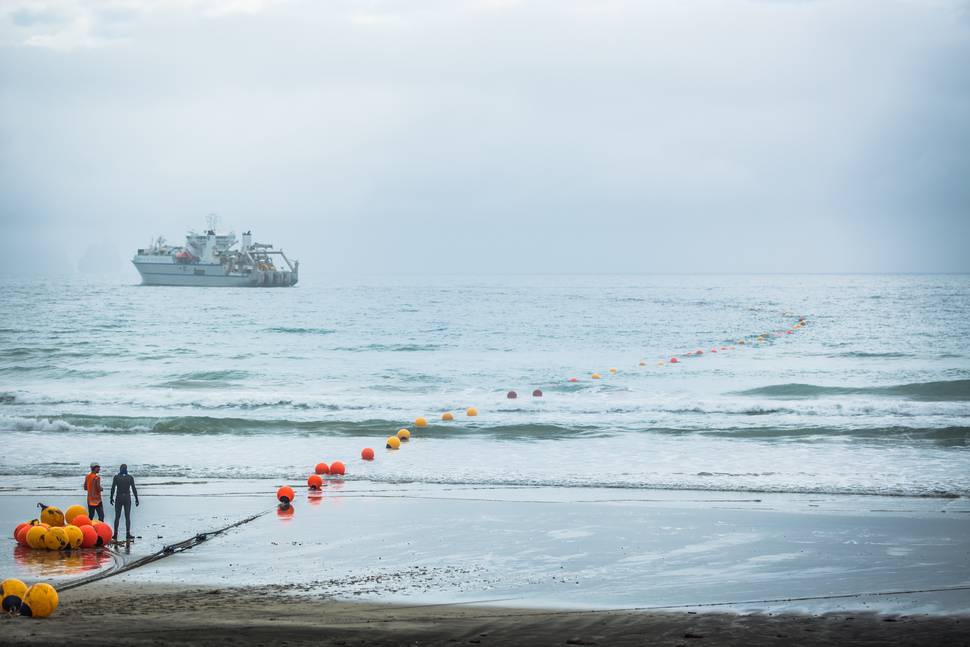 ''It was a very appropriate welcome and blessing,'' Mr Cooper said.
''The cable is very significant for tangata whenua as far as connectivity to the rest of the world and the opportunities that brings.''