The New Zealand dollar dropped about half a US cent in the space of just a few minutes as markets awaited the outcome of talks to form a new government.
Just after 5pm, the Kiwi went from US71.30c to US$70.82c.
"The Kiwi fell very sharply - about half a cent within the blink of an eye," said Imre Speizer, senior markets strategist at Westpac.
"The market right now is exceedingly nervous in the Kiwi dollar," he said.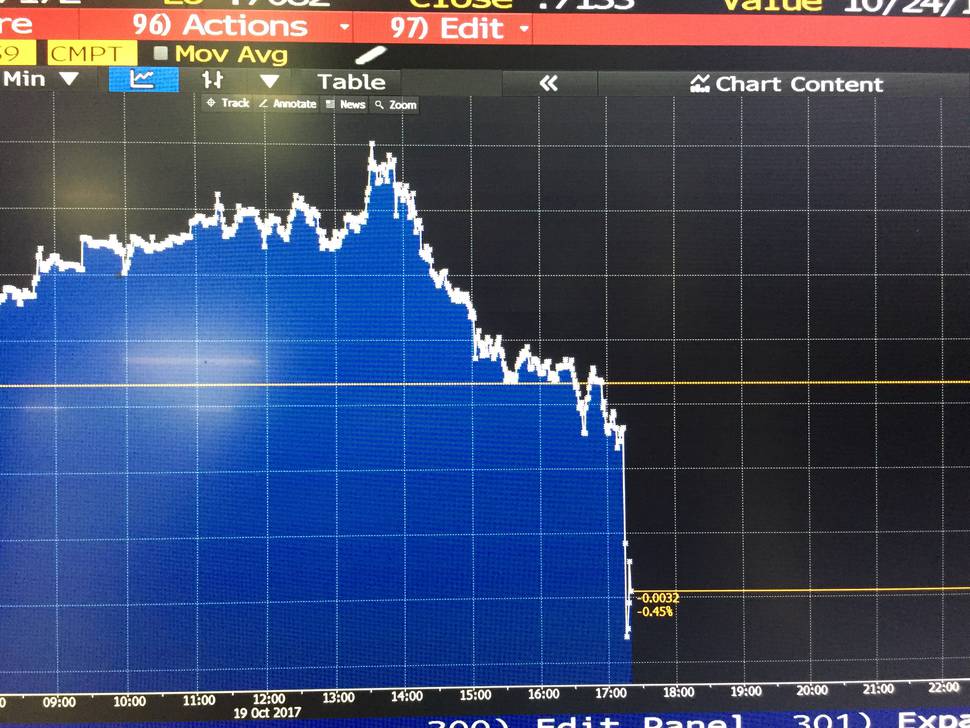 The New Zealand dollar was trading at 71.29 US cents as at 5pm versus 71.44 US cents as at 8am in Wellington from 71.59 cents late yesterday. The trade-weighted index was at 75.18 from 75.37. The currency has been largely rangebound waiting for an announcement.
NZ First said yesterday that it intended to make an announcement today and that leader Winston Peters had given a heads up to Bill English and Jacinda Adern.
However, by late afternoon there was still no announcement. In the meantime, the kiwi was getting pushed around by different news reports, in particular regarding a possible delay due to NZ First pushing for at least five ministerial posts, according to NBR.
Mark Johnson, senior dealer at OMF, said the kiwi will likely react to any government formation announcement but the move will be shortlived. If it falls the downside will likely be limited by profit-takers, he said. If it is squeezed higher any upside will "create some good selling opportunities when you consider potential dollar strength," he said.
Outside of the election news, Johnson noted that Bank of New Zealand lowered its milk payout forecast for the current season from $6.75 to $6.30 after another weak dairy auction this week.
"We see downward pressure on dairy prices persisting over the near term, with EU stockpiles of skim milk overhanging the market, and dairy prices still look a bit stretched relative to international oil and grain prices. Lower dairy prices support our view of the NZD heading to our year-end target of US$0.70 by year end, and being anchored around 0.69 through the first half of next year," BNZ said in a note.
Johnson noted the downgrade followed ANZ's yesterday. "This is something to keep in mind as it would be negative for the kiwi."
The kiwi fell to 53.96 British pence from 54.29 pence yesterday and declined to 90.80 Australian cents from 91.16 cents. It traded at 4.7273 yuan from 4.7317 yuan and rose to 80.50 yen from 80.34 yen. It fell to 60.40euro cents from 60.82 cents.
New Zealand's two-year swap rate rose 1 basis point to 2.20 per cent while 10-year swaps rose 3 basis points to 3.20 per cent.