Air New Zealand believes it won't have to cancel any flights because of fuel issues tomorrow and says its planes should run according to schedule.
Thousands of passengers were disrupted this week after a pipeline carrying jet fuel from Refining NZ's Marsden Pt ruptured.
But the national carrier says its domestic network has "operated largely as normal for the past two days".
"Air New Zealand is expecting to operate its regular schedule tomorrow with no fuel-related cancellations," it said.

"The airline is continuing to implement a range of measures to reduce fuel uplift in Auckland including some long-haul international services making refuelling stops at either Australian or Pacific Island airports."
Airlines had been ordered to operate on 30 per cent of their normal fuel usage, forcing delays, rebookings and cancellations of many domestic and international flights.
But from midnight tonight that will jump to 50 per cent as the industry gains some certainty about fuel supplies.
Travel restrictions for public sector workers have been lifted after the announcement, Ministry of Business, Innovation and Employment chief executive Carolyn Tremain said.
"As a result of the great progress we're seeing in the repair of the Refinery to Auckland pipeline, I'm happy for public sector workers to resume their normal travel schedule," she said.
On Monday Tremain had asked public servants to cancel all non-essential travel in and out of Auckland because of the fuel crisis.

Late this afternoon the New Zealand Navy's oil tanker HMNZN Endeavour arrived at the Marsden Point wharf. The ship will carry up to 4.8 million litres of diesel or the equivalent of 150 road tankers to ports around New Zealand.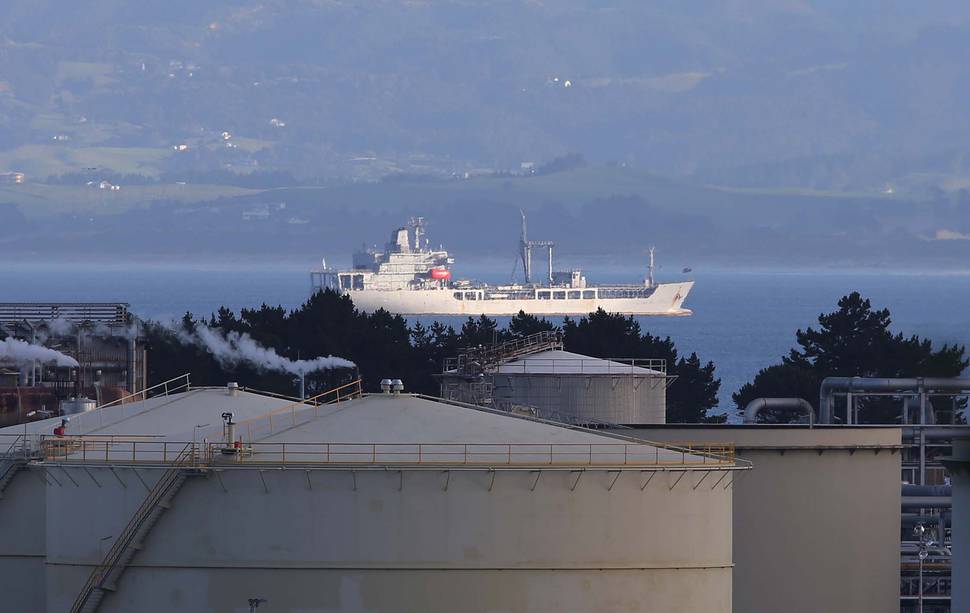 The New Zealand Defence Force has deployed 70 extra personnel to help ease the fuel shortage, including 55 sailors, six air force refuellers and 12 truck drivers who will get behind the wheel of tankers tomorrow.

"Everyone in the team is eager to get on with the job. We are glad to be helping out the community," said Lance Corporal Nix Vunipola. She is one of six NZDF drivers who will be moving fuel from Wellington to Palmerston North and Napier.

Six drivers will also drive civilian tankers full of jet fuel from Marsden Point to Auckland, while eight have been placed on standby to support deliveries.
The tankers will be moving fuel non-stop until September 30, by which time the pipeline is expected to be running again.
Refining New Zealand said it is on track to have the pipeline fixed before Wednesday next week. It would be another 30 hours before the fuel would be settled, recertified and taken to the airport for use.
The repair crew spent all Wednesday night removing a 17m section, with its replacement delivered to the site and tested today.
The new section has been hydro-tested ahead of being welded in place. Specialist insurers Lloyds will inspect the pipe twice over a 24-hour holding period.
The company is still trialling a new jet-fuel tanker loading facility. If successful tankers will be able to start loading fuel at Marsden Point this evening.
Customers of Refining New Zealand said the industry also planned to repurpose an old chemical tank at Wynyard Wharf to hold jet fuel.
Mobil NZ's Andrew McNaught said the Matuku was set to arrive at Ports of Auckland on September 23 to discharge jet fuel and diesel, which would help ease pressure on Wiri fuel stocks.

The improved outlook will be welcome news for anxious parents who have been swamping travel agents with calls as the school holidays approach.
House of Travel said staff had been flat out trying to answer calls from worried parents concerned about their trips.
Commercial director Brent Thomas says they did not have a lot of answers at the moment given the fluid situation.