By Jessica Dinn, AP
An Airbnb host who cancelled a reservation in California because the guest was "Asian" has agreed to pay a US$5,000 (NZ$6827) fine and attend a college course in Asian-American studies.
Dyne Suh booked the home as part of her ski trip with her fiancé and friends in Big Bear a month in advance.
As they approached the area in a snow storm, she messaged her host, Tami Barker, about the previously agreed upon extra guests.
Barker suddenly cancelled Suh's reservation telling the 25-year-old law student "I wouldn't rent to you if you were the last person on Earth."
Officials with the California Department of Fair Employment and Housing handed Barker a fine and said she would attend the course.
Barker also agreed to personally apologise to Suh and perform community service at a civil rights organization.
Suh, who has been living in America since she was three-years-old and is a citizen, said she received the remarks after she asked the host if she could add her two puppies and two friends to the reservation.
The Airbnb host then reportedly added: 'One word says it all Asian. Want something for nothing.'
It was a busy President's Day weekend, so the group was left stranded without accommodations as a result.
Suh said the woman initially agreed via text to the new arrangement.
But right before the group arrived, things took a turn for the worse.
According to the screenshots, the now-banned host said: "If you think four people and two dogs ate [sic] getting a room fir [sic] US$50 a night on Big Bear mountain during the busiest weekend of the year ... You are insanely high."
Suh said she countered back with saying that she had proof the host agreed and that she would report her to the company and have her removed.
The host allegedly messaged back and said: "Go ahead. It's why we have Trump."
The host added she would "not allow this country to be told what to do by foreigners."
Suh, who posted an emotional video about the incident on YouTube, has said she'd agreed to pay US$250 (NZ$341) per night to rent the home and later asked Barker if two other friends could also stay at the house, which Barker agreed to.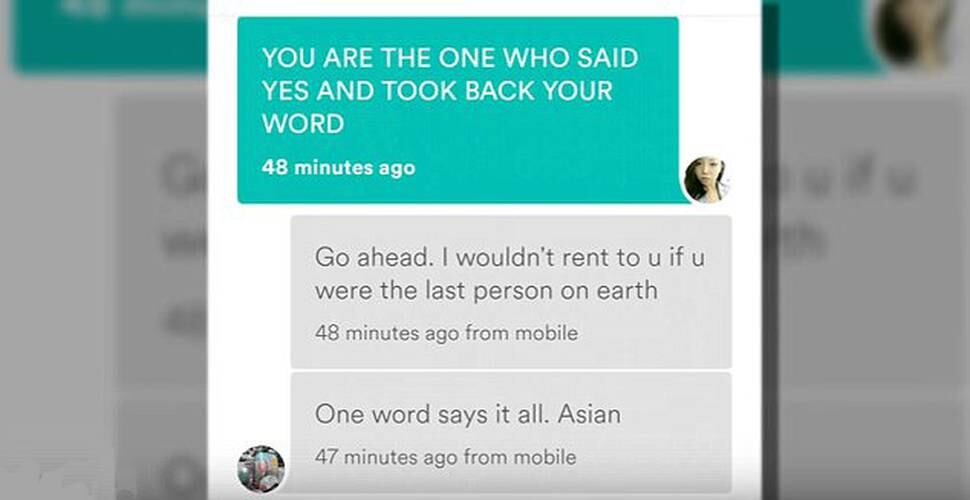 Suh sent Barker screenshots of text messages where she agreed to the additional guests, yet Barker cancelled the reservation.
Barker's attorney, Edward Lee, said his client was "regretful for her impetuous actions and comments" and is pleased to have resolved the matter.
Suh said in a statement posted on Facebook that she glad the settlement included Barker's agreement to attend an Asian-American studies course and hoped the settlement would encourage others to report discrimination.
"I hope that more victims of discrimination will feel encouraged to come forward with their own stories," Suh wrote.
"Your pain is not insignificant and you are not alone."