John Banks sold his multi-million dollar Auckland CBD Stamford Residences luxury penthouse apartment himself, saying he was a "pretty gun salesman" and achieved just under his asking price.
Last June, Sothebys International Realty was marketing the expansive 382sq m unit with silk-lined walls and marble-clad bathrooms for $5.25 million.
But the former MP and Auckland mayor - who is now facing a High Court paternity claim from 47-year-old Anthony Shaw, who claims his is Banks' biological son - revealed to the Herald this week he had sold the property himself.
He said he got "just under $5 million" for the property.
"I sold it myself because I am a pretty gun salesman and if you want to sell something at that end of the market, you have got to do things outside the square to promote and market it," he said.
Banks said the sale of his apartment had settled on April 29 but was on a confidential basis.
The three-bedrooms, four-bathroom place with east-facing glass decks is in what is regarded by many wealthy Aucklanders as this city's single best apartment block for its central location, views and quality of construction and fitout above the Stamford Plaza Hotel.
"They're [the new owners] a very nice Remuera couple and very much younger than me, they will do a fabulous job on it," he said inicating changes would be made to the interior.
Southeby's International Reality NZ managing director Mark Harris told the Herald the relationship between Banks and the company throughout the marketing program "was very positive, professional land courteous and remains so to this day from our point of view.
"John made us aware that he was working with some purchaser's directly and we agreed that if a sale was achieved with one of those purchaser's we would not charge commission.
"That is what happened and we were fine with it and so was he."
Harris said the company had sold "many apartments in Auckland at higher prices than his so we would also disagree with his statement that vendors should sell their own properties."
During Banks' time in the apartment, it sported vivid colours: a loud blue in the master suite - "I love that colour!" - with bathrooms decorated in art, ornate lattice wok and an office desk by exclusive Italian furniture designer Giorgetti.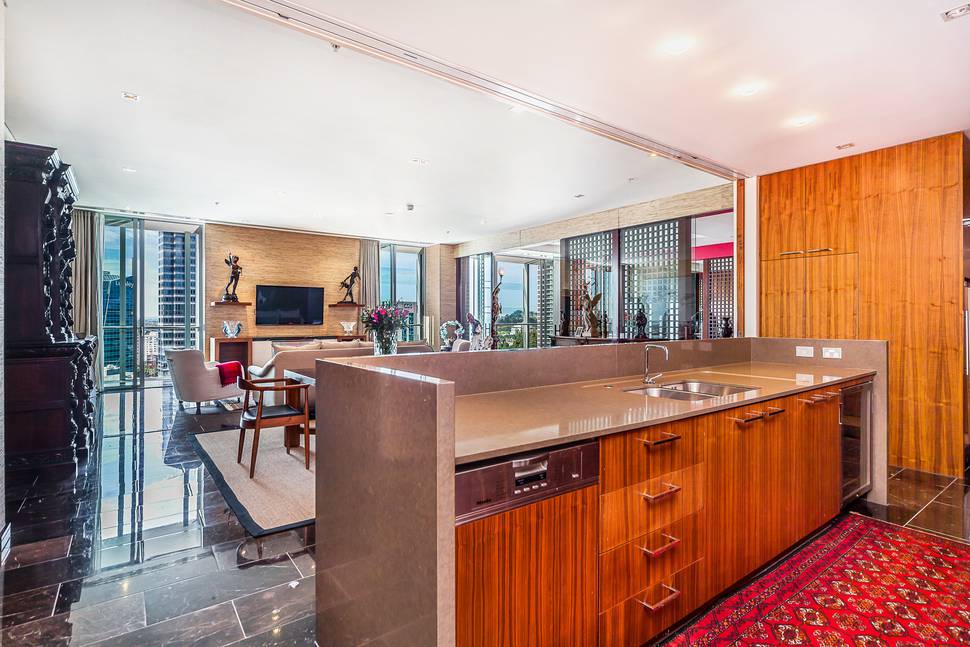 Earlier this week Banks was assisting Ray White Remuera principal Megan Jaffe to promote new $12m offices, acting as a consultant to that agency.
Banks said he had other property aspirations: "I want to build a place in the country, up around Matheson's Bay. I'm going to be spending a lot more time off shore, so I have plenty on for a dinosaur," he said.
When Banks put the home on the market last year he he planned to split his time between Auckland, London and Sydney so he was selling.
"There's bedrooms I've never been into for six months and bathrooms I've never used. I've been here nearly four years and it's been great," Banks said at the time.