First, a declaration: Qatar Airways paid my business class fare, the airline getting me to Berlin for a whirlwind trip to the world's biggest travel trade show, up on Monday afternoon, back in Auckland 5am on Saturday. So this review focuses on the premium cabin.
Return business class fares to Berlin booked a month out start at $9100 although the airline did last year offer some limited business fares to other European destinations for less than $5000.
The plane
Flight QR921 used a six-year-old Boeing 777-200LR (standing for Longer Range). Qatar has nine of these aircraft which are powered by the biggest engines in the airline industry, the GE90-110B1L, capable of 110,000lb of thrust each, essential for getting these fuel laden ultra-long haul planes aloft.
Take off weight was 323 tonnes (including 135 tonnes of fuel) so it's a long rumble down the runway and a more gradual climb out of Auckland than on a lighter plane. Captain Thomas Allemann told me we lifted off at 178 knots with the engines at 95.9 per cent of maximum thrust.
He landed with about nine tonnes of fuel.
The route
The airline on February 6 took the longest flight title off Emirates (by point-to-point on the globe by the ''Grand Circle" measurement). Fast-growing Qatar is looking to emulate the success of its bigger Gulf rival on the New Zealand-Middle East route and it is part of the country's economic diversification push as oil revenues will dwindle in the long term.
The 17-hour-plus ultra-long flights are becoming more common as passengers demand direct connections from just about any city pair in the world.
Perth to London on Qantas starts next year and Singapore Airlines will resume its Singapore-New York service in 2019.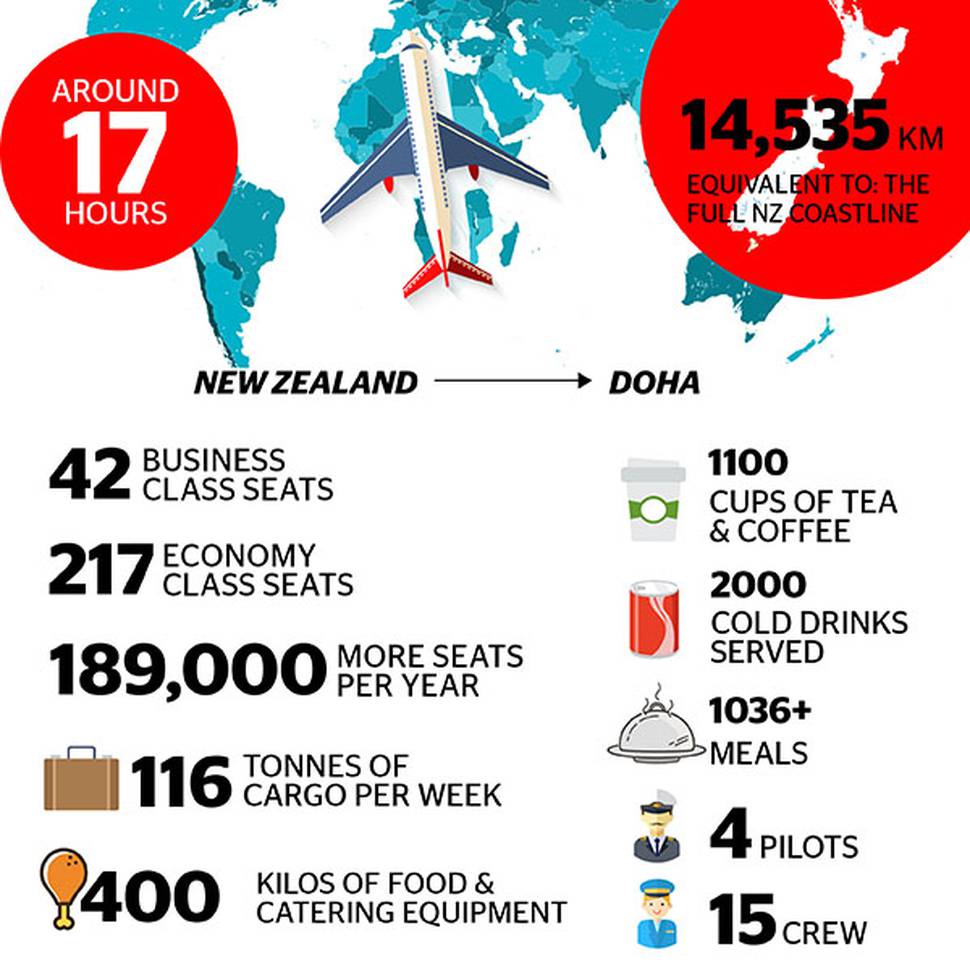 My seat
Or as fate should have it, two seats. I ended up with 5J and 5K, two against the window on the starboard side of the plane.
These big beauties stretch out in a respectable 19 seconds from upright to horizontal and you've got your own private nest to sleep, which most on board did for much of the flight. Although I was offered advice on operating it from super-efficient cabin crew member Dhruv (always a welcome, some seats are confusing) this was simple.
It is one of 42 business class seats in two compartments at the front of the plane where the whole set-up is uncomplicated. Not much bling, charcoal wood tones and Qatar ruby-coloured cloth seats (which are according to the experts more comfortable than full leather for very long flights.)
The business class seats are arranged 2-2-2 which contrasts with other similarly rated carriers which have a 1-2-1 layout, so no climbing over your neighbour if you're on a window seat and you need a bathroom break.
There are 217 Economy class seats in Qatar's Boeing 777-200 arranged 3-3-3. Qatar has a greater proportion of premium seats on the New Zealand route than its Australian operation.
While the percentage of all global travellers flying business or first class has fallen slightly to around 5.1 per cent last year as low-cost carriers take a bigger market share, demand for premium compartments is booming among Kiwis as prices fall and the range of products grows.
Business was near-full on my flight while there were about 30 seats spare in economy.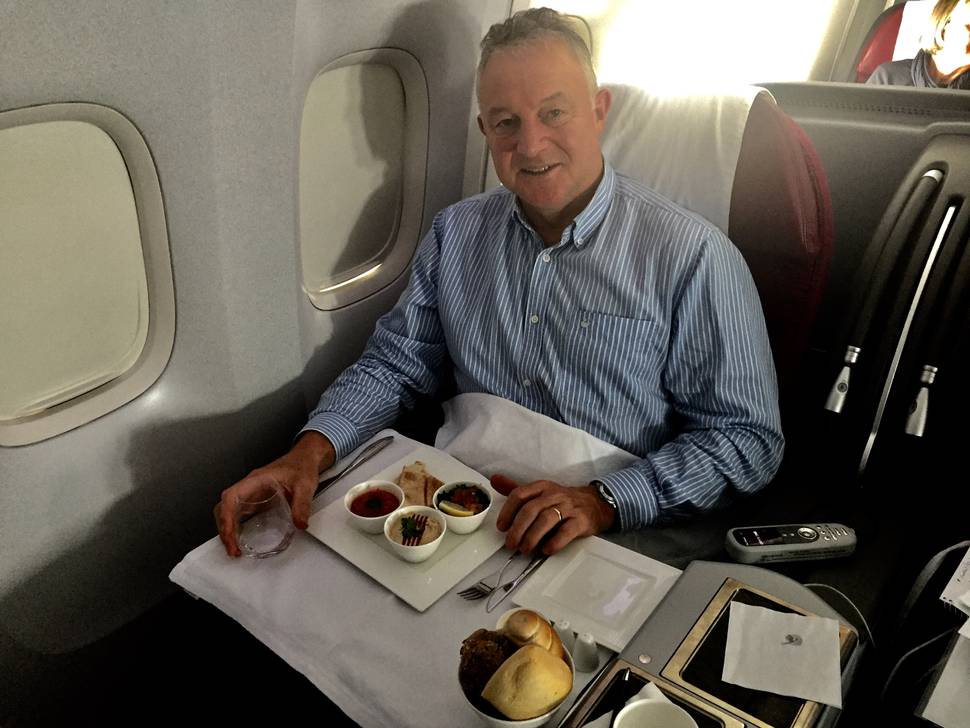 The airport experience
Auckland Airport is experiencing record traffic and it shows. It's busy and in the middle of the day a bit tight as it scrambles to open up more space by revamping its departure area.
Qatar check-in was slow, not helped by a couple of complicated case passengers. And we were on the ground a bit longer than expected as departure was delayed by around 45 minutes due to a pressurisation issue with the plane which engineers attended to - good to sort out on the ground.
By contrast Doha's Hamad Airport, was tranquil (although I was there overnight) and a welcome oasis of calm.
The service
This is what Qatar bases much of its five-star reputation around. While the airline has newer planes with more swept up ''hard product" than on the 777-200s it bets on its cabin crew deliver the goods no matter what aircraft they're on.
It was good on QR921.
There are 15 flight attendants, eight of whom work in business. They say they enjoy the ultra-long haul routes because they get more time to do their job and also get longer rest breaks in the crew rest in the the crown of the fuselage at the rear of the plane (Flight crew also like the long flights and request them).
It shows: Crew were courteous, unobtrusive and got into the spirit of what is a special flight, chatty in the galleys. Around 120 nationalities are represented among the flight attendants, those I dealt with came from Sri Lanka, Macedonia and India.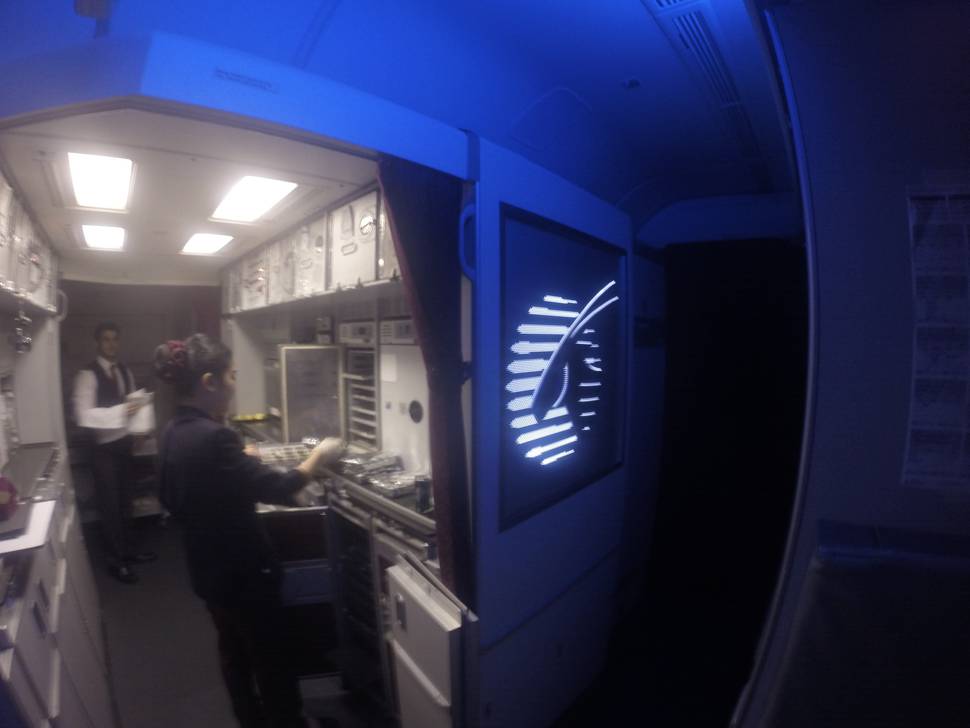 The food
It never stops coming in business anyway, if that's the way you want. Qatar makes much of its A la Carte dining in premium cabins: "dine at any time of your choosing and in any order."
The choice was vast and ranged from classic Arabic Mezze to a hearty fillet of beef fillet with new potatoes to tikka masala with makhani sauce to a "selection of indulgent individual desserts. I consulted a travel specialist Dr Marc Shaw of Worldwide Travellers Health before my journey, his advice was small portions regularly. ''Don't pig out," was the sage advice of the doc.
The drink
Can be a tricky one when you're sitting on a plane for 17 hours and offered a bewildering range of top quality liquor. Again Doc Shaw's advice rang through my ears and was heeded. No more than two or three glasses of alcohol followed up by a couple of glasses of water.
"My brief is of course you're going to do it but make sure you're doing it along reasonable lines. That's the whole point of travel, having a glass of wine and relaxing," were his wise words.
The Billecart-Salmon Champagne from France ran dry reasonably early on but there was a more than ample list, including a Babich Sauvignon Blanc. And of course there's a wide range of non alcoholic beverages.
Other goodies
Waiting on your seat is an amenity bag stacked with Armani product. They're unisex bags that used to be in first class cabins on Qatar. Other flights have ones specifically for men and women. You're handed comfy pyjamas (also unisex) and slippers for later in the flight.
Entertainment
Many of Qatar's other long-haul aircraft have onboard Wi-fi but not the 777. The inflight entertainment is easy to negotiate and throughout the plane there are more than 2000 video and audio options.
In business screens are 17 inches while in economy they are 10.6 inches. New releases included La La Land, Moana and Jackie. The 162-page Oryx magazine reflects the airline's 150-plus destinations and there's a plenty of good practical advice about Hamad Airport and information about Qatar's fleet.
Charging up your lap top was a slight mission on the 777. While in-seat USB plugs work fine for your phone and cameras there are just a few mains-style power points in galleys where you can plug in, but remember to bring an adapter. The endless flow of snacks, tea, coffee, water provides entertainment in itself.
The toilets
Four up front and six in economy. A highlight. The business class lavs were among the most spacious I've encountered and kept spic and span throughout. Nice skin care products, plenty of shavers and toothpaste to freshen up. Even though business was nearly full there was seldom a wait.
The airline
Qatar is a state-owned airline formed years ago and is one of the fastest growing in the world. While its Middle Eastern cousins have tempered growth this year, Qatar under the forceful leadership of Akbar Al Baker is still at full throttle.
It expanded to 16 new destinations last year. Its 25 per cent stake in South America's LATAM is one reason why Qatar is interested in New Zealand given that LATAM flights pass through this country.
Qatar carried more than 30 million passengers in 2015-16. It has close to 200 aircraft in its fleet, including Airbus A380s and A350s and Dreamliners. Al Baker says he will continue with the 777 -200 on the New Zealand route as it is the only aircraft with the range to do the trip, replacing it with the next generation 777X when it goes into service early next decade.
Surviving long haul
Once you're strapped in to a plane there's only so much you can do about it. Sitting in luxury was certainly a bonus but at about a third of the way in, as we headed up from the Australian Bight through the country's red interior the scale of the journey did hit home.
The rest of that continent to cross, an Indian Ocean to cross and then up through the Middle East and not much sleep on the horizon. Jet lag is what you suffer after a journey but moving through 10 time zones at 950km/h in a (mainly) aluminium tube is what causes it.
Crew said their body clocks "go cuckoo" flying through time zones. There's less oxygen in aircraft cabins and unlike later generation planes such as the A350 and Dreamliner, the 777 is not pressurised to the equivalent of a lower altitude which does aid passenger and crew comfort.
Shaw says in bad cases, some passengers' hearts race leading to anxiety, while one in 6000 passengers on average suffer some degree of deep vein thrombosis. He recommends compression stockings although makes the point travellers are as much at risk on long bus trips as they are in planes.
He says short naps of 45 minutes to an hour are as effective as a long sleeps of four hours-plus.
He's fine by sleeping pills from your doctor but says start off with just a quarter of one. He takes maletonin when he reaches his destination which he says can put the body clock back in synch. Loose, comfortable clothing is most important and eye drops can ease dryness. Good quality noise-cancelling headphones and a sleeping mask are also recommended.
Shaw says drink a litre of water for every eight to 10 hours of flight and says there's no scientific backing for electrolyte-laden drinks that are sold claiming to cut the effect of jet-lag.
The bottom line
I managed about four and a half hours' sleep, and apart from the compression stockings, otherwise followed the doctor's orders. I didn't get time to watch much of anything on the inflight entertainment apart from the flight map which I found strangely captivating. It did also offer the useful advice that for your own safety to remain seated when praying.
The usual 12-hour long-haul flight out of New Zealand for me can sometimes be a bit short, especially if you get a good sleep in. Seventeen hours is getting towards the upper limit but if you keep yourself busy as I did filming and writing, boredom is not a factor.
- Grant Bradley travelled to Doha courtesy of Qatar Airways.