Shares of Snap, the parent of Snapchat, have surged 41 per cent in their debut, as this year's most-hyped technology public offering joins the bourse.
Snap began trading today, with its shares surged from their offer price of $US17 (NZ$24) to $US24 (NZ$34), giving the company a market cap of more than $US33 billion (NZ$46.9 billion).
The California-based company raised $US3.4 billion in the IPO, with net proceeds of about $US2.3 billion.
Reflecting strong investor demand for the vanishing-message app maker, Snap on Wednesday priced its shares above the previously projected $US14-$US16 range.
Snapchat's CEO Evan Spiegel earned $A272 million by sharing 16 million of his shares in the offering.
His fiancee, Australian supermodel Miranda Kerr was also at there to support her husband-to-be, and she took Snaps with fans on the New York Stock Exchange floor.
He is said to be worth $US4 billion ($5.3 billion) according to Forbes. Today he made $US1.6 billion ($A2.1 billion).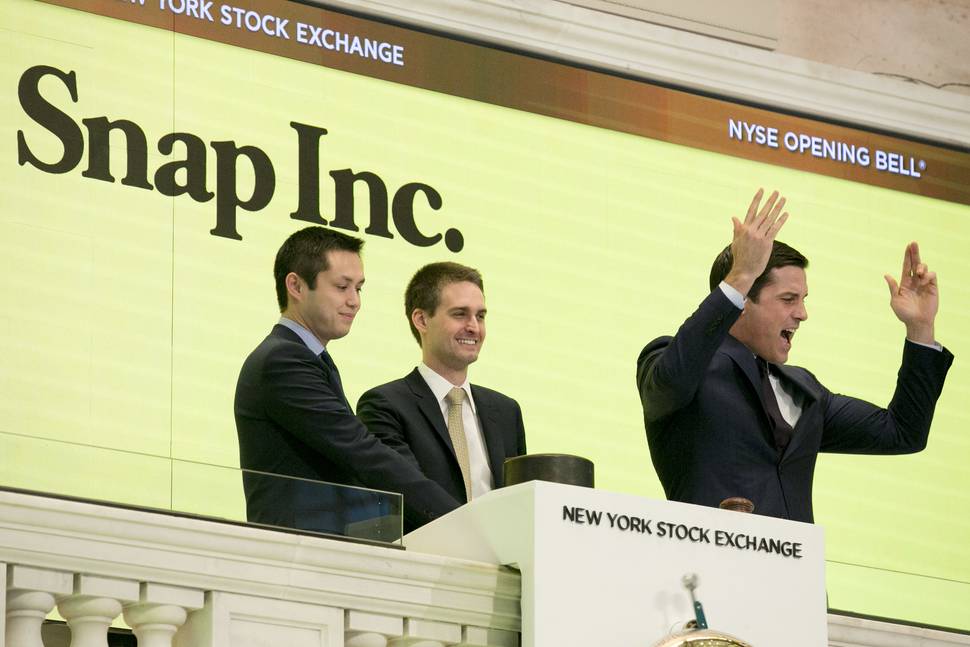 Investors obviously were even more eager to get a piece of Snap than the company estimated - undeterred by Snap's steep losses and slowing growth of the Snapchat user base, which skews heavily toward teens and millennials.
Last year, it reported sales of $US405 million and a net loss of $US515 million.
Snapchat averaged 158 million daily active users for the fourth quarter of 2016, an increase of 48 per cent year over year but up only three per cent sequentially from 153 million in the third quarter.
The Snap IPO gives the company's co-founders, Spiegel and CTO Bobby Murphy, stock holdings currently worth around $US5 billion each.
The two execs will retain control over all shareholder decisions for Snap - and investors buying stock in the IPO don't have voting rights at all.
Facebook's IPO in 2012 at $US38 per share valued the company at $US104 billion ($135 billion).
Meanwhile, Twitter's IPO in 2013 at $US26 per share yielded a $US14.2 billion market cap - but after an initial spike its stock has languished.
Snap calls itself a "camera company" and last month began selling $US130 video-enabled sunglasses nationwide.
The glasses, called Spectacles, are specifically designed to record and share 10-second circular videos for Snapchat, which is the source of virtually all the company's revenue to date.
Kerr and her mother Therese also posted their congrats to Spiegel on Instagram.