The owners of Wellington's quake-hit building at 61 Molesworth St, are now being investigated over whether they illegally used the office building for residential accommodation.
An unknown number of people were living in the building before last week's quake, and had to flee with few possessions when authorities realised how unstable the building was.
The office building is now condemned and demolition is due to begin this week.
The Ministry of Business, Innovation and Employment's Tenancy Compliance and Investigation team has launched an investigation into the incident.
Manager Paul Coggan said renting out buildings that aren't consented for residential purposes raises serious health and safety concerns, and is a breach of landlord responsibilities.
"Landlords are running a business and they have an obligation to get it right. Landlords need to ensure they are providing warm, dry, safe and legal homes to people."
"We would encourage anyone who was living in 61 Molesworth St to contact Tenancy Services on 0800 TENANCY to discuss their situation and options with us."
'No chance' of recovering family's possessions
Asbestos contamination and a highly unstable building have destroyed any chance of personal belongings being saved from 61 Molesworth St.
Ceres New Zealand manager of corporate property Bernie de Vere said the building was so unstable it could only be brought down using an 85-tonne Cat 385, the largest excavator in New Zealand.
The heavy machinery means there's "no hope" of retrieving any possessions.
"Normally what we would do with a building like that, is put our men in and they would strip the building. Then we would demolish it. But in this case we can't put anyone in there, for health and safety reasons," said de Vere.
"In Christchurch, when we were working on buildings that weren't mortally wounded, we were able to give tenants an opportunity. We could get stuff out for them. Take the lawyers' offices that had files in them and let them recover the files before we started demolition.
"But in this particular case, people shouldn't have been living in that building for a start. And they didn't probably realise how much at risk they were."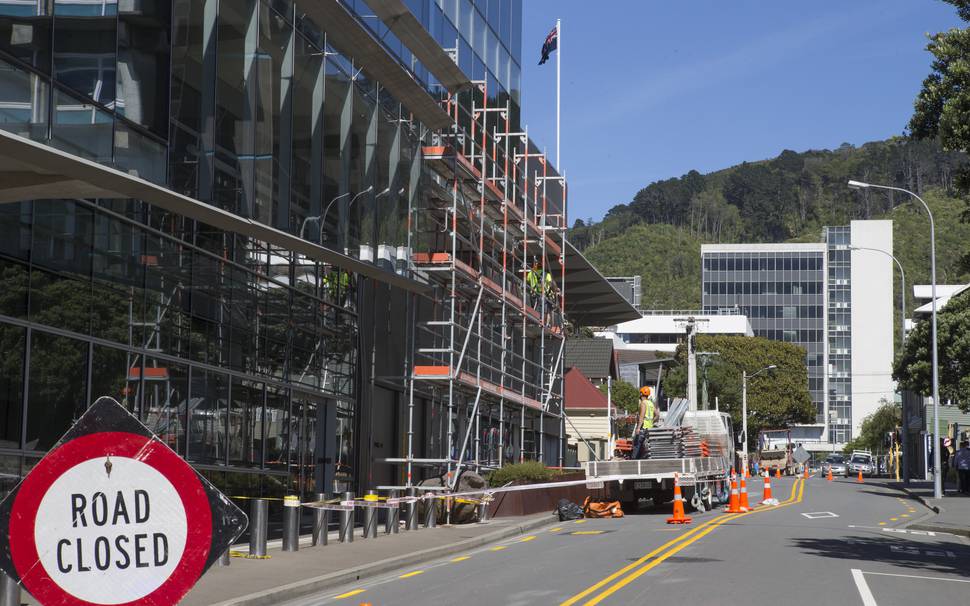 Wellington City Council emergency welfare manager Jenny Rains said even the council wasn't sure how many people were living in the building, but they had heard there were tenants spread across four floors of the building.
One family had got in touch with the council for help, and had found another family to stay with in Karori.
"Of course they have no material goods, as they've had to vacate their apartment with nothing. Our welfare team has supported them in the immediate response," Rains said.
"So we've found them some clothing and bedding, and we've found a laptop for their son to use for his NCEA exams.
"It's a very difficult time for them, and the message is probably they won't be allowed [to collect their belongings]. We need to work through what that means for them, and what we can put in place after that."
Asbestos has just been discovered by contractors at the site, meaning the destruction of the office building will become even more complicated.
Wellington City Council spokesperson Richard MacLean said the discovery made it even less likely that any personal belongings could be retrieved.
"It's not surprising given the age of the building. It was built in the 60s so it was highly likely to have asbestos."