A man who makes A$130,000 (NZ$138,657) a year from his rental property portfolio claims you don't need to be investing in million dollar mansions to be able to retire before the age of 30.
Tony Fleming spent a decade toiling away at Domino's Pizzas, at times for as little as $10 an hour, but has managed to 'semi retire' at the age of 28 after purchasing, renovating and renting 14 homes across New South Wales, South Australia and Sydney's west.
"It is a great feeling. Obviously I put a lot of work in achieving my goals - I had to be very disciplined with my savings and make sure I got the right investment in an undervalued area, he told Daily Mail Australia.
The savvy investor now lives comfortably off of the rent earned from his 14 properties, while running his own buyers agency to offer expert advice for other hopeful investors looking to kickstart their own portfolio.
Fleming scrimped and saved for a home loan after paying off a car debt and managed to get his name on the deed to a house at the age of 19.
The run down three bedroom town-house in Kingswood - a suburb in Sydney's west, around 50 kilometres from the CBD - cost A$189,000 in 2009 when the median price of a home exceeded A$600,000.
Fleming said he knew the area was undervalued, and with its proximity to bustling suburbs like Penrith and Blacktown, he knew the worth of property in the area was primed to soar.
"It was close to the train station and I knew the west was undervalued," he said.
"There was a big price different from Kingswood to Blacktown, which is only ten minutes away, so I thought if I could get in early and wait a few years it would catch up to prices in surrounding areas."
But getting yourself in a position to apply for a home loan is not a simple task and it took a lot of sacrifice to accrue enough money for a deposit.
"I worked about 60 plus hours a week and was living at home to save money on rent."
"I missed out on a lot of time socialising with my friends because I was working all the time - I still went out every now and again but limited my spending."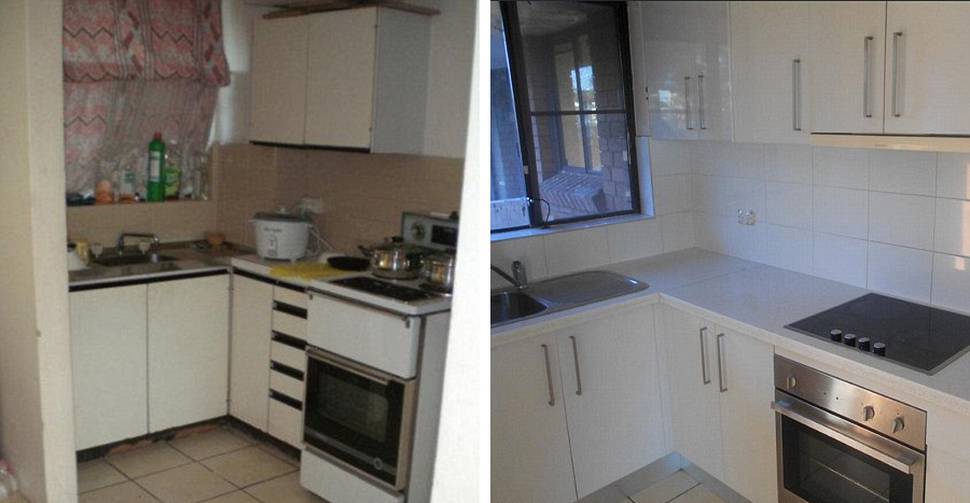 Fleming said he went on a few holidays while he was saving, but generally kept costs to a minimum - particularly with food.
"Eating a lot of free pizza helped, and two minute noodles - there are definitely some cheap foods I can not look at any more," he said.
"But the big thing I took advantage of was the first home owner's grant which was A$14,000 at the time."
As Fleming was working gruelling hours, he had little time to spend his hard earned cash and had enough money for a home loan deposit with the grant.
The former delivery man lived in the three bedroom town house with friends to ease the financial burden for six months while he gave it a fresh lick of paint and renovated the kitchen.
"It is the simple stuff you can do yourself for cheap that makes the property look ten times better and then helps you get extra rent,'"he said.
He said doing cheap renovations - like basic cosmetic work, new kitchen, paint and flooring - can increase the value of a rental property exponentially and are often easy to complete yourself which cuts costs again.
"Doing simple things like repainting the kitchen can make it look brand new which can add $10-$15 per week to your rent," he said.
"Other small, cost effective touch ups can add between A$5,000 and A$15,000 to your total value," he added.
After purchasing his first house in Kingswood, Fleming has since bought 12 other properties using the equity he gained from renovating those that came before and is about to finalise his 14th.
Fleming's second investment was a one bedroom unit in Sydney's west which he purchased for A$130,000.
He then went on to purchase three units in St Marys over an 18 month period, each with returning yields greater than seven per cent, according to Your Investment Property.
He also picked up a property in the regional town of Lavington, where he now owns three homes, and interstate in South Australia.
Fleming said he realised his dream when he was studying to become a real estate agent at TAFE and noticed his lecturers all looked quite well off.
'All the TAFE teachers were driving nice cars and had invested themselves so I learned from their stories that putting money in property can be just as financially beneficial as being an agent.'
He spent countless hours poring over property investment books from the local library and 'absorbed as much knowledge on the subject as I could'.
But it was not all smooth sailing from there as Fleming was burdened with a car loan debt.
He said it made him feel like a home loan was out of reach but after reassessing his budget, he was able to work out a plan to have it paid off within the year.
"Being an 18 year old kid all I wanted was a car so I got a loan with ridiculous repayments because I had no idea how it worked."
"The debt was on a high interest rate so I wanted to pay it back as quick as possible which is probably how I developed my saving regime."
For those looking to get into the property market, Fleming recommends disregarding your own personal aesthetic preferences and instead focus on property value trends.
He said there are areas like Glenmore Park, Cambridge Gardens, Cambridge Parks - which are close to Penrith and the proposed second Sydney airport - are set to increase in value with an influx of jobs and improved accessibility.
"It is also a good idea to keep your eye out for regional hubs with good infrastructure plans like a train line connecting the more central western suburbs like Parkes."
The investment guru - who now runs his own buyers agency called Triumphant Property Group - said he learned a lot in the ten years he spent with Domino's, adding that the hours allowed him to pursue his real estate dream.
"Working at night time worked well because I could go and look at properties during the day and work during the evening," Fleming said.
"I could earn money while looking for good deals instead of being restricted by having nine to five hours."
Fleming has property managers assisting him with his investment properties but said doing the lions share of the work yourself is the best way to get ahead.
"Come up with a set of goals you want to achieve and implement a plan to get there,' he said.
"You can enjoy your life but cut back on unnecessary things - you don't need to go out drinking or on expensive holidays all the time.
"If you can make a few sacrifices now you wont have to worry in the future."