Airline food doesn't always have the best reputation - especially if you're travelling in economy or with a budget carrier. But for one man, the joy of flying is all about the food served on board.
For the last four years, Australian ex-pat Nik Loukas has hopped on hundreds of flights just to sample their culinary offering. Along the way, he's eaten everything from steak and lobster to satay and sushi - and he can certainly tell you which airlines have the best, and the worst, food.
Now, the airline food addict is looking to make a documentary about the subject.
Speaking to MailOnline Travel, Loukas said that his passion began in 2011 when he moved from Australia to Europe.
As he worked in the airline industry, around 30 per cent of his time is spent in the air for work.
He started collecting menus and soon built these into his website, www.inflightfeed.com, where he now catalogs his own flights as well as news from the industry.
Since the blog was founded in 2012, he's taken over 400 flights, tallying up to more than 400,000 miles - or 17 times around the world.
The Dublin-based frequent flier told MailOnline Travel: "I love everything about airline meals. I wanted to show passengers what they could eat in the air.
"Airline food doesn't have a good reputation. I just want to show people that there are interesting choices out there."
An example of this was a pre-ordered meal on FlyNiki, an Austrian-based subsidiary of Air Berlin.
For just €14 (NZ$21.80), Loukas received "the best chicken schnitzel at 35,000ft", which was served with parsley potatoes and came with a side salad and a mousse au chocolat.
An alternative option on the flight, for the same price, was an Italian antipasti platter featuring Prosciutto di Parma with a simple version of a Caprese salad, grilled Mediterranean vegetables and a tiramisu for dessert.
On another occasion, when he flew with Japan Airlines, he was served a snack from KFC as one of his meals.
The KFC meal was a seasonal offering that followed the Japanese tradition of having KFC for Christmas.
Loukas, who says that he travels and collects these menus, and now photographs, for fun, spends a substantial amount of his savings on the flights but also takes advantage of his frequently flier points for business and first class upgrades.
The airline food enthusiast said: "Sometimes I travel to a destination just to sample the food. Recently, I flew from Paris to Taipei with EVA Air just to try their Hello Kitty meal."
That offering, he said, was very memorable - not least because it was designed for children and his fellow travellers were more than a little baffled by his meal option.
He said: "Everyone was staring at me and I just wanted to fall through a hole in the cabin."
However, the meal turned out to be rather good, although "there was a lot of chocolate" considering it was a children's option.
On another recent trip he travelled all the way to India for just four days and most of the time there was spent in the air, sampling the food offered on board some of the local airlines.
Now, around 50 per cent of the flights that Loukas takes is centred around food and he would also travel with a specific airline just to try their food.
He said: "My partner is always complaining that I'm always going somewhere."
There's constant innovations in the airline food world that Loukas wants to explore.
For example, he admits that he hasn't really flown on any African airlines and wants to try Ethiopian Airlines.
He's also heard that South African Airways have just changed their caterer so that's another one to add to his list.
According to Loukas, the USA is about to see an airline food revolution as some carriers are looking to reintroduce meals to flights where catering had previously been scrapped.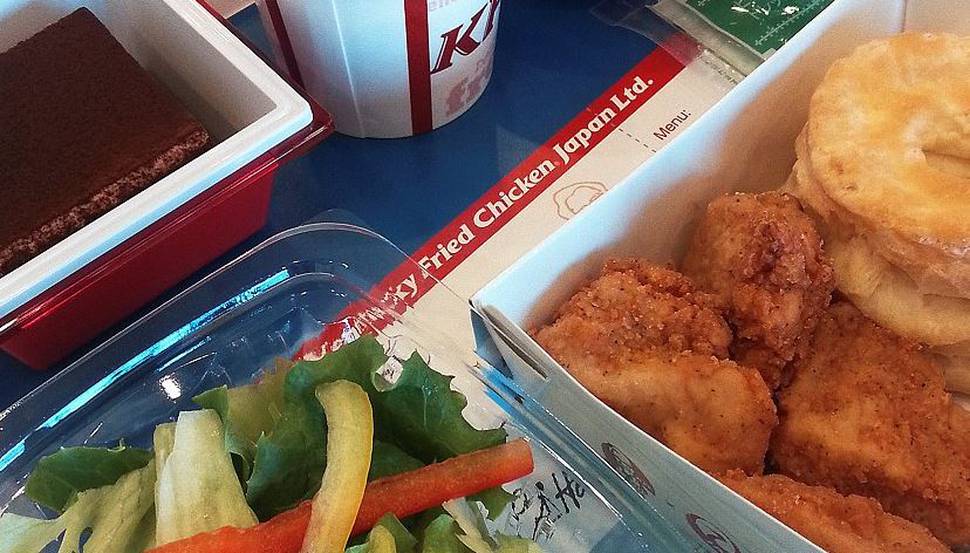 Delta in particular, he says, is looking to improve their gourmet appeal in a big way, especially with collaborations with chefs.
Loukas is so fascinated by the world of airline food that he's decided to make a documentary on the subject, which he is currently crowdfunding for on Indiegogo.
He said: "Airline take nine to 10 months to plan a meal, it's not just something that chefs decide to whip up.
"There's a lot of logistics and there's a lot of testing."
Those behind-the-scenes aspects of airline meal planning are the sort of subjects that he hopes to cover in the documentary.
Loukas and the team behind UK-based Rainbow Trout Films have already started filming some of the documentary.
He told MailOnline Travel that while there might be an opportunity to pitch the idea to a TV network down the line, the funding will help them to make the documentary and release it to DVD.
Loukas added: "I'm so fascinated by it I just wanted to get it done."