Topshop owner Sir Philip Green has been branded the "unacceptable face of capitalism" in a scathing report.
It reveals how the tycoon "systematically" plundered hundreds of millions from retail chain BHS before leading it to disaster.
The billionaire enriched his family for more than a decade through a series of shady property deals, awarding himself fat dividend cheques and starving the retailer of investment, MPs conclude.
He doomed the 88-year-old chain by selling to a "manifestly unsuitable" bankrupt - who stuck his "hands in the till" - then blamed everyone but himself for the collapse, the inquiry found.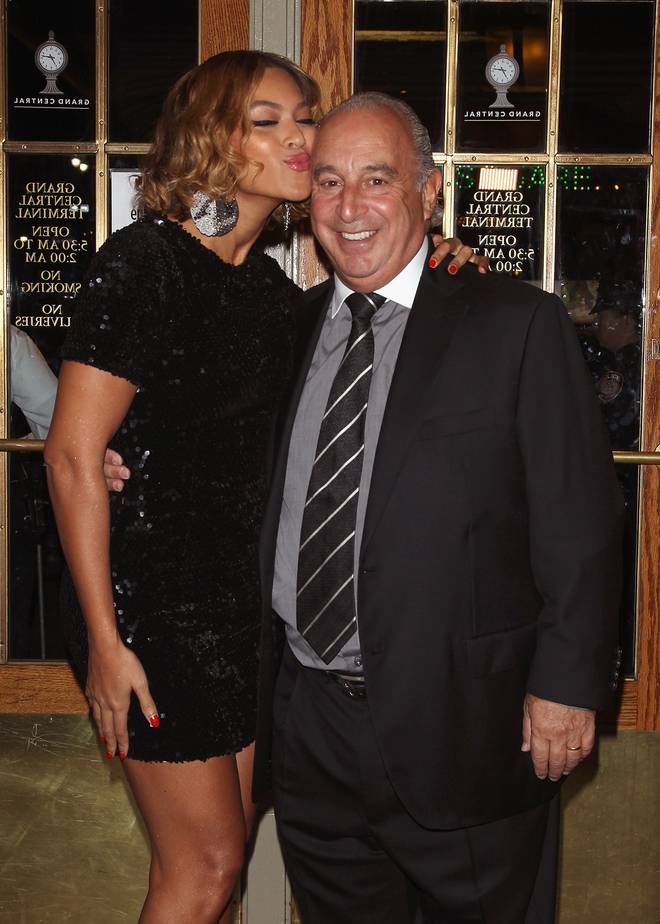 Last night, amid fresh calls for Sir Philip to lose his knighthood, British MPs blasted his web of companies that was designed to help him and his wife Tina avoid tax. Sir Philip, whose Arcadia Group owns Topshop and Miss Selfridge, bought BHS in 2000 but sold it for £1 in 2015 to Dominic Chappell, a thrice-bankrupt former racing driver with no retail experience.
His description of £2.6million that he personally took... as 'a drip in the ocean' is an insult to the employees and pensioners.

SHARE THIS QUOTE:
It crashed into administration in April this year, costing 11,000 jobs and threatening the income of 20,000 pensioners.
Frank Field, work and pensions committee chairman, said: "While Sir Philip Green signposted blame ... to every known player, the buck stops with him. His reputation as the king of retail lies in the ruins of BHS.
"His family took out of BHS and Arcadia a fortune beyond the dreams of avarice,
and he's still to make good his boast of 'fixing' the pension fund. What kind of man is it who can count his fortune in billions but does not know what decent behaviour is?"
READ MORE:
• Topshop billionaire's wife still cashing in on doomed BHS
An inquiry by two Commons committees, whose findings are published today, concludes:
• Sir Philip "fantastically enriched himself and his family" to the tune of hundreds of millions of pounds until BHS was "on life support".
• Lady Green continues reaping tens of millions of pounds from the ruins.
• Sir Philip refused to fix a pensions black hole to avoid revealing his mammoth personal earnings, and has a 'moral duty' to resolve the mess.
• Labour peer Lord Anthony Grabiner QC, who oversaw the sale of BHS as chairman of its parent firm, is branded 'complacent' and could lose his right to be a company director.
The report, by MPs on the business and work and pensions committees, took evidence from key players in the deal earlier this year. It says everyone tried to blame each other, with Sir Philip taking a "scattergun approach", firing blame everywhere but at himself.
The MPs say Mr Chappell was "out of his depth" yet funnelled £4.1million from BHS, adding: "His description of £2.6million that he personally took, in addition to an outstanding £1.5million family loan, as 'a drip in the ocean' is an insult to the employees and pensioners."
The firms run by Sir Philip, dubbed Sir Shifty - whose wife lives in tax haven Monaco and ultimately owns the businesses - were set up in a way "designed to reduce tax bills", the report says, and also reduced 'levels of corporate transparency'.
MPs say they "found little evidence to support the reputation for retail business acumen for which he received his knighthood".
They add: "Sir Philip owes it to the BHS pensioners to find a resolution urgently. This will undoubtedly require him to make a large financial contribution."
Ordinary employees and pensioners lost out
While BHS stores have been closing and the company's pension scheme black hole is now £571million, the MPs say "a large proportion of those who have got rich, or richer, off the back of BHS are to blame".
"Sir Philip Green, Dominic Chappell ... respective directors, advisers and hangers-on are all culpable," the report says.
"The tragedy is that those who have lost out are the ordinary employees and pensioners. This is the unacceptable face of capitalism." It comes days after the Cabinet Office said it was reviewing whether Sir Philip, knighted by Tony Blair in 2006, had brought the honours system into disrepute.
This month, the Greens took delivery of their third superyacht, the £100million Lionheart. Shadow chancellor John McDonnell, whose late mother worked for BHS, called on Sir Philip to "do the right thing for members of the pension fund" or "have his knighthood removed", adding that he should "sell his extra yacht" if he cannot afford it.
Lib Dem leader Tim Farron, leader said: "Knighthoods should be saved for the brave and the brilliant. Philip Green has proved he is neither of those."
David Gill, of shop workers' union Usdaw, said many of BHS's 11,000 staff members had "given their whole working lives to the company".
Asked for his reaction to being called the unacceptable face of capitalism, Sir Philip told the Mail: "Good, good, good. Look, so I don't have to be rude to you, just say goodbye."
A preliminary Serious Fraud Office inquiry has been set up. A Government spokesman said the Insolvency Service is conducting an "accelerated investigation".