Auckland's new pink cycle and walkway, a new Mangere warehouse, a Massey park and a New Plymouth art gallery are among 10 projects with a chance of winning the world's top architecture award.
The NZ Institute of Architects said the buildings and structures by local architects were all finalists in the World Architecture Festival 2016.
Light Path AKL Te Ara i Whiti is the thin pink ribbon which winds its way through the CBD to emerge at Spaghetti Junction.
See more design below.
The new Hellman Logistics building, a big warehouse and office project, is in Auckland International Airport's new office precinct.
The Kopupaka Reserve is a 22ha open space at Massey. Its design is based around woven crib baskets that filter stormwater from the Westgate town centre. The institute said it combined architecture, art, technical engineering, ecology and cultural and community considerations.
New Plymouth's new Len Lye Centre at the Govett-Brewster Art Gallery is a startling mirror-finish building by the much-awarded Patterson Architects.
Herbst Architects' K Valley House near Thames is a corrugated metal and aged-timber dwelling in a rural setting.
Warren and Mahoney's XV Pacific Games Village in Port Moresby housed 4000 athletes and officials during the Pacific Games.
The Red House by Crosson Architects was described by the institute as a compact, cost-effective house in a secluded pocket of native bush.
RTA Studio's Tarawera High School in Kawerau was dubbed "a modern learning environment with interchangeable and flexible spaces." A new music and arts centre, Te Oro by Archimedia Architects, is in Glen Innes.
RTA is also short-listed for its E-Type house in Auckland.
NZIA said: "Its slanting planes reference the volcanic surrounding landscape and make the building appear as if it is erupting from the ground."
The winners will be announced later this year in Berlin.
Top ten designs
Te Oro, designed by Archimedia Architects
Hellman Logistics by RTA Studio
Tarawera High School by RTA Studio
E-Type House by RTA Studio
Red House by Crosson Architects
K Valley House by Herbst Architects
Len Lye Centre at the Govett-Brewster Art Gallery by Patterson Architects
Light Path AKL Te Ara i Whiti by Monk MacKenzie Architects + Landlab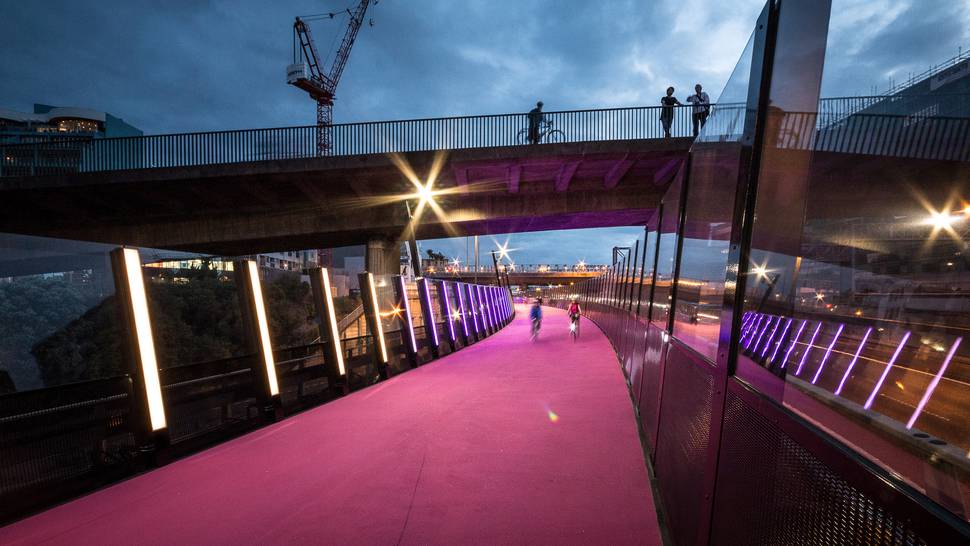 XV Pacific Games Village by Warren and Mahoney
Kopupaka Reserve by Isthmus Group