Fancy speeding down the Thames to beat everyone else who has just landed in London to get to your hotel?
Your speedy dream could be about to come true, thanks to Kiwi entrepreneur Alan Gibbs whose amphibious vehicles are being tested this week to take passengers to and from London City Airport.
Gibbs said his AmphiCab was being assessed by a five-star hotel opposite Canary Wharf to ferry airport passengers down the Thames, according to a statement from his company.
"Tired of wasting hours in congested motorway traffic? New Zealand entrepreneur Alan Gibbs and his partners have been working hard this week on a good solution in London, for a start.
"Gibbs' innovative amphibious vehicles have been making waves now since 2003. This weekend his 4WD, 7m-long commercial vehicle, the Humdinga has been trialled by a five-star London hotel as a new luxury taxi-cab application - dubbed 'AmphiCab' - following a demonstration of the amphibious vehicle's capability on the Thames," the statement said.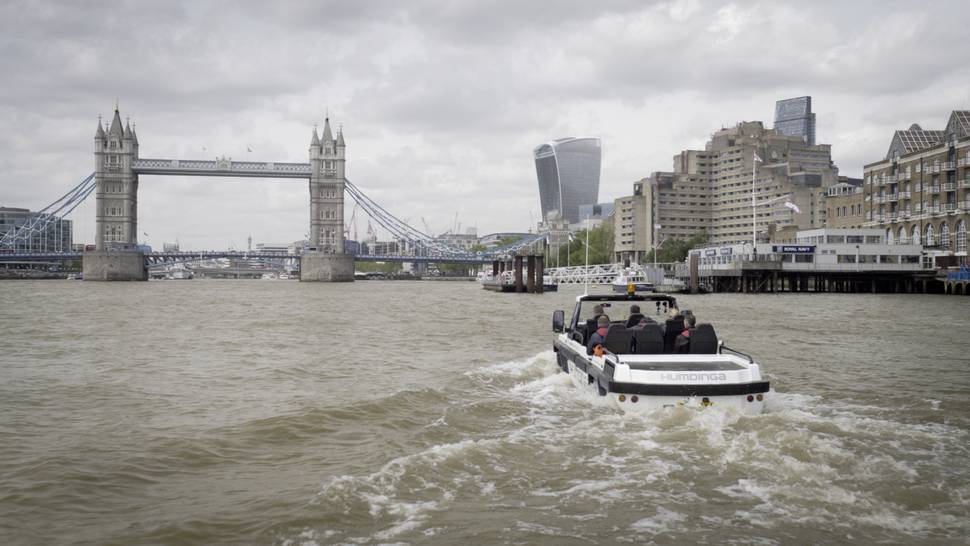 Gibbs explained more.
"They're very keen on the concept of an AmphiCab," Gibbs said of the unnamed hotel.
"They plan to pick up their guests from London City Airport and literally deliver them to the hotel door via the Thames, then taking them on to business meetings in the City.
"It will be a great experience for the guests, faster and much more efficient than by road. The hotel proprietors are really excited, and I'm confident the AmphiCab will be a big success for them," Gibbs said.
Gibbs Amphibian's Humdinga is currently licenced to a Singaporean Government-owned company, STK, and has found a strong market as a vehicle for flood relief across Asia, he said. Forty of the vehicles are to be manufactured in Singapore this year to meet regional demand.
Gibbs said he would soon launch the Terraquad, a new high-speed sports amphibian, not previously seen, which features side-by-side seating and is now available for commercial licencing.