New rules mean insurance for many would fall short in a disaster, say bankers.
Nearly one in three Kiwi homes could be under-insured, putting thousands of homeowners at financial risk should their single biggest asset be destroyed.
Based on international comparisons, the NZ Bankers' Association says up to 30 per cent of New Zealand homes are likely to lack sufficient cover should they need to be rebuilt after a "catastrophic event".
Industry experts say the figure could be as high as 85 per cent, with many high-spec properties and Auckland character homes facing a potential shortfall of hundreds of thousands of dollars.
Homes that have undergone improvements or additions are among those at risk under the new "sum insured" regime, introduced by the insurance sector about 18 months ago to limit its exposure after the Canterbury earthquakes.
On top of rising premiums, homeowners are now being forced to pay for costly valuations to ensure they have sufficient cover.
But Consumer New Zealand is questioning the value of these estimates after the watchdog identified wild variations in professional valuations.
Previously, homes were insured for an unspecified full replacement cost. But most insurance companies now demand that homeowners specify the actual amount it would cost to rebuild to a similar standard - the maximum they will pay out.
Bankers' Association chief executive Kirk Hope said the banking sector understood that up to 30 per cent of sum-insured homes might be under-insured.
He said it was critical that people accurately calculated the replacement value of their biggest asset.
Default "desktop" valuations from insurance companies were only a starting point and should not be relied upon, Mr Hope warned.
They would not reflect a property's unique features, topography or additions that could increase rebuild costs - particularly any increase in square meterage.
"What it could mean is that [homeowners] have a smaller house than they might have had before it was destroyed."
People should use online calculators "as a minimum" to calculate the cost of replacement and consider getting independent valuations.
Massey University insurance expert Dr Michael Naylor said up to 50 per cent of New Zealand homes might be under-insured.
Default sums were often inadequate and online calculators promoted by insurance companies did not provide accurate estimates based on New Zealand building codes and material costs, he said.
Assessments on a "standard" Kiwi house were likely to be up to $50,000 short.
"But if you have a high-grade [house] or you're on a hillside, or you have a character home, which is quite common in Auckland in the inner suburbs, you could be a couple of hundred thousand dollars away."
Construction Cost Consultants chief executive Andy Thomson said his company had carried out more than 30,000 rebuild estimates.
Between 75 and 85 per cent of properties were under-insured, many by up to 50 per cent.
Mr Thomson estimated $260 billion worth of New Zealand property was at risk as a result of the new insurance regime.
This put huge risk on individual home owners and the banking sector should the country suffer another major disaster, he said.
"If we were sum insured in Christchurch right now, the country would be on its knees."
Insurance Council spokesman Samson Samasoni said no one knew how many New Zealand homes were under-insured.
"The only people who can tell you whether they've got sufficient cover are the homeowners themselves."
Sum insured gave people clarity and certainty, he said. The council's research suggested about two-thirds of Kiwis were confident they had sufficient cover.
Default calculations were "probably sufficient" to rebuild most homes. Anyone who was unsure should seek professional advice.
No one wanted homeowners to be under-insured, but it was important to keep the problem in perspective, Mr Samasoni said.
"Even if you are under-insured, you'll still have enough to rebuild but it may not be to the same size or standard as your existing home."
Counting cost of rebuilding house
Phillip Moore's parents lost their house in the Christchurch earthquakes.
So when it came time to reinsure his North Shore home earlier this year, he wasn't prepared to take any chances.
When his full replacement policy lapsed, he was faced with the task of figuring out the cost of rebuilding his three-bedroom brick and tile home in Unsworth Heights.
Mr Moore, 49, a telecommunications company general manager, sought professional help.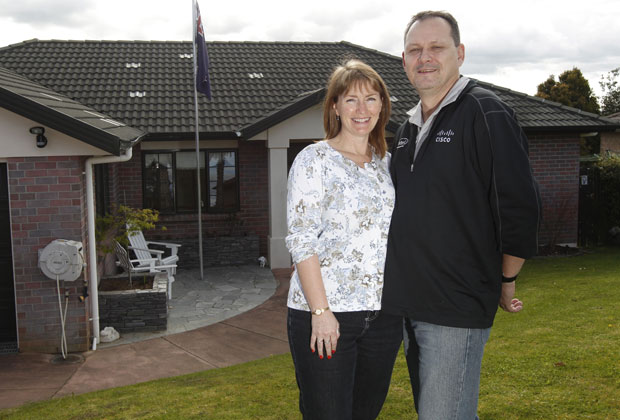 Phillip and Wendy Moore have had their home valued to make sure their insurance would cover the actual cost of rebuilding it. Photo / Chris Gorman
It cost about $1000 but included both a registered property valuation and insurance rebuilding estimate.
The report valued his 16-year-old home at $800,000 and estimated a total rebuild would cost $627,990, including inflation and demolition.
The default sum generated by a desktop assessment of his house by his insurance company was just $374,000 - a shortfall of $253,990.
Mr Moore said he and his wife did not bother trying to work out the rebuilding cost themselves using online calculators because the estimates were "notoriously low".
"It just wasn't worth it. Realistically, anyone who wants a proper valuation on a big asset, you get it done properly because [otherwise] more than likely you'll get it wrong.
"I would be loath to say I would have got it correct if I'd just gone through an online calculator.
"Worst case scenario, insurance companies are not very good at paying out ... so it wasn't worth being under."
Sting finds valuations vary wildly
A Consumer New Zealand sting on valuation companies earlier this year found wild variations in estimates provided to homeowners.
The consumer watchdog sought insurance valuations from five companies on two comparable homes, a 160sq m renovated Grey Lynn villa, and a 230sq m renovated Karori home. Sum insured valuations for the Auckland property ranged from $576,170 to $985,000 - a difference of more than $400,000. The default sum from the insurer was $460,460.
Valuations for the Wellington property ranged from $718,079 to $1.196 million - a difference of more than $475,000. The default sum from the insurer was $465,000.

Consumer NZ said the findings showed "alarming variances". And while insurance companies promoted online calculators for homeowners to work out rebuild costs themselves, the companies took no responsibility for the accuracy of the estimates provided.
Consumer NZ believed a large proportion of homeowners were doing nothing to review their default cover and therefore risked being under-insured.
"It's been less than two years since homeowners have been asked to provide insurers with a rebuild cost. So the chances of many claims arising where a rebuild cost is called into question are slim. But consumers shouldn't have to wait until disaster happens before steps are taken to protect them."
The watchdog said a 2005 review of sum insured house insurance in Australia following the 2003 Canberra bushfires raised concerns about high levels of under-insurance, sparking changes in the industry.
"But here in New Zealand, consumers are being left to bear the brunt of the changes to sum insured cover. We believe the government needs to step in and investigate problems in the sector."
Homeowners seeking an independent insurance valuation should use a qualified professional with indemnity insurance who belonged to an industry body such as the Property Institute of New Zealand or New Zealand Institute of Quantity Surveyors.

Take your pick
Rebuild estimates for renovated 160sq m 1911 Grey Lynn villa:
• Default sum: $460,460
• Sum Insured Associates: $576,170
• Construction Cost Consultants: $652,002
• QV: $847, 387
• Telfer Young: $880,000
• Prendos NZ: $985,000
Source: Consumer NZ survey.
For full coverage of insurance issues, go to: tinyurl.com/nzhinsurance.